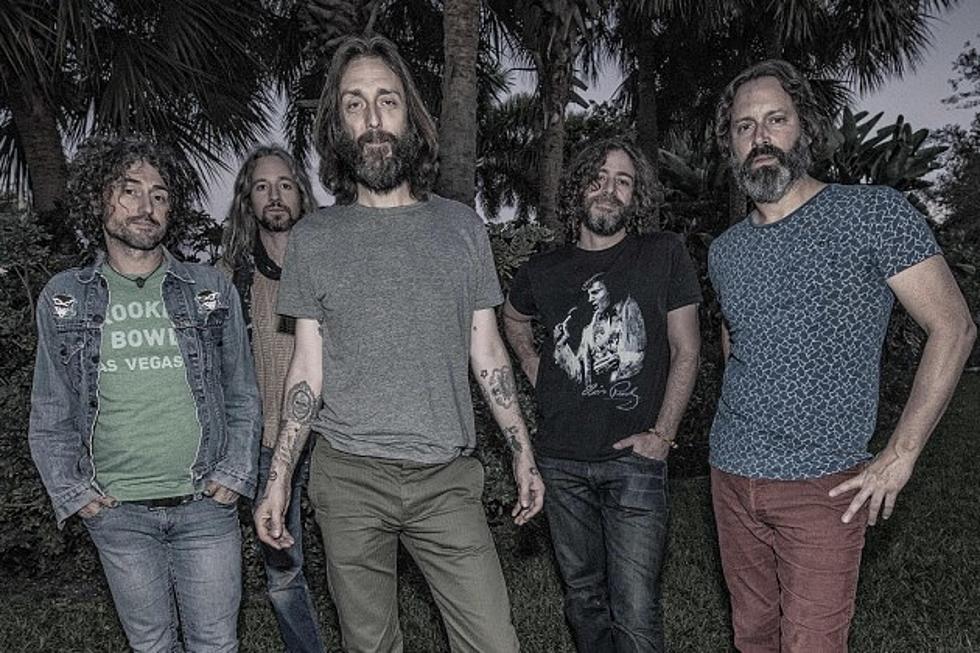 Exclusive Premiere: Chris Robinson Brotherhood, 'Shore Power' (From 'Betty's Blends, Volume Two')
Silver Arrow Records
"It's Betty's trip, man ... we're just on it," Chris Robinson gratefully says. "We're Betty's house band!"
Set for release on June 2, Diffuser is ecstatic to give a small preview of what to expect from Volume Two in the form of "Shore Power" -- you can take the live track for a spin in the audio player below.
The double-LP features nine tracks that were captured throughout the CRB's 2014 summer tour across the western side of the country; "Shore Power" was recorded at Terrapin Crossroads in San Rafael, California.
"[Volume One] was taken from just one set of shows. This one, Betty recorded ... I don't know how many shows," Robinson explains. "It's a bit smaller of a presentation [than Volume One]; it's only four sides, two pieces of vinyl. And it won't just be vinyl only -- we're doing 2,000 [double-LP] sets, 2,000 CDs and 2,000 downloads. Everything is limited. Once it's gone, it's gone."
Where Volume One featured four discs pressed on marbled red and white wax, Robinson says they decided to go a more traditional route for this release. "We're just doing black because sometimes the colored vinyl just doesn't sound as good," he says. "We're sticking with black for this one and we'll see what happens. We're experimenting with it. It's like having your own vineyard. Let's do this, let's do that, let's mix this, you know?"
Robinson admits that working with Betty on a unique release like this -- and putting it out on his own imprint, Silver Arrow Records -- excites him more than what he used to do with the Black Crowes: "For someone like me, this is far more interesting than scheduling records around major label cycles and fiscal years. There are plenty of people who want those gigs. They have clean teeth and you see them on television all the time."
If June 2 seems too far away for you, don't worry: Chris Robinson Brotherhood have a Volume Two preview in store for this year's Record Store Day (April 18). Fans will have the opportunity to pick up a two-song CD sampler -- including the above version of "Shore Power" along with a live rendition of "Love Has Made a Fool of You" featuring Phil Lesh on bass -- and a limited-edition CRB tote bag.
Chris Robinson Brotherhood will be touring throughout 2015 and will find themselves at several festivals this summer -- check out their current tour itinerary below. Betty's Blends, Volume Two: Best of the West will hit record stores on June 2 via Silver Arrow Records. Make sure to stay up-to-date with everything happening in the CRB's world at their official website.
Chris Robinson Brotherhood 2015 Tour
March 28 - Las Vegas, Nev. - The Joint at Hard Rock Hotel & Casino
April 2 - Byron Bay, Australia - Bluesfest
April 3 - Byron Bay, Australia - Bluesfest
April 4 - Melbourne, Australia - The Corner Hotel
April 6 - Sydney, Australia - Metro Theatre
April 30 - Big Sur, Calif. - Loma Vista
May 1 - Big Sur, Calif. - Loma Vista
May 2 - Calpine, Calif. - Sierra Valley Lodge
May 5 - Nevada City, Calif. - Miners Foundry Cultural Center
May 6 - Arcata, Calif. - Humboldt Brews
May 8 - Bend, Ore. - The Domino Room
May 9 - Seattle, Wash. - Revolution Hall
May 12 - Salt Lake City, Utah - The State Room
May 13 - Salt Lake City, Utah - The State Room
May 15 - Denver, Colo. - Cervantes Masterpiece Ballroom
May 16 - Denver, Colo. - Cervantes Masterpiece Ballroom
May 17 - Bellevue, Colo. - Mishawaka Amphitheater
May 22 - N. Lawrence, Ohio - The Ville
May 29 - San Diego, Calif. - The North Park Theatre
May 31 - Napa, Calif. - BottleRock Festival
July 10 - Summit Point, W.V. - All Good Music Festival
July 11 - Marshfield, Mass. - Levitate Music Festival
July 17 - Lowell, Mass. - Lowell Summer Concert Series
July 25 - Floyd, Va. - FloydFest