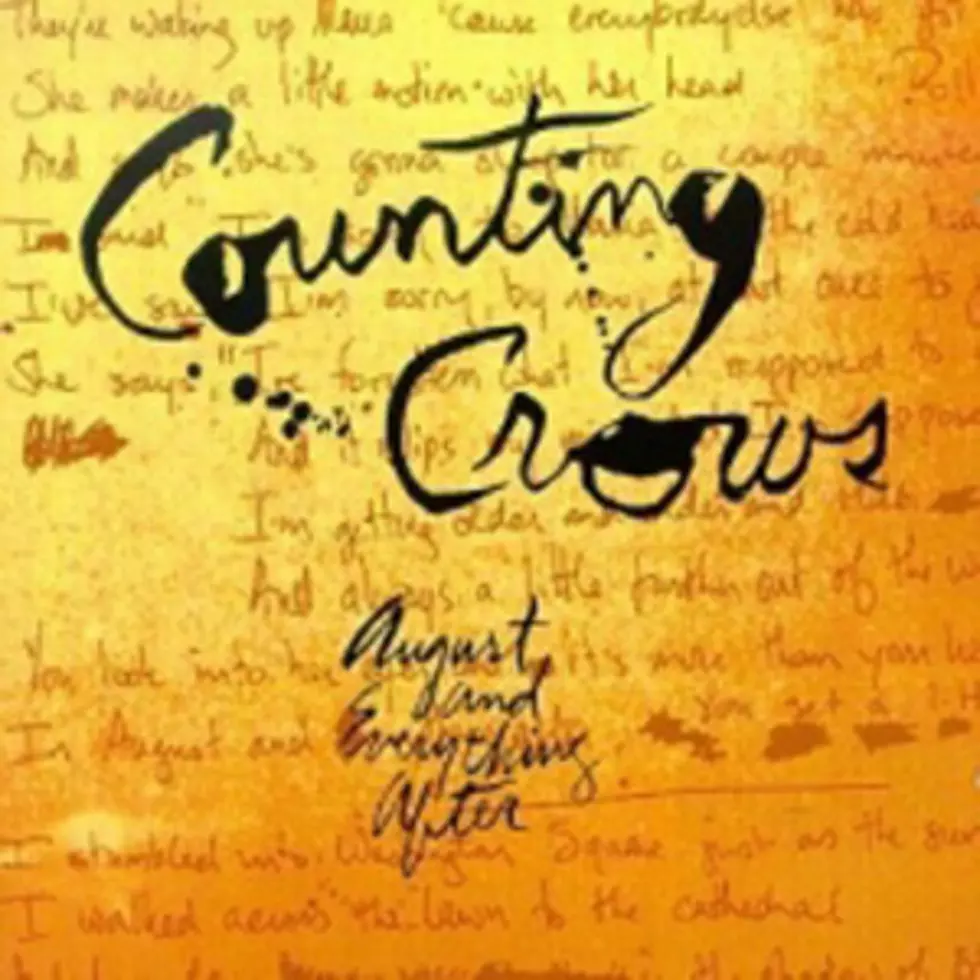 20 Years Ago: Counting Crows' 'August and Everything After' Album Released
DGC
Well before T-Bone Burnett became one of the hottest producers on the face of the Earth, he was hard at work sculpting the debut album of one of the biggest non-grunge buzz bands of the early '90's, the Counting Crows.
'August and Everything After' -- released 20 years ago today, on Sept. 14, 1993 -- is the band's high-water mark, and it doesn't sound a day older than it did when it was released. That's a testament to both Burnett's old-style production techniques and the sheer strength of the nascent band's songs.
The San Francisco-based Crows launched their career with a collection of stripped-down, country-inflected acoustic folk-rock tunes, and arriving at a time when amplifiers couldn't have been louder and grunge ruled the airwaves, it was an outlier to say the least.
You might call them the Mumford & Sons or Lumineers of the '90s and on the same day 'August' dropped, the band's label, DGC, also issued Nirvana's third and final (and noisiest) studio album, 'In Utero.'
Captaining the ship was lead singer and primary songwriter Adam Duritz, a former UC Berkeley English major who had dropped out just a few credits short of a degree. A decidedly more learned, thought-provoking and poetic lyricist than the majority of his contemporaries, Duritz shifts on 'August' from highly academic-sounding poetry ('Murder of One,' from whose lyrics the band took its name) to disembodied works of surrealist art ('Perfect Blue Buildings') to straight-up story songs ('Omaha').
The band scored a string of hits from the album, including the dystopian call-to-arms 'Round Here'; 'Rain King,' a tune loosely based on Saul Bellow novel 'Henderson the Rain King'; the aforementioned 'Murder of One'; and the breakout single 'Mr. Jones,' all about wanting to be famous (or more specifically, wanting to be Bob Dylan). It may have been the greatest self-fulfilling-prophecy hit of the era.
At the time, however, not everyone was head-over-heels for the band. Entertainment Weekly music critic David Browne panned the album, giving it a "D" and citing numerous reasons why it was a derivative mess. He accused Duritz of trying to steal the "Van" out of Van Morrison, and he also noted the overt influences of R.E.M., 10,000 Maniacs, U2, Dion, the Band and of course, Dylan. It was a lesson in Rolling Stone magazine-style revisionist rock history -- wherein guys like John Mellencamp and bands like U2 and R.E.M. are the pinnacles of musical excellence.
Interestingly, before the Crows had even signed to DGC, they were asked to sub for Van Morrison at the 1993 Rock and Roll Hall of Fame induction ceremony, a point Browne apparently felt was insignificant to include in his tongue lashing of a review. At the Rock Hall, Duritz and co. were introduced by the Band's guitarist Robbie Robertson, and they covered Morrison's 'Caravan.' That alone speaks volumes about their credibility, even at that early stage.
The most telling line in Browne's review reads, "Surely it isn't a crime to recycle rock licks; if it were, Keith Richards would be doing hard time." Therein lies the point of rock music. 'August' is excellent precisely because of what it references, and rock has survived over time because each generation of musicians reworks -- or steals, if you like -- what's come before.
Despite Browne's giant neon warning sign, the album performed incredibly well on the charts, reaching No. 4 on the Billboard 200 and No. 16 in the U.K. In 2007, 'August' was reissued with a treasure trove of bonus tracks, covers, outtakes and demos, as well as a live show recorded in 1994. The Crows followed that with 2011's 'August and Everything After: Live at Town Hall,' recorded in New York City.