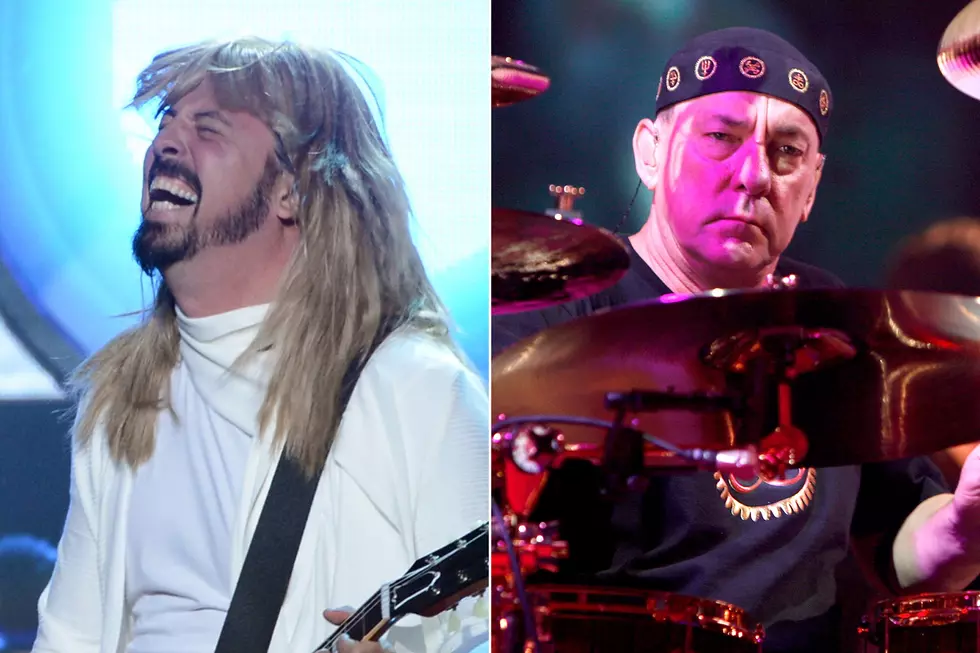 Dave Grohl Doesn't Want to Replace Neil Peart in Rush
Kevin Winter / Mike Lawrie, Getty Images
Neil Peart's desire to give up touring a few years ago means that there's an empty drum stool in Rush. But don't look for Dave Grohl to be filling it. In a new interview, the Foo Fighters frontman, who rose to fame as Nirvana's drummer, admitted that he's not good enough for the job.
When Rolling Stone asked, hypothetically, what he would do if Geddy Lee and Alex Lifeson called on him to replace Peart, Grohl responded, "I would say, 'I'm not physically or musically capable, but thanks for the offer.' Neil Peart, that's a whole other animal, another species of drummer. I know the arrangements, but I'm like Meg White to Neil Peart. And she's one of my favorite drummers! She's my daughter's favorite drummer, too. My daughter plays drums to two types of music: White Stripes and AC/DC. I'm like, 'That's exactly what you need to be doing.'"
Grohl's connection to Rush came five years ago, when he and Foos' drummer Taylor Hawkins performed with them at the Rock and Roll Hall of Fame induction ceremony. They joined Rush onstage, with Grohl on guitar, for the last minute of 2112's "Overture," wearing outfits and wigs that aped Rush's 1976 look. Grohl also gave the speech enshrining them in the Hall.
Lee and Lifeson have not revealed if they have any plans to continue without Peart. Last year, Eddie Trunk said he heard that they were considering rebranding themselves as LeeLifeson to "maybe play some Rush tunes and make new music, because they want to continue to create new music as well." But Lifeson quickly shot down the chatter, and Trunk walked back his words, saying they were "rumor and speculation."
Rush Albums Ranked