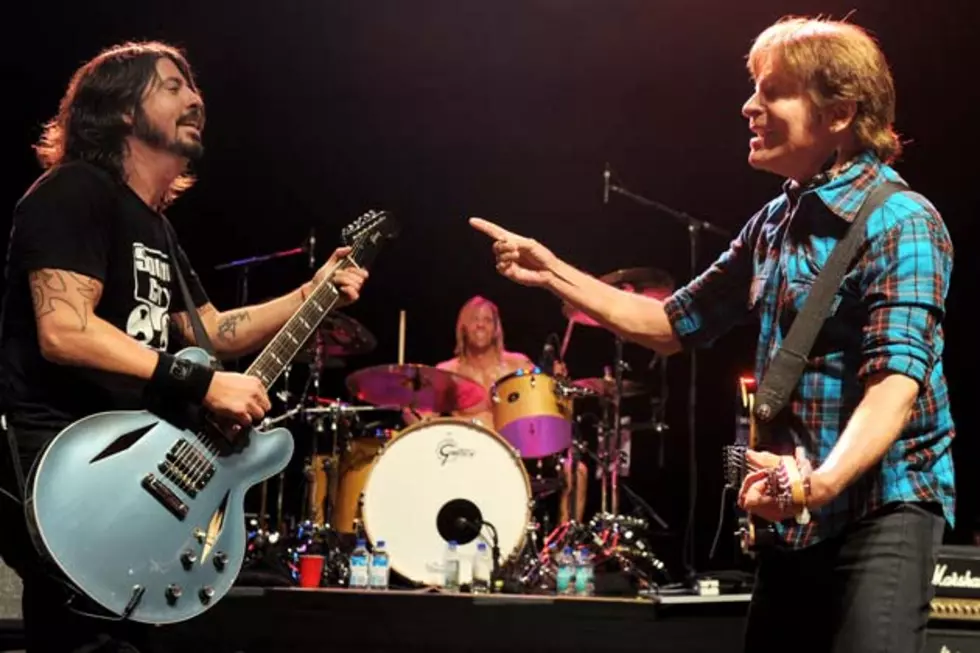 Dave Grohl's Sound City Players Enlist Stevie Nicks, Members of Nirvana + More in Hollywood
Kevin Winter, Getty Images
Almost four hours. That's how long Dave Grohl and his Sound City Players commandeered the stage at the Palladium in Hollywood for last night (Jan. 31). That's a long time for any act to perform, but this was no average show -- or average band. This was Dave Grohl performing with the likes of Stevie Nicks, John Fogerty, members of Rage Against the Machine and more. Grohl did warn the crowd "we're gonna be here for a while," and he didn't disappoint, turning in a once-in-a-lifetime, you-had-to-be-there show.
The show was meant to promote the L.A. premiere of Grohl's 'Sound City,' the documentary he directed and financed about the famed studio complex in Los Angeles.
Here are the numbers. One night. Three-and-a-half hours onstage. Thirty-eight songs. A 10-minute version of a Fleetwood Mac classic to close the night.
Want a further breakdown to make you curse the fact that you weren't there? The set was split into sections, with each guest musician playing approximately four songs. Many of these segments included classic songs and guests' contributions to the film's soundtrack.
Here's the list of players, according to NME.com: Stevie Nicks of Fleetwood Mac, John Fogerty of Creedence Clearwater Revival, Brad Wilk of Rage Against The Machine, Rick Springfield, Corey Taylor of Slipknot, Rick Nielsen of Cheap Trick, Krist Novoselic and Pat Smear of Nirvana and Queens of the Stone Age collaborator Alain Johannes. What, no Paul McCartney?
Grohl's Foo Fighters served as the backing band for most of the set. They were the Sound City Players house musicians, so to speak. Some of the attendees? Joan Jett, Nikki Sixx and members of No Doubt.
Dave Grohl has some friends in high rock and roll places, as Fogerty acknowledged, pointing to Grohl and saying, "What we got in common is we all love that guy right there." That and the fact that they all recorded at the famed studio!
Nicks was the final guest musician, dueting with Grohl on 'Stop Draggin' My Heart Around,' with Grohl filling in for Tom Petty!
The night ended with a 10-minute version of 'Gold Dust Woman' by Fleetwood Mac.