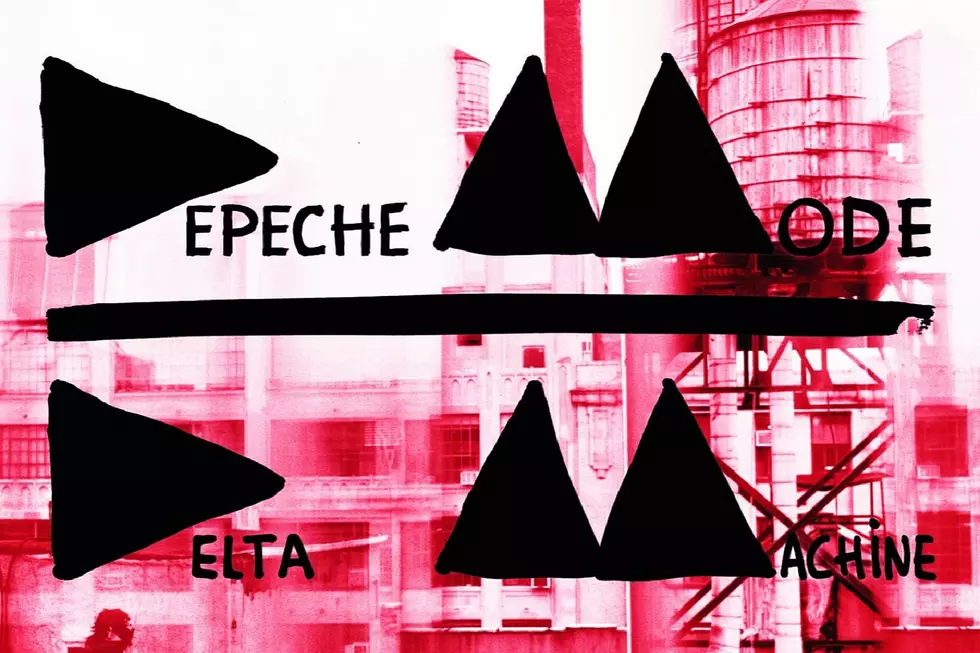 Five Years Ago: Depeche Mode Moves Forward by Looking Back on 'Delta Machine'
Mute/Columbia
When Depeche Mode came back together in 2012 to begin work on a new album, all three members were coming off of solo ventures and ready to settle in and focus what would become the band's 13th effort together, Delta Machine, which was released March 22, 2013.
Frontman Dave Gahan had spent the previous years as the primary lyricist and singer for the electronic remix duo Soulsavers on their album The Light the Dead See. Keyboardist and guitarist Martin Gore reunited with former Depeche Mode member Vince Clarke on the electronic project VCMG, completing an EP and an album, and band co-founder Andy Fletcher continued to perform DJ sets around the globe. All that out of their system, it was time to reach the conclusion of a trilogy of albums with producer Ben Hillier, who had previously been behind the boards for Playing the Angel (2005) and Sounds of the Universe (2009).
Like its immediate predecessors, Delta Machine is chock full of throbbing beats and slithering synths, but there are also some cues pulled from the past, most notably from the Depeche Mode apex, 1990's Violator. Out of the gate though, with first single "Heaven," there was a bit of a bluff with Gahan crooning his way through the moody and crawling number, which he and Gore would later admit didn't sound like the rest of the record, but did capture the feel of it.
"Martin and I felt it represented the record in lots of ways, which is why we wanted to put it out first," Gahan said. "It's not like we felt it was going to be a big hit or something, but that doesn't really drive us to make music. We all like to have hits, it's nice to have hits, of course, but after making 13 records together, it's not what drives you. What drives you is to make a great record. That's what still drives me. Certain songs propel that. 'Heaven' is one of those songs. When Martin played the demo for me, I was in. It's gospel-y bluesy, it's right up my street. Songs like that speak to me. I hope I can write one someday."
Gahan may have been selling himself short, as he continued his role as co-writer that began on Playing the Angel, penning three of the 13 tracks on Delta Machine, including the propulsive "Secret to the End" and the single "Should Be Higher." The latter is one of the album highlights, with a minimal beat that slowly builds but pulls back each time it threatens to ignite, much like some songs on the aforementioned Violator. Appropriately titled closer "Goodbye" does the same, creeping along with a snarling and menacing melancholy.
"The one other thing I think is great about the album is and it's in the title as well, Delta Machine, is this sort of mix of blues and electronics, which we've dabbled with before in, say, 'Personal Jesus,'" Fletcher said. "And I think it works really well with this album."
Fans agreed, and the record would top the charts around the world, checking in at No. 6 on Billboard in the U.S. and No. 1 on the alternative and rock albums side of things, though Gahan was adamant that Delta Machine wasn't a rehash of past glories, and any similarities to earlier success comes from being ingrained in the Depeche Mode DNA.
"For me, when I start hearing people in the studio saying that it sounds old-school or that it sounds like something that is far away from who we are, I'm like, 'Great let's go far away from who we are,'" he said. "Because it's like a clock, you can try and get away from who you are, but it will come right back round. It's my voice, it's Martin's influences, there's a style that the song is written and arranged. ... You have to keep moving forward as an artist. It's a ridiculous idea to try and repeat a process. I am afraid of that. If we go in the studio and it feels too normal, then you're not pushing yourself."
Gore's VCMG collaboration with Clarke spilled over into the proceedings with the decidedly techo nod "My Little Universe," adding another element to the band's already deeply layered sound. The bouncy, driving "Soft Touch/Raw Nerve" jettisons any depressive pretense, but overall, that darkness Depeche Mode had perfected throughout their career still provided the foundation for the entirety of the album.
"That's just in us," Gahan said. "We look at the other side of things and I think out of that – it sounds corny, but those spaces that you get yourself into that can be kind of destructive and dark. We say better out than in, and if you can somehow write out of that and then put that into a place that has a feeling of hope about it as well as the despair, I find that that's the place where it's really human."