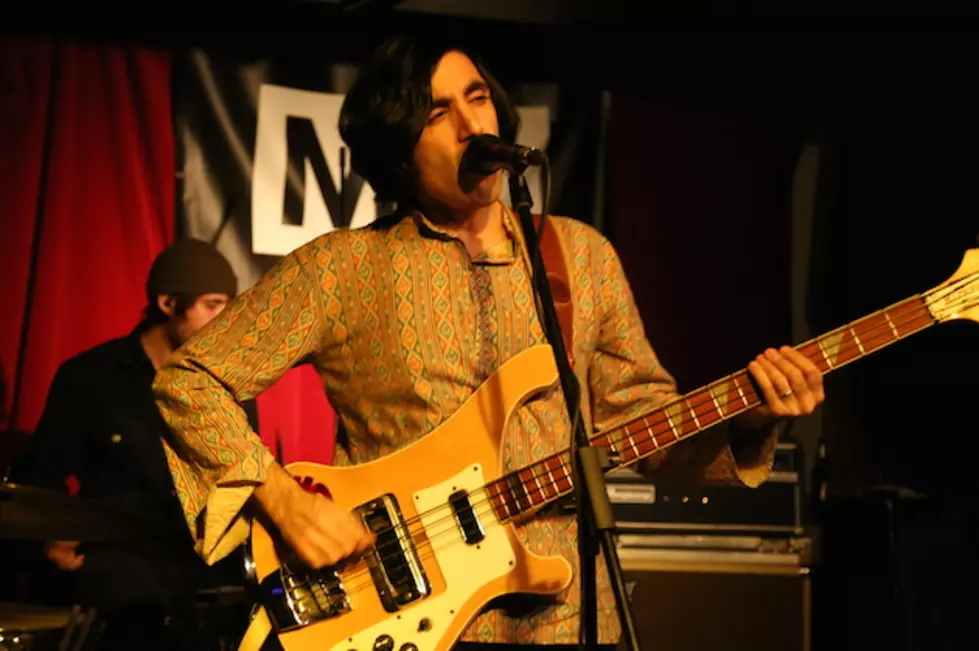 Elephant Stone's Rishi Dhir On His Quest for the Perfect Psychedelic Rock Record
Chris Kissel, Diffuser
Rishi Dhir wants to make the perfect psychedelic pop record. It was a snowy day in Montreal, and Dhir, whose band Elephant Stone had just released its third full-length, 'Three Poisons,' had been listening to the new album in the tour van with the rest of the band. And he was already thinking about how it could have been better.
"We were just talking in the van -- maybe we rushed this, maybe we should have spent more time with it," Dhir told us. "But you know, in this day and age, you can't really wait three years between records."
Dhir's quest is to craft perfect, fat-free pop songs with arrangements that incorporate his long list of influences, which mostly reflect a love for British psychedelia, from Primal Scream to My Bloody Valentine to the Beatles. We can hear it -- those bands, like Elephant Stone, are textbook examples of pop songwriting adorned in sitars, backwards guitars, and eastern-inspired beats.  "With each record now, I keep trying to reel in the songs a bit more to try to make each one a masterpiece," Dhir says. "On this record, there are some songs where I felt like I did that."
Dhir's own experience as an itinerant sitarist/bassist -- including an entire year with the Black Angels -- has provided him with plenty of inspiration to bring back to Elephant Stone. 'Three Poisons,' then, combines band trademarks like Dhir's soft, Lennon-like singing and droning sitar with the Angels' black leather psychedelia and grooviness that nods to Primal Scream and the Happy Mondays -- plus a big boost from soulful background singer Malika Tirolien. Dhir's lyrics are dark meditations on the misuse of power, several of which, like album highlights 'Knock You From Yr Mountain' and 'Three Poisons,' are level-headed assessments directed right to their subjects.
We talked with Dhir backstage before a recent show in Montreal, touching on his pop perfectionism, what it's like to front a touring rock band and hold down a 9-to-5 job, and the song he thinks is the greatest of all time.
When you went in to make 'Three Poisons,' was there something specific that you wanted to achieve?
With 'Elephant Stone' [the band's previous, 2013 release] we actually became a touring band, and we'd toured about a year straight leading up to the recording of 'Three Poisons.' Just doing that, you see your strengths. And all along, I'm getting ideas of what the new album should be like, and the music I was listening to, and the music we were listening to in the van.
Most of my songwriting gets done when I'm home -- I can't really write on tour, but I get ideas. As I demoed this album, I kind of knew where it was going, lyrically as well. And then I brought the guys in and we worked on it. It was just like, we wanted this to be our studio album. We spent two months in the studio.
Does this mean that you spent more time actually recording the music?
Yeah. We just took our time with things. In retrospect -- we were just talking in the van today -- maybe we rushed this, maybe we should have spent more time with it. But the powers that be suggested we put out the album as soon as possible, which seemed like a good idea at the time. Who knows if it was. But you know, in this day and age, you can't really wait three years between records anymore. We put out 'Elephant Stone' out in 2013, and then we put out 'Three Poisons' in 2014. I don't know if I can do another one in 2015.
Well, it's definitely the standard for the genre you're in -- at least an album a year.
Yeah. Ty Segall and the Thee Oh Sees f--ked everything up. Now we all have to put out three albums a year. [Laughs]
You've played sitar with a lot of different acts -- when you play with some of them, like Beck or like the Black Angels, are there specific things you see them do live that you apply to this project?
Um ... yeah, because I was actually in the Black Angels for about a year in 2012; I was their touring bassist, guitarist, sitarist.
But Beck was a much different situation.
Oh, Beck was like a freakish thing. I was in Australia with the Angels and I got in through the tour managers and got up on stage and played. Then he came to Montreal and did it again. But it's not like I'm going to call up Beck and be like, "Hey buddy, what's up?"
You're playing with marquee acts at these big festivals -- what are you as a band leader picking up from them?
I find playing with other bands really good for me just because it helps me focus more in on what Elephant Stone is. Playing with the Black Angels, I'm like, I know we're not like the Black Angels at all, but we come from the same head space. But I know their strengths, and I know my strengths. My strength is, we have pop songs that are really poppy. But we're able to arrange them in a way that incorporates more drone-y aspects, and more groovy aspects. Just playing with the Horrors and Temples and the Brian Jonestown Massacre, things do rub off.
From the Angels, they have hallmark riffs that kind of rubbed off on this album, actually -- especially from the Angels, it gave a harder edge to the music. I think this record has a much darker vibe than the last one.
I'd say lyrically, especially.
Well, lyrically, yeah. It's just -- it was my delve into Buddhism, this record. Like, the Tibetan Book of the Dead. I just started reading it. Just the whole concept of being guided into your next life, while you're on your deathbed. 'Child of Nature,' that song was not literally taken from the Tibetan Book of the Dead, but there's a passage of what the monk reads to a dying person -- and the whole concept of the three poisons of life, which are anger, attachment and greed.
Also, as I get older, I get more jaded, more cynical in some ways. It's funny, because on my first record, 'Seven Seas,' there's wanderlust, because I traveled to India for that record, and I wanted to go back. But there's always hope. On this one, it's darker, but there's hope as well.
You mix the spiritual with the political, and the result is a few songs that are political but don't have that aggressive, macho, Rage Against the Machine quality. But the message and the lyrics are still aggressive. 'Knock You Off Yr Mountain' is obviously an aggressive song.
I'm a very opinionated person. I think lyrics have to mean something. You can do one aspect where it's really vague and psychedelic and not really be about anything but also be about something. Or you can actually talk about emotions and feelings and give an opinion. And I appreciate that. But I also appreciate the 'Tomorrow Never Knows,' 'I Am the Walrus' kind of thing, too.
I hear 'Tomorrow Never Knows' in all your songs. As a total aside, I was at a bar last night here in Montreal, and they were playing that song super loud, and -- that song still completely blows my mind.
It's the greatest song of all time.
And it was recorded in 1966.
And it doesn't sound dated at all.
Not at all. Maybe it stuck in my mind because I was thinking about your music, in that head space. You covered a Doors song, and you also covered a Tom Petty song. Are those artists that you actually go back to as far as songwriting?
Those were like, freakish things. There was a Doors compilation ['A Psych Tribute to the Doors'] and they asked us to do a song. I like the Doors, but I wouldn't say they're my favorite band by any means. I find Jim Morrison kind of pretentious and I don't know if his music means anything to me. But they have good songs, and 'L.A. Woman' just seemed like a natural one for me.
We played this festival called 'Into the Great Wide Open,' and I love Tom Petty, I think he's amazing, and they wanted us to cover 'Into the Great Wide Open.' It just happened that we arranged it in a way that worked for us.
We also did a Christmas compilation [Cleopatra Records' 'Psych-Out Christmas'] and we covered this Beatles fan club song called 'Christmas Time Is Here Again.'
Who else has influenced your pop songwriting?
Oh man. Ugh. That's hard. I have to go year by year. As a kid I grew up on the Who and the Beatles. Then, as a teenager, I discovered Nirvana and Teenage Fan Club, Blur, and that whole thing -- Mudhoney, Ride, Swervedriver, My Bloody Valentine. And then -- what happened after that? I got really into the '60s again -- the Creation, the Kinks, Motown, Stax, Northern Soul. Then I got into the Jam. And then from there, where did I go? I got into Ananda Shankar, which is kinda like sitar electronic fusion stuff, and I got into the Asian Underground. And then I got into Elliott Smith. Every phase in your life is like, you're being schooled in music. I'm always absorbing stuff. Like I said, I absorbed a lot from the Black Angels. But in the end it just comes back to the Beatles. Without the Beatles there wouldn't be any of the bands I mentioned.
What are you listening to now?
Morgan Delt -- I just discovered that record awhile ago. I just discovered that Kurt Vile record, 'Smoke Ring for My Halo.' That's blowing my mind right now. And there's always Tame Impala. I listen to Mikal Cronin, I liked his second record a lot. The new Ty Segall.
Who is the gal that does the amazing background vocals on 'Knock You From Your Mountain'?
Oh yeah, Malika Tirolien. I knew I wanted 'Great Gig In the Sky'-style backing vocals for that song.
She has the Merry Clayton thing down.
Yeah, I wanted that. So I said to Greg, our sound guy -- "Who is the best soul singer you know?" So I called her up, spoke to her a bit, and sent her 'Great Gig In the Sky' and sent her the demo. She came in, we coached her a bit, and it just took off. It's great. I was listening to a lot of [Primal Scream's 1991 album] 'Screamadelica,' and a lot of Ride and stuff, but 'Screamadelica' is one of my favorite records, and, like, the Happy Mondays' 'Pills, Thrills, and Bellyaches.' So just those kinds of vocal treatments, having that kind of soul thing to it. Our drummer is a great drummer and he has this really good groove, so I wanted to push that soul element as well. Malika sang on 'All In Burning' as well. Thinking about the next record, I'm like, "I'm gonna get her to sing more."
Speaking of -- you had a record come out in 2014 and one in 2013. Where's your head at as far as your next release?
In my mind, I already have ideas for more than an album's worth of music. We have one more show next week and then I think I'm going to take a few months off and demo stuff. My wife and I are going to have our third kid at the end of March. And then we're going to start touring again in the summer. But we're going to take time to demo. I want to have a new album out by August 2016. I'd like to work with an outside producer, because we've never worked with a full-on producer who is able to come in and say, "You should do this." It's always us saying, "Well, I guess we should do this."
Are there any other projects you're working on?
Yeah! Uh ... but I can't talk about it, though. [Laughs] It's cool, but I can't talk about it. I have something really cool coming up, it's a collaboration with some friends of mine.
One thing I've noticed while I've been in Montreal -- the scene has a lot of breadth.
Yeah. There are so many little scenes. There's the Arbetus Records scene, and Grimes, which I know next to nothing about. There's the Arcade Fire thing. Like, I sold my Wurlitzer to Win Butler. And I met him when I was backstage with Beck. Him and Regine were there. That's a whole other world that I don't know. The circle we run in is [with bands] like Besnard Lakes and Suuns; we're friends with the Barr Brothers.
Oh, yeah. They were just on 'Letterman.'
Yeah, it's cool. Like, the Barr Brothers are dudes from Providence who came here and fell in love with the city. McGill has a great music program. And you can get by. I have a 9-to-5 job, so I work on the road, so that's a whole different situation.
Yeah, for a software company. It's good, it means that when I come off of tour, I have a job and I can feed my family. Especially with three kids now.
You have these pop songs, and while there's a lot going on sonically, with the arrangements, they generally stick to a few minutes and stay pretty reined in. Do you ever consider embarking on a 15-minute psychedelic freakout?
Yeah, I mean, on the first record I had this song called 'The Straight Line' that was this seven-minute sitar instrumental, and then I had an eight-minute [song called] 'Don't You Know,' and then on the second record, we did another eight-minute song, 'The Sea of Your Mind,' which has all these movements.
And then with 'Three Poisons,' I just wanted to rein it in a bit more. Live is one thing -- we do some improv stuff. But on recordings, it kind of goes back to 'Tomorrow Never Knows.' That song is like two and a half minutes. And that is the most psychedelic song ever -- they did so much in two minutes. Just by making it 15 minutes doesn't make it this psychedelic masterpiece. It's kind of indulgent in some ways. And with each record now I keep trying to reel in the songs a bit more to try to make each one a masterpiece. On this record there are some songs where I felt like I did that. I don't have it in me anymore to make it this drawn-out, self-indulgent thing. Every other psych band is doing that.
There are a lot of records coming out that are, like, two songs.
Which is cool, but it's not what we're about. You know, we're too poppy for the heavy psych, stoner-rock crowd, and we're too psych for the indie and other crowds. We're in this weird space, and we're filling it ourselves. I mean, Tame Impala are pop, right?
Temples are a perfect example -- every song is a masterpiece.