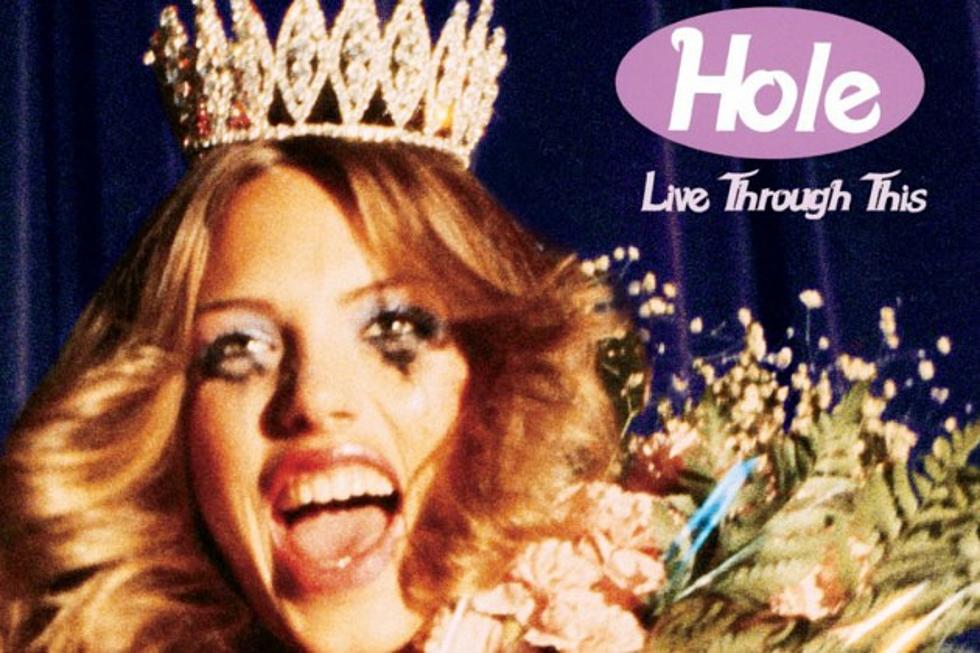 21 Years Ago: Hole's 'Live Through This' Legacy
DGC
It's always been easy to hate Courtney Love – mostly because that's the way she always wanted it.
Aggressively abrasive and ruthlessly opportunistic, she's also far smarter than most of us are willing to admit. In a way, her entire public persona has always been a quasi-carefully calculated attempt to retain her relevancy – she subscribes to the "no press is bad press" mentality even when she says the opposite (because that inevitably breeds even more press). The fact that she managed to use her sexuality to align herself with some of the most important figures in alternative rock during the '90s (she dated Smashing Pumpkins' Billy Corgan before marrying Nirvana's Kurt Cobain in 1991) had less to do with a shameless desire to climb the ladder of fame than it did her legitimate desire to surround herself with people as ambitious as she is. If she were a man, she might have been just another rock star cliché; it's a perfect example of the sexist hypocrisy she's always stood (or been propped up) against.
But it was especially easy to hate Love in 1994.
Already regarded as the Yoko Ono of Nirvana (if not grunge in general), she became the easiest person to blame in the wake of Cobain's suicide. (Love said Cobain once gave her a Yoko Ono box set as a gift while she was pregnant and she "threw it at his head.") But the fact that her band, Hole, released their major label debut just a week after Cobain's death only fueled the public's pre-existing vitriol toward her and, to Cobain truthers, the timing seemed more than a little suspicious. After all, wasn't it all too convenient that the album – which was rumored to have largely been ghostwritten by Cobain – was titled Live Through This? Cobain's death (which some conspiracy theorists believe was actually a murder orchestrated by Love) seemed like it could've been guerrilla marketing in its most unfathomably evil incarnation.
Of course, none of this is true. Nobody can ever be sure what exactly led Cobain down the path he chose and you have to be intensely cynical to believe Love had anything to do with it. And although Live Through This definitely received more press than it might have had Cobain not died just the week before, its underrated brilliance will forever be obscured – and it really is a brilliant album. Of all the records created with the Nevermind template (and there were thousands), it's perhaps the most successful in adhering to the formula but also in adding evocative new elements – namely, an increased emphasis on melody and a lyrical point of view that revolved around Love's baby-doll take on post-modern feminism.
Although Love clearly had more access to Cobain's genius than anyone else on the planet, everyone who was a part of Live Through This – from the other members of Hole to producers Sean Slade and Paul Q. Kolderie – have always insisted that Cobain had nothing to do with the album (except provide almost unnoticeable backing harmonies on "Asking for It" and "Softer, Softest"). He did, however, suggest hiring the production team of Slade and Kolderie because they helmed one of Cobain's favorite records at the time – Radiohead's Pablo Honey – after Love's first choice (Nevermind and Siamese Dream producer Butch Vig) passed on the project reportedly so he could focus on his own band, Garbage.
But even if Cobain had wanted to have a hand in Live Through This, all indications are that Love would never have let him. Love (born Courtney Harrison) had an extensive track record of doing things entirely on her own. The daughter of hippie parents (her dad was a publisher who had briefly managed the Grateful Dead and her mother was a psychotherapist who raised Love on a commune in Oregon), she spent time in reform school before abandoning her family and reportedly became a stripper at 16. Aside from a few acting roles for director Alex Cox (including a small part in the 1986 Sex Pistols movie, Sid and Nancy), she immersed herself in riot grrrl culture and formed several short-lived bands (even briefly being in Faith No More) before meeting guitarist Eric Erlandson in Los Angeles in 1989. The pair became instant collaborators (possibly because Love was obsessed with Sonic Youth and saw the lanky Erlandson as her own version of Thurston Moore).
Although Love detractors often like to overlook this fact, Hole were successful before Cobain came into the picture. Their 1991 debut, Pretty on the Inside, was produced by Sonic Youth's Kim Gordon and was a critical hit and cult favorite thanks to Love's graphic lyricism, screamed vocals and sloppy punk ethos. Village Voice named it "Album of the Year" and the single, "Teenage Whore," debuted at No. 1 in the U.K.
But the plan for the follow-up was always to move more towards melody. With a revamped rhythm section (bassist Kristen Pfaff and drummer Patty Schemel) behind her, the fiercely competitive Love was intent on creating an album that would be even better than Nevermind or Siamese Dream – the two albums she perceived as benchmarks for modern masterpieces. But she didn't want to share the potential success of the album. "I wanted to be better than Kurt," she told SPIN. "I was really competing with Kurt and that's why it always offends me when people would say, 'Oh, he wrote Live Through This.' I'd be proud as hell to say that he wrote something on it, but I wouldn't let him. It was too Yoko for me. It's like, 'No f---ing way, man! I've got a good band. I don't f---ing need your help."
She did, however, choose to record at the same place in Marietta, Ga., where Smashing Pumpkins made Siamese Dream – a studio called Triclops Sound in a strip mall next to an insurance agency. Although the band had worked on a few ideas prior to relocating to Georgia, about half of the songs were written entirely at the studio. Slade said he remembers watching "Asking For It" come into existence entirely from nothing and Kolderie told SPIN he uses that as proof that Cobain (whose vocals were added after the fact) had nothing to do with the songwriting. "I always bring that up whenever people say 'Kurt wrote the songs,'" said Kolderie. "I can say he didn't because I watched it happen."
"Asking for It" is also notable in that it features the line, "live through this," which obviously became the title of the album. The significance is that, considering the album was released just four days after the discovery of Cobain's body, it was easy for people to assume Love seemed to be hinting at her husband's self-destruction. But she said that wasn't the case at all. Throughout the creation of Live Through This, Love had been battling negative press about a quote she gave saying that she had used heroin while pregnant with the couple's only child, Frances Bean. "The title of the record is not a prediction of the future," she said. "It's, like, f---ing live through what I already lived through, you motherf---ers! It wasn't meant to be about anybody dying. It was about going through f---ing media humiliations."
But to focus entirely on Cobain's connections to Live Through This (tenuous or otherwise) is to miss the point of the album entirely. It was always meant to be Love's long-awaited opportunity to step into the spotlight and it's ironic that although it's undoubtedly her greatest artistic achievement, it's almost cruel that the timing of its release will always intrinsically bind it to Cobain. With influence by the Breeders, the Pixies and even Joy Division, Live Through This is a master class in radical stop-start dynamics and pop-infused punk made possible largely through the creative relationship between Love and Erlandson; the pummeling, passionate drumming of Schemel; and the virtuoso bass playing of Pfaff (who was in the midst of a break-up with Erlandson at the time).
The most obvious appeal, however, is Love – laid bare and raw with nihilistic lyrics centered on sexual exploitation and, of course, the darkest side of celebrity all set to gargantuan hooks and addictive melodies. The glossy sheen of the production provides a stark juxtaposition against the gritty themes in a way few female-fronted albums achieved in the '90s. It's simultaneously beautiful and ugly (as the cover art implies) and, even with the connections to Cobain, it firmly established Love as a cultural force for decades to follow. Sadly, however, Live Through This is also a reminder of another tragic loss: Pfaff – who recorded many of the bass parts in just one take but spiraled into heroin addiction – died of an overdose less than two months after its release. Like Cobain (and countless other lost musicians), she was 27.
Would Live Through This be as revered as it is today had it not been surrounded by such tragic circumstances? Possibly not. Even Love has said she thinks PJ Harvey's 1993 album, Rid of Me, was "far superior." But it's impossible to deny that it's infinitely more than just a feminine version of Nevermind. While Hole brought on Melissa Auf der Maur to assume bass duties, the band as a collective only managed one more full-length, 1998's Celebrity Skin, before fading away. Love released a solo album, America's Sweetheart, in 2004, and dusted off the Hole moniker for what was essentially a second solo effort – 2010's Nobody's Daughter. But nothing will likely ever recapture the magic or mystique of Live Through This – an album as important to its time as its time was to it.