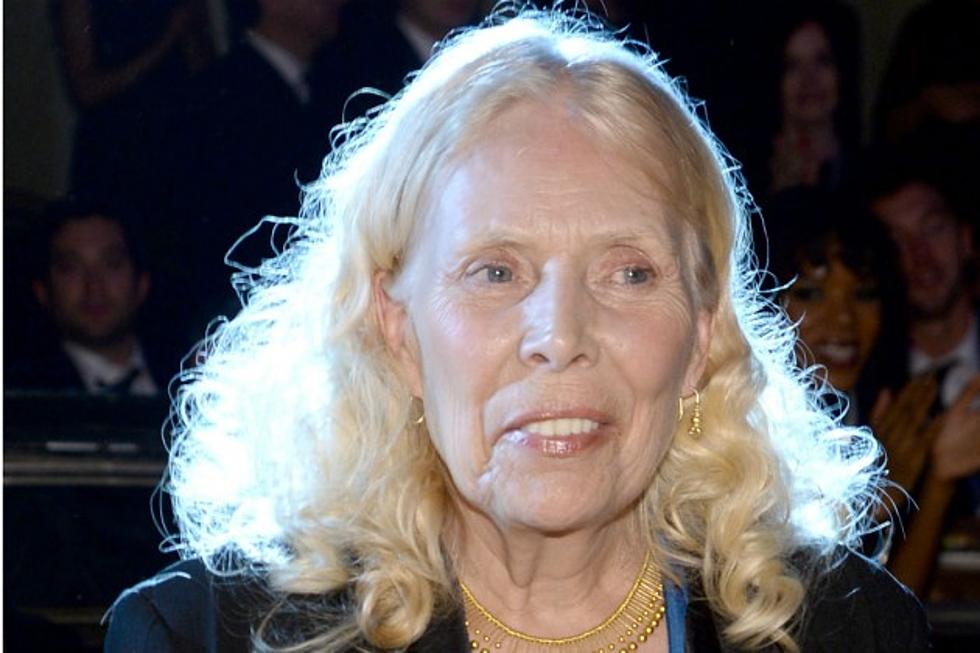 Joni Mitchell Hospitalized in Intensive Care
Larry Busacca, Getty Images
Yesterday (March 31), Joni Mitchell was rushed to the hospital after being found unconscious in her L.A. home. There, the iconic folk singer-songwriter was placed in intensive care and underwent tests.
A statement posted to Mitchell's website said the 71-year-old singer regained consciousness and was "awake and in good spirits."
Joni was found unconscious in her home this afternoon. She regained consciousness on the ambulance ride to an L.A. area hospital. She is currently in intensive care undergoing tests and is awake and in good spirits. More updates to come as we hear them. Light a candle and sing a song, let's all send good wishes her way.
According to the BBC, paramedics responded to a 911 call and took the patient – who they didn't identify as Mitchell -- to a nearby hospital.
Last year, Mitchell opened up about suffering from a rare skin disease called Morgellons Disease, which is said to cause crawling and stinging sensations and has largely kept the singer confined to her home and unable to perform.
"I can't sing anymore – don't miss it," Mitchell told Billboard of the disease. "I can't play anymore – don't miss it. I've got all these instruments laying around and hopefully one day I'll pick them up. But I do want to start writing my short stories, that's what I want to do after I get this ballet out of the way. If it can happen, great – if it becomes apparent it's not gonna happen, all right, I've got plenty to do. And I'll still paint."
Morgellons is a controversial disease and not recognized by many doctors, who instead believe it's a psychological disorder.
Many musicians took to Twitter to send Mitchell their well wishes, and we join that sentiment: