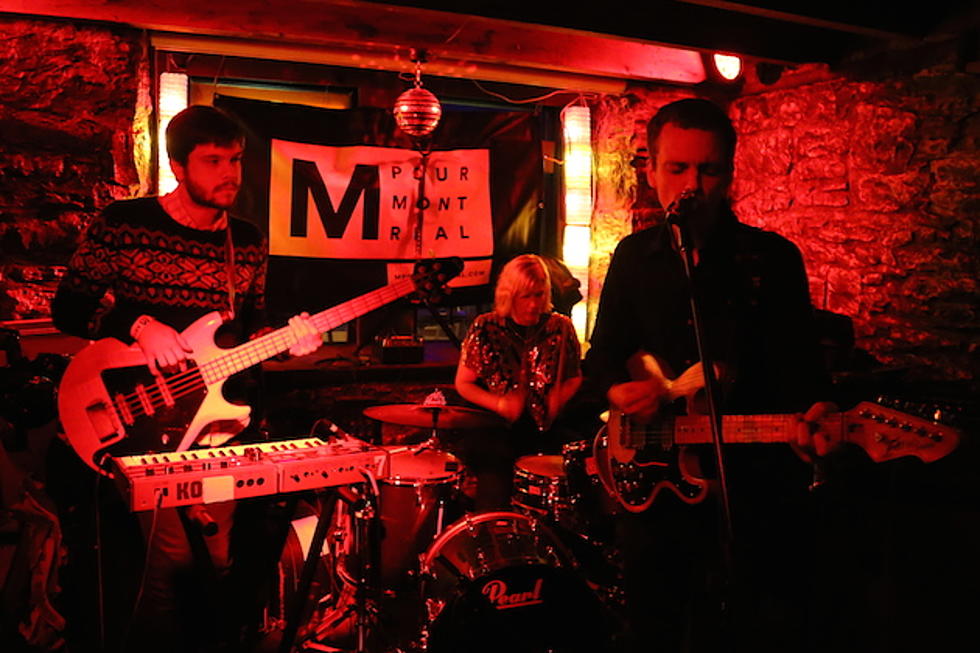 Alden Penner + DakhaBrakha Bring Contrast to M for Montreal's Third Day
Chris Kissel, Diffuser
Last night (Nov. 21) brought an even more impressive amount of breadth to M for Montreal -- putting us in front of one musician who has already carved out his spot in the indie canon, and a Ukrainian act that surprised us with the sheer beauty of their music.
On the third night of M for Montreal, the number of showcases increased by an order of magnitude, pressuring us to make sure we saw the best bands in town. We stuck to our list -- and we weren't disappointed.
Alden Penner, one of the leaders of the Unicorns -- one of the most important acts ever to come out of Montreal -- played a set that stuck closely to his solo album, the apparently-self-released gem, 'Exegesis,' of 2014. His set wavered between solemn hymnals and druggy rockers, following the pattern set out by the new record. The songs had a fragility in their performance -- pieces that seem a little too shiny on the official release bare their ribs, like 'Losing My Head,' which is a naked song and sounds better naked. On the flip side, careful arrangements from 'Exegesis,' like on 'Louis XIV,' were missed.
Penner made the audacious move of playing two Unicorns songs at the end of his set, challenging listeners to compare his new material, which is only slightly more subtle in its weirdness. The new songs -- at least one of which, Penner told us before the gig, was actually written not long after the Unicorns broke up in 2004 -- hold up, but his performance of 'Sea Ghost' just made us miss the old band.
This is pretty much the definition of cliché -- but what the hell, 'Tomorrow Never Knows' was playing during the soundcheck, so here we go: Everyone knows Lennon and McCartney were better together because they energized and edited each other. Nick Thorburn's Islands project, in all its elastic prettiness, and Penner's solo material, in all its wavering and barely-constrained weirdness, are making us yearn for a full-on Unicorns reunion album. Then each of them could highlight the other's strangeness, and limit each other's slightly-rambling tendencies, as on 'Who Will Cut Our Hair When We're Gone?'. Tomorrow never knows.
As Penner was closing his set at the packed bar, DakhaBrakha, the Ukrainian world music project, were playing before a seated audience 15 blocks away. The band lined up in four chairs, wearing exaggerated ceremonial costumes and looking, essentially, like they belonged on the other side of the world. Each member played a different stringed or percussion instrument. The voices of the three female members rose and swirled over long, droning cello notes, like birds circling over a plain.
Founder Vladyslav Troitskyi pulled his voice to the extremes of the musical spectrum, at times imitating the sounds of a newborn animal -- audience members (a few of them drunk, but whatever) hooted along. 'Baby,' with its heaving, clicking, and chanting, was a sublime wonder.
At the end of the night, we caught BadBadNotGood playing for an amped up audience of mostly college-aged kids -- a long way from their close-range gig at Casa Del Popolo. It was the first time we'd ever seen a jazz combo rile up a room of kids in their early 20s. (And we were probably the only ones in Montreal who watched DakhaBrakha playing for the wine-and-cheese crowd, then shambled over to BadBadNotGood's set for the beer-and-burger crowd.)
We also caught Holy Data -- a fun mix of '80s influences, with real Tommy Tutone pop talent -- plus CTZNSHP and Moon King. Check out our exclusive photos below:
Alden Penner -- M for Montreal 2014
DakhaBrakha
BadBadNotGood
CTZNSHP
Moon King