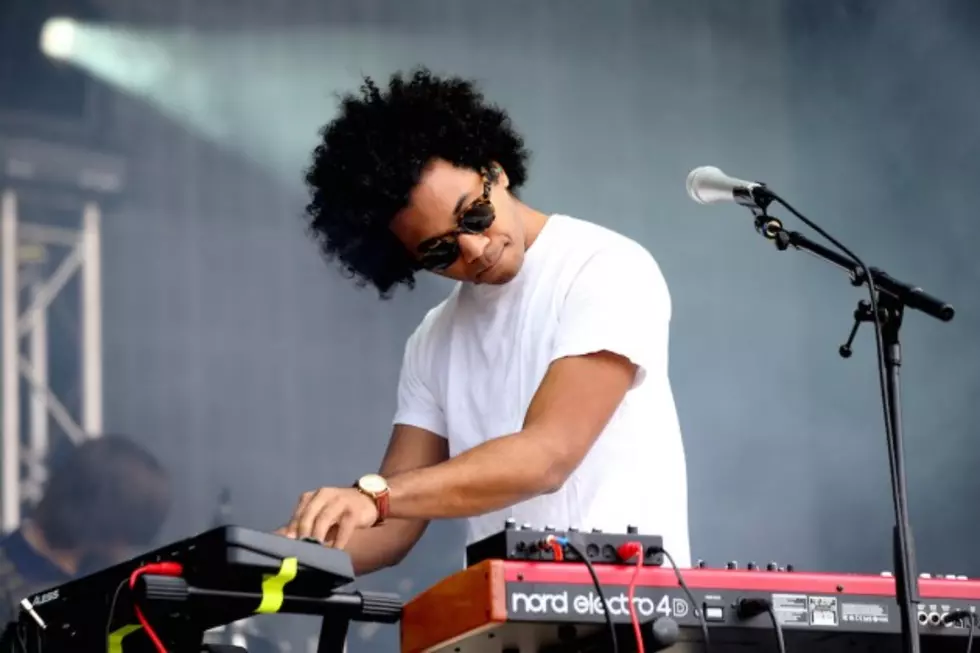 8 Acts We're Excited to See at M for Montreal
Jason Oxenham, Getty Images
Since 2006, M for Montreal has existed for the chief purpose of showing off Montreal's diverse, energetic music scene. The festival -- which takes place this weekend, Nov. 19-22 -- has been helped in that regard, of course, by the reverberations caused by Arcade Fire and, later, Grimes -- two Montreal acts that had Americans scratching our heads and wondering just what's in the water up there.
Later this week, we'll embark on a journey to the Francophone city, where organizations like M, which puts on the festival, have fostered a scene strikingly diverse and electric with innovation. In advance of our on-the-ground investigation into what makes the fertile Montreal scene tick, we've assembled a list of the acts we're most excited to see -- most from Montreal, though some shipped into town for the occasion. They just happen to reflect the broad, all-encompassing musical ethos the city is known for.
Alden Penner
Alden Penner once co-fronted the one-album-wonders the Unicorns, the brief Montreal-based project of the early aughts that has endured in indie music memory and put Penner and Nick Thorburn, his co-'Corn, on the map. But it's been a long time since 2004. In the meantime, Thorburn founded Islands, a successful group that allowed him to explore the pop directions he originally scouted with the Unicorns. But Penner's taken a different direction, releasing less music but making notable excursions into the darkly vaudeville, with Clues, and the searching and spiritual, with the Hidden Words. His first proper solo album, 'Exegesis,' came out this year, and is as packed with languid, ethereal pop as it is poetry. Penner is one of the treasures of Montreal's music scene (Thorburn's since decamped to Los Angeles) and we're excited to see how his new music translates before a hometown crowd.
Nov 21, 9 PM at L'Escogriffe
---
Lisa LeBlanc
Lisa LeBlanc plays banjo-driven folk, largely influenced by the tiny French-speaking coastal community in New Brunswick where she was born and raised. Her latest album is her first sung in English, and shows off what appears to be a burgeoning interest in American folk -- 'Katy Cruel' with notes of Acadian folk. She's got some stompers, too -- a kind-of hyper-rhythmic garage sound not too far from Gogol Bordello, but made more compelling by LeBlanc's powerful vocals. At 24, LeBlanc finds herself at the beginning of a career that has already proven to be as adventurous as it is true to the traditions of French-speaking Canada.
Nov. 20, 7:30 PM at Club Soda
---
Thee Oh Sees
Sure, Thee Oh Sees are garage rock juggernauts, with 11 very similar sounding albums under their belts in the last seven years. But the last year has seen some pretty fundamental shake-ups in the band's operations. After announcing a hiatus in 2013, frontman John Dwyer, the band's heart and soul, released a new Thee Oh Sees album, 'Drop,' that featured none of his regular bandmates in favor of new collaborators, including garage rock innovator Mikal Cronin on sax. (Additionally, Dwyer released a book of original photography that documented his various friendships and trips across the U.S.) The album sprawls a little more, slowing down for Beatles-y ballads like 'King's Nose' and 'The Lens,' Dwyer's apparent goodbye note to San Francisco, his former homebase. It'll be interesting to see how, if at all, the new lineup puts a spin on Thee Oh Sees' historically wild live show.
Nov. 22, 8 PM at Le National
---
Elephant Stone
Montreal's Elephant Stone is the project of sitar-whiz and psych popster Rishi Dhir, now in its fifth year and hot off the release of its third album, 'Three Poisons.' The band's MO includes straight-forward pop songs with a freaky tinge, a la the Beatles by way of Tame Impala -- 'Three Poisons' distills an even greater variety of sounds into the mix. As Dhir explained when the album came out, one of the biggest inspirations came from a big box of used vinyl records he found one day last year. "There was Echo's 'Songs to Learn & Sing,'" he said, "but there was also a 12-inch single release of the Happy Monday's 'Step On' and 'Kinky Afro,' Spaceman 3 'Recurring,' the Stone Roses 'Waterfall' and 'One Love,' New Order's house masterpiece 'Technique,' Ride's 'Today Forever.'" It's Dhir's giddy fascination with all manners of psychedelic British pop that gives 'Three Poisons' its shine.
Nov. 22, 9 PM at La Vitrola
---
Les Sins
The latest pseudonym of Toro Y Moi's Chaz Bundick, Les Sins sees the mastermind of some of the recent era's best R&B-drenched pop (that genre we once annoyingly called "chillwave") creating music in the producer's chair. 'Why,' a tasty cut from Les Sins' new debut album 'Michael,' is the sole throw-back to Bundick's pop roots -- elsewhere, the music is danceable but moody, with popping beats looped under minor chords plinked on a piano and sprinkled with sustained ambient interludes. Bundick has said he's done with the R&B and ready to pursue different kinds of music -- his set at Le Belmont, during which he will inhabit his new persona and continue to move outside his realm of experience will be a great chance to get a taste of the new directions.
Nov. 22, 10 PM at Le Belmont
---
GrimSkunk
GrimSkunk is probably one of the funnest bands in the world. For ease of explanation, they're a metal band, but they ultimately span just about every genre and style under the sun. If Montreal has a reputation for a diversity of styles, GrimSkunk have been at the forefront since the early '90s. Blistering rock gives way to reggae; French gives way to Spanish. They're unafraid to say "America sucks," they stand up against all that is "materialistic, consumer-oriented, and wasteful," and they love weed -- so much so that one of their founding members actually left the band a few years back to dedicate himself to legalizing the sticky stuff. Other festival-goers tell us GrimSkunk always draw the biggest, rowdiest crowds at their Montreal gigs -- so we're obviously looking forward to seeing them tear the roof off Club Soda on Saturday night.
Nov. 22, 7 PM at Club Soda
---
DakhaBrakha
First of all, just look at them -- DakhaBrakha, formerly members of an avant garde theater troupe in Kiev, sit on stage in a line, drawing tones out of cellos, pounding big bass drums, swaying along with an accordion, each of the three female members wearing huge black hats (or maybe they're wigs?) and white dresses and founder Vladyslav Troitskyi sitting off to the side, wailing along, dressed in some kind of ceremonial garb. We can't stop listening to the dirge-like 'Sukhyi Dub' -- all muttered (almost-rapped) Ukrainian phrases and fleeting melodies. At Bonnaroo last year, DakhaBrakha wowed an unsuspecting audience with their "ethnic chaos" (their own description) and the anxious animal sounds they often make on stage -- and got listeners chirping and squawking along.
Nov. 21, 11:45 PM at L'Astral
---
Klô Pelgag
We don't really know that much about Klô Pelgag, because essentially everything written about the Montreal-based singer is in French. So we're going by our ears. Pelgag's music is a kind of densely-arranged pop that revels in all different kinds of baroque sounds, including brash horns and delicate strings. She has a voice at times sweet and at times deep as the variety of sounds on her songs. God knows what she's singing about, besides what we can glean from her song titles -- 'Tunnel'; 'Nicaragua'; 'Taxidermie' -- but regardless the sounds alone have a kind of fantasy-carnival sound that can make you feel Pelgag exists in a fictional world created by a 19-century French novelist. That rich, imaginative sonic space, and Pelgag's impressive compositions, are reason enough to catch her at M for Montreal.
Nov. 22, 2 PM at Cafe Campus