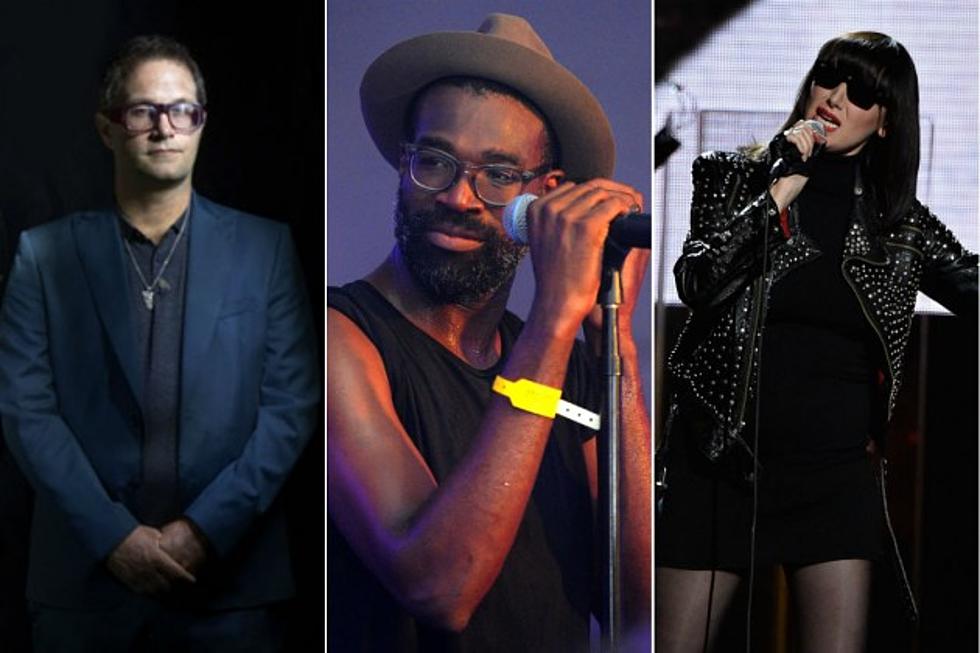 Maximum Balloon Unveils 'Let It Grow' Feat. Tunde Adebimpe + Karen O
Federal Prism / Andrew Toth / Mike Coppola, Getty Images
Back in 2010, TV on the Radio's Dave Sitek dropped his self-titled solo debut as Maximum Balloon. Now, he's announced he will release a follow-up and has shared the lead single, "Let It Grow," which features TV on the Radio frontman Tunde Adebimpe and the Yeah Yeah Yeahs' Karen O. Listen below:
Both Adebimpe and Karen O, who contribute vocals to the new track, also appeared on Maximum Balloon's first full-length, along with David Byrne, Holly Miranda, Theophilus London and more. Check out the single artwork at the bottom of the page.
Maximum Balloon's upcoming sophomore effort is yet to receive a title or release date, but it'll arrive on Sitek's own Federal Prism Records.
TV on the Radio's most recent album, Seeds, landed in 2014. In April, they shared a music video for "Trouble." The band's current tour will pick up on July 18 in Portland. The Brooklyn rockers are also scheduled to appear at several festivals, including Lollapalooza, Hopscotch Music Festival, Landmark Festival and Austin City Limits. Check out a complete list of stops on their website.