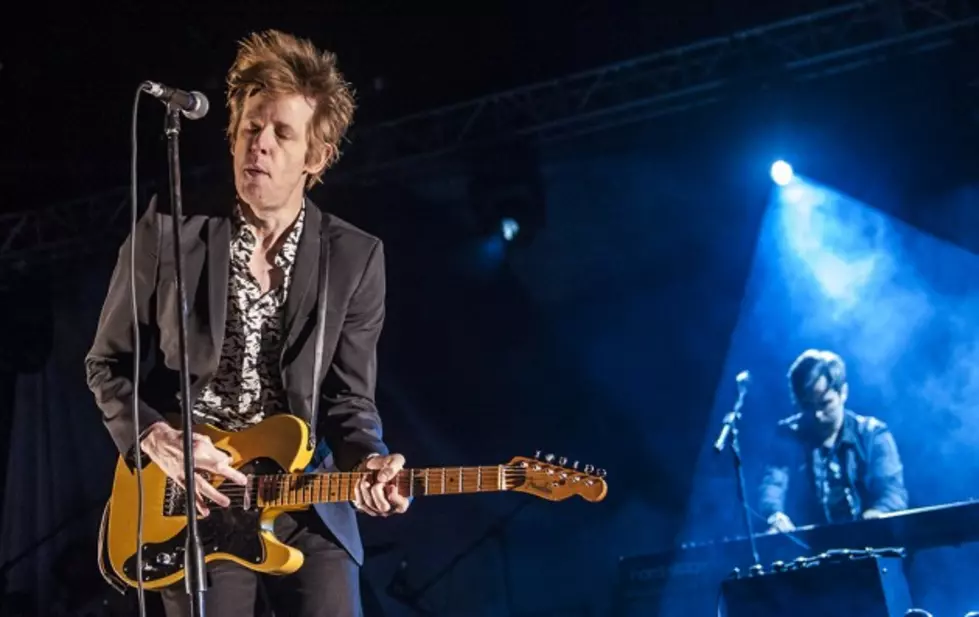 California's Moon Block Party – Spoon, Black Angels, Band of Skulls + More
David Brendan Hall, Diffuser
When the initial lineup for Moon Block Party was announced several months ago -- which, in its third year finally transformed into an event resembling a full-fledged festival with a three-stage setup -- it was looking more like Moon Black Party: Austin psychedelia kingpins the Black Angels topped the bill alongside garage outfits Black Rebel Motorcycle Club and the Black Lips.
Then, a couple weeks before launch, festival organizers nabbed Spoon to take the top spot. When Black Rebel suddenly dropped out last week -- drummer Leah Shapiro was unable to perform due to complications from a brain-threatening condition called Chiari Malformations (CMs) -- it was shaping up to become Spoon Block Party: The Austin mainstay, touring behind the success of their eighth full-length 'They Want My Soul,' surely held the most weight for ticket sales at this point.
Yet, even with a slew of solid support -- Band of Skulls, Metz, Deap Vally, Cosmonauts, Corners, Dahga Bloom and Lorelle Meets the Obsolete, among others -- the grounds felt almost as glaringly barren as the moon's actual surface come hour-zero. Maybe it was the fact that most of the headliners had toured through Southern California fairly recently, or perhaps fans were just fested-out toward the tail-end of the year's season, but in any case, attendance was noticeably low.
The thing is, that actually worked out for the better: Not having to battle thick throngs meant that everyone got a sort of VIP experience -- there was never a struggle for a front-row spot, so fans could genuinely engage with their favorite acts (or otherwise hang back and still hold prime spots).
Though fest founder Phil Pirrone (husband to Deap Vally drummer Julie Edwards) insisted in pre-show interviews that the event was based on the idea of discovering new and local music, enthusiasm for that concept was questionably low early on. L.A. hardcore group Death Hymn Number 9 floundered somewhat during its 2PM slot, drone-y Mexican outfit Lorelle Meets the Obsolete merely garnered a handful of people watching and applauding politely and Fullerton's Dahga Bloom -- with two of their three bassists sitting down the whole time -- didn't seem to give a s--t either way that attendees were only half-listening.
Granted, part of that pseudo-interest might've stemmed from a plague of sound issues -- it was apparent that almost nobody but Spoon got a proper soundcheck, so vocals were consistently muddy and mixes almost always uneven until halfway or longer through every act's set. It was too bad given some of these musicians' immense talent.
Los Angeles post-punk outfit Corners were really the first to rise above the irksome issues. Frontman Tracy Bryant's sultry singing sounded crisp and clear no matter how fuzzy the tune, and the rest of the band exuded a so-far-unmatched professional tightness throughout samplings of just released debut album 'Maxed Out on Distractions.'
Christian Bland and his Revelators, likewise, faired sonically better, though truthfully, the guitarist's material (understandably) didn't sound remarkably different from his work with the Black Angels, and broad daylight somewhat killed its luxuriantly darker qualities. After that, the Cosmonauts proved that having the most fest-appropriate name doesn't make up for an overall lack of passion.
Enter England's Band of Skulls to save the day: With the arena-worthy strength of material off recently released third LP, 'Himalayan,' the rock power trio was the first to instill a general feeling of riff-inspired euphoria that culminated into more than a few successful crowd-surfs and sing-alongs. Deap Vally and the Black Lips similarly riled rock-hungry fans, though both are far too one-note live -- garage music at its best in the moment, but nothing destined for everlasting glory. The Black Angels, on the other hand, nailed their nighttime slot with a smoke and psychedelic projection-laden bash that included the best of last year's 'Indigo Meadow' -- 'Evil Things' and the superbly heavy title track -- plus a welcome departure to lesser played cuts like 'Snake In the Grass' and 'Waterloo Waltz.'
After all the preceding sinister-toned tangents -- including the rowdiest of the day, Toronto noise-rock trio Metz -- Spoon felt almost out of place ending the evening with their more wistful, pop-heavy hooks. Yet, after an irresistibly catchy opening hat-trick of 'Small Stakes,' 'Rent I Pay' and 'Rainy Taxi,' frontman Britt Daniel was quick to win over the crowd by underscoring the significance of such a small-scale fest loaded with so many sincerely driven and gifted musicians.
"This is a petty cool deal, huh," he asked the front row. "This is my kinda fest -- there are people here I can almost touch!"
That statement seemed to spark a surge of warmth that culminated into an ardent dance party for the remainder of the run, and when Daniel barked out the chorus to the 2005 classic 'The Beast and Dragon, Adored' -- "I got a feeling oh then it got to me / it took its time workin' into my soul / I got to believe they come for rock and roll" -- it perfectly encapsulated the spirit of the one-day event.
Because that is what the people came for, is it not? Check out our exclusive shots from the festival below:
Spoon -- Pomona, Calif. -- Moon Block Party
The Black Angels
Metz
Black Lips
Deap Vally
Band of Skulls
Cosmonauts
Christian Bland & the Revelators
Corners
Dahga Bloom
Lorelle Meets the Obsolete
Death Hymn Number 9