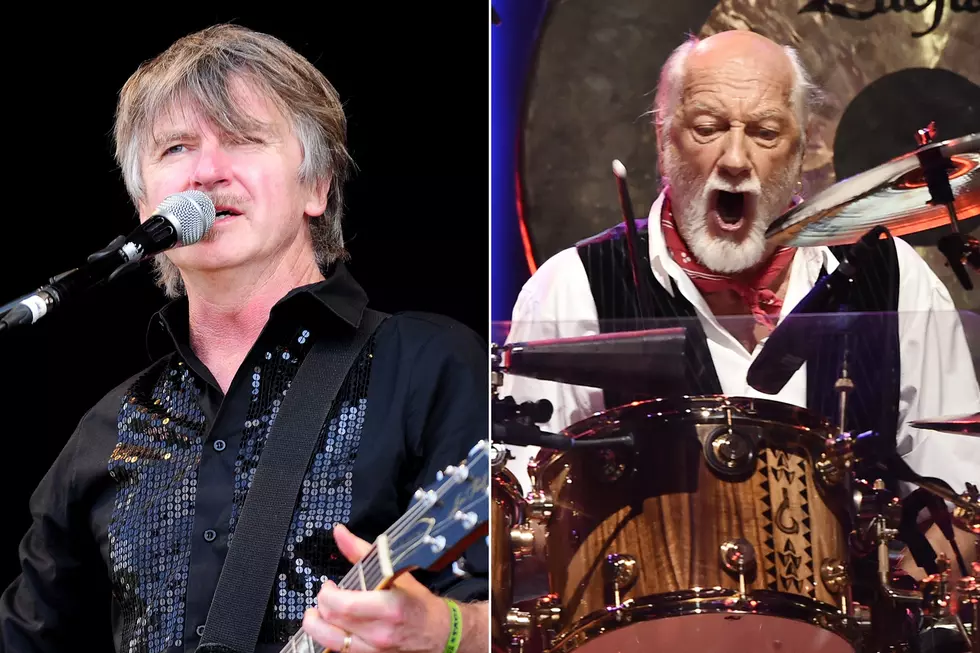 The Chance Meeting That Brought Neil Finn Into Fleetwood Mac
Gareth Cattermole / Steven Ferdman, Getty Images
On Aug. 24, six weeks before he goes out on the road as a member of Fleetwood Mac, Neil Finn will release Lightsleeper, a record he made with his son Liam. In a joint interview of the Finns, Neil described how running into Mick Fleetwood in Finn's native New Zealand not only led to Neil's new gig, as previously reported, but also Fleetwood drumming on Lightsleeper.
"I had met him a couple of times years ago," he told Variety, where they premiered "Back to Life" from Lightsleeper, "and then we met up at the New Zealand Music Awards, funnily enough, had dinner, and he said, 'If you want me to play on anything, just give me a call.' When people say that, it's often just one of those things that never happens. But when we were going to do this recording, I said to Liam, 'What do you reckon — Mick says he'd be up for playing, should we?' And he went, 'F— yeah, of course!'"
"We actually had got to be good friends, and there was an immediate connection with the family during the course of recording," Neil continued. "We felt very at home with him by the end of it, and Liam went and stayed with him in Hawaii just after [Liam's] baby was born. When the call came from him, it was like a friend ringing up — as you would when you're young and starting bands in your 20s — and say, 'Hey man, our drummer just left, would you come and have a play and see how it feels?'"
Neil got the gig just as he and Liam were starting to map out a tour in support of the new work. But rather than be upset at the possibility of killing the momentum, Liam encouraged his father to take the job "just because it would be ridiculous not to go and have a jam with Fleetwood Mac."
Although Fleetwood has said that the songs Neil wrote, either with Crowded House or in his solo career, will be played on the tour, he suggested that he was fine if they didn't. "They say they would like to, so I don't know," he said. "There was no insistence on my part. I get to play my own songs a lot. And I will again."
He also acknowledged the possibility of backlash from people wanting to see Lindsey Buckingham, whom he described as "amazing." But he realized that it was still too good an opportunity to pass up. "At the time, whenever I thought about the wider implications of it and the perception and what this person and that person will say, it kind of freaked me out," he continued. "But if I just thought, 'Hey, I get to play with one of the best rhythm sections ever, and sing with two of the best voices ever, and sing songs that are really pretty amazing,' there was no issue. It was just like, of course — what an invitation, what a gift."
Fleetwood Mac's tour, which also adds Mike Campbell to the lineup, begins Oct. 3 at the BOK Center in Tulsa and concludes April 5, 2019 at the Wells Fargo Center in Philadelphia.
Fleetwood Mac Albums Ranked