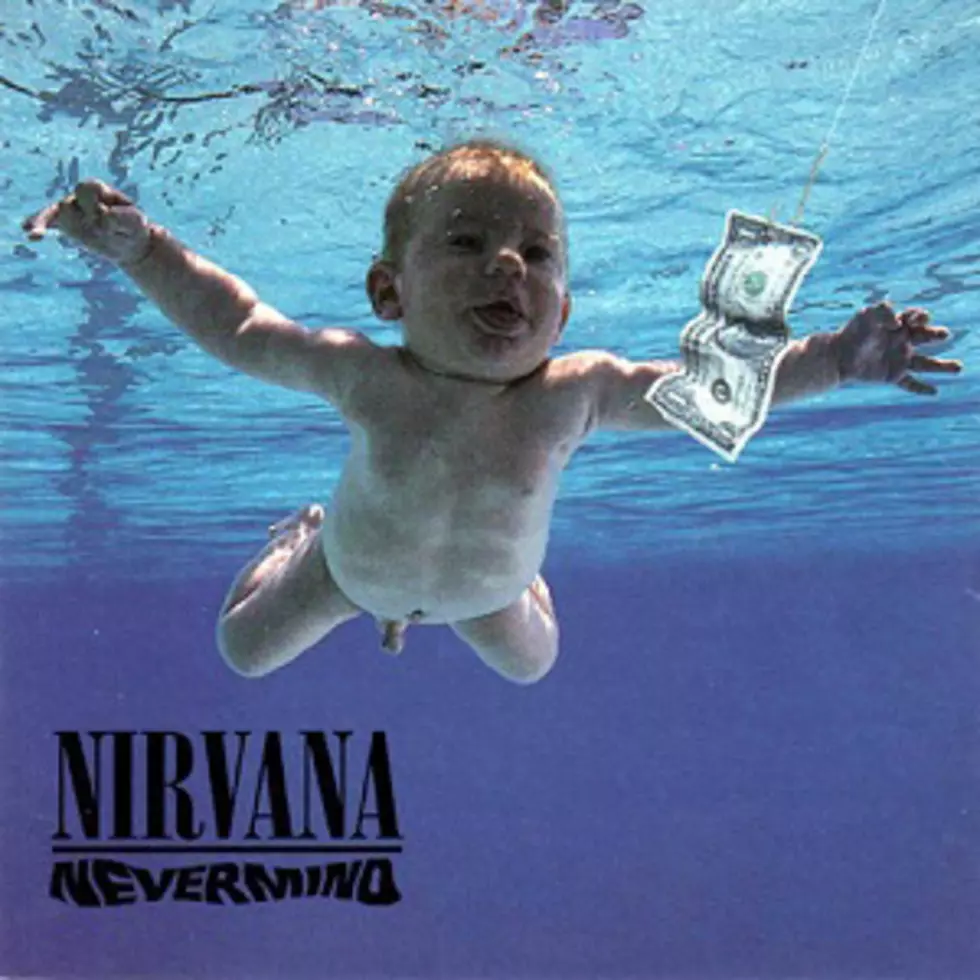 24 Years Ago: Nirvana's 'Nevermind' Becomes the Biggest Album on the Planet
DGC
It's September 24, 1991. The Gulf War has only been over seven months. George H.W. Bush is president of the United States and Mikhail Gorbachev is the president of what's still the Soviet Union. Just last month, Judge Bernard Kamins was removed from a case in which four Los Angeles police officers were charged for using excessive force in an altercation with a young man named Rodney King. But on a much less globally significant level, over on the Billboard Top 200 chart, Metallica's self-titled "Black Album" holds the top spot, followed by albums from Natalie Cole, Rush, Bonnie Raitt and Color Me Badd.
On that same day in September, a trio from the Pacific Northwest mostly unknown outside of Aberdeen, Wash. and nearby Seattle released their major label debut with the intentionally inauspicious title Nevermind. It received a middling three out of five stars from Rolling Stone. But within months, everything – everything – would be different and in the world of pop culture, at least, Nirvana had everything to do with it.
But back in that September, frontman Kurt Cobain, bassist Krist Novoselic and drummer Dave Grohl were in Boston to play at radio station WFNX's birthday bash the night prior to Nevermind's release. Smashing Pumpkins opened the show and Nirvana closed, opening their set with "Aneurysm," the B-side to "Smells Like Teen Spirit." The WFNX show was 21 and over, so a few days later, the band booked a last-minute all-ages show. Ted Volk from Geffen Records said in Carrie Borzillo's book Nirvana: In the Words of the People Who Were There: "They did a sound check and normally when a band sound checks, everyone goes their separate ways. But when Nirvana sound checked, you know those E.F. Hutton commercials? Everybody just stopped what they were doing to watch this, because again, it was like nothing you'd seen before."
"Smells Like Teen Spirit" dropped on Sept. 10, two weeks before Nevermind, but it was hardly an instant hit. The track only really took off when MTV put its anarchic, Samuel Bayer-directed video into heavy rotation, pushing it to No. 40 on Billboard's Hot 100 singles chart for the week of December 7. The following week, the song was at No. 23, then No. 17 where it remained for two weeks. The first week of 1992, saw the song climb to No. 13 before peaking the week of January 11 at No. 6.
The success of the single brought a whole new audience to the band. Cobain claimed he only ever wanted to be as big as Sonic Youth, but now "more average people [were] coming into our shows and I don't want them there."
But Nevermind climbed much faster than its single, first appearing on the album charts at No. 144 the week of October 12, 1991 and climbing into the Top 40 just three weeks later. (Also on October 12: Cobain met Courtney Love backstage at Chicago's Cabaret Metro.) Manager Danny Goldberg recalled in Borzillo's book that when the album hit No. 65, "it was clear to me that they were gonna be the biggest band in the world. In that one moment, it had gone outside the cult of that indie rock scene." Before the month was over, the album would be certified gold with 500,000 copies sold.
Cobain was conflicted about the carousel on which he and his band mates suddenly found themselves. While certainly proud of their success, the enigmatic frontman told a Chicago Tribune reporter that November that "All this attention is getting to be a bit unrealistic. I hardly have any time for my life anymore. I don't have a life. It's Nirvana, Nirvana, Nirvana." On Nov. 16, Nevermind cracked Billboard's Top 10, where the album bounced around for the next two months, swapping places with albums by Garth Brooks, MC Hammer and Michael Jackson. All told, the album spent 28 straight weeks in the Top 10. Rolling Stone quotes Krist Novoselic: "We thought we'd sell a couple hundred thousand at the most, and that would be fine. Next thing you know, we got Top 10. I wish we could have a time machine and go back two months. I'd tell people to get lost."
On Nov. 27, the album achieved platinum status with 1 million copies sold in just eight weeks. Eight days later, Cobain and Love were engaged and within a month, the band set off an arena tour with Pearl Jam and the Red Hot Chili Peppers. The first show of the tour at the 16,000 seat Los Angeles Sports Arena sold out in a day.
Nevermind finally reached the top spot on the Billboard 200 on January 11, 1992, dethroning the King of Pop himself (Michael Jackson's Dangerous). Only four months old, the album had already sold two million copies. The band were in Salem, Ore. when they learned the news. Nirvana publicist Susie Tennant said, "I was shocked, because the underground world of music just never crossed over. These were the days of hair bands. It was like this unbelievable ride that you were on and it just kept going."
One year after Nevermind's debut, the Billboard albums chart still hosted the same array of interchangeable pop artists, but things were noticeably different. Pearl Jam's debut Ten resided at No. 3, while albums by the Chili Peppers and grunge supergroup Temple of the Dog hung just outside of the Top 10. The Singles soundtrack – an unofficial beginner's guide to grunge – was in the Top 20, too. Nevermind still hung at No. 41 while Soundgarden and Faith No More both had albums in the Top 100 along with Morrisey, the Ramones, Ministry, L7, Alice in Chains, Sonic Youth and the Cure. It was clear that alternative music now crowded the same mainstream chart topped by Billy Ray Cyrus and Eric Clapton.
The Soviet Union was gone, too, and George Bush was soon to be replaced by Bill Clinton. Los Angeles still smoldered from the Rodney King riots. Aside from the fact that Nevermind was and continues to be a great album, the true key to its success still resonates over two decades later: It wasn't just another pop album: Nevermind was the soundtrack to a tumultuous era in American history, and Cobain gave a voice to the anxiety caused by so much cultural and societal change happening so quickly.
The 25 Most Influential Grunge Albums Ever