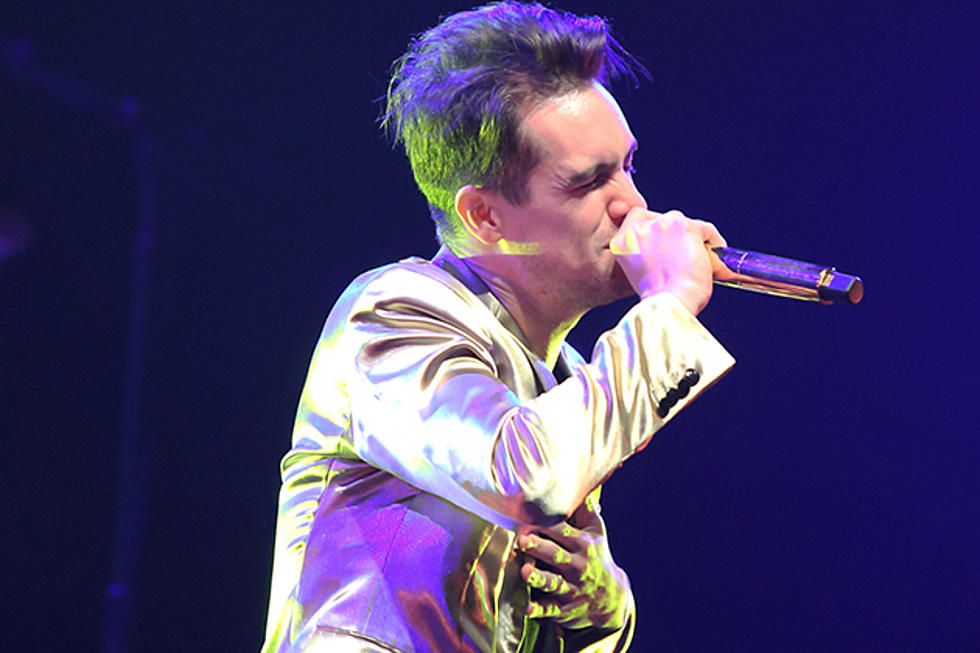 Panic! At the Disco Spread Musical Doctrine on the Gospel Tour – Review and Exclusive Photos
Mary Ouellette, SheWillShootYou.com
Panic! At the Disco are now on the road with the Gospel Tour, and on Sunday they played Boston's Blue Hills Bank Pavilion.
With four vastly different albums in their catalog, the evolution of Panic! At the Disco has been a tough road to follow, with twists and turns around every corner and nothing close to predictable to count on. The only real constant in the band has been the falsetto-belting multi-instrumentalist (and ringleader) Brendon Urie. With member departures (due to creative differences and drug rehab) coming frequently, Urie has somehow managed to continue to lead the group, most recently tapping bassist Dallon Weekes as a co-collaborator on its latest album, 'Too Weird to Live, Too Rare to Die!'
Bearing Panic's Las Vegas roots, their new LP takes its inspiration from Sin City, and it was fitting that they kicked off their Boston show with 'Vegas Lights.' Urie burst onto the stage like he was shot out of a cannon and dove into the anthemic tune sporting a shimmering gold jacket, unleashing the energy of a thousand Vegas showgirls in the process. The light show that accompanied the band was bright enough to light the Vegas strip.
It's remarkable to witness the transformation of Urie from an exuberant and youthful singer in the band's early days to the master of ceremonies he's become. He transitioned with ease from all corners of the stage -- from front-and-center to back-flipping off risers to sitting at a piano, all the while never missing a beat. He made it look so easy. But the most notable progression is in his voice. He's become a true powerhouse over the years.
Panic's 22-song set was heavy on new material and crowd-pleasing cuts like 'Girls/Girls/Boys,' 'Casual Affair,' 'Nicotine' and 'Collar Full.' Keeping the between-song banter to a minimum, Urie briefly addressed the audience before performing the new album's first single, 'Miss Jackson,' sharing an anecdote about the track. "This next song is about a girl I use to f--- a lot," he said -- and it wasn't all that shocking since much of the record is a sexually charged, electro-laced romp.
Fans that fell in love with Panic! after their debut, 'A Fever You Can't Sweat Out' (and its super-long song titles) had a lot to feast on. 'The Only Difference Between Martyrdom and Suicide Is Press Coverage,' 'Time to Dance,' Lying Is the Most Fun a Girl Can Have Without Taking Her Clothes Off' and 'But It's Better If You Do' all made the set list. So did a cover of Queen's classic 'Bohemian Rhapsody.'
Panic! At the Disco closed the show with a two-song encore that included 'This Is Gospel' and their breakthrough hit 'I Write Sins Not Tragedies.'
The group should be applauded for constantly taking chances with its sound and following its musical compass. Urie has proved time and time again that by forging this path, he's strengthened Panic's legacy. Their continues throughout August. Check out all of the upcoming dates here.
And here are some exclusive photos from their Boston show: