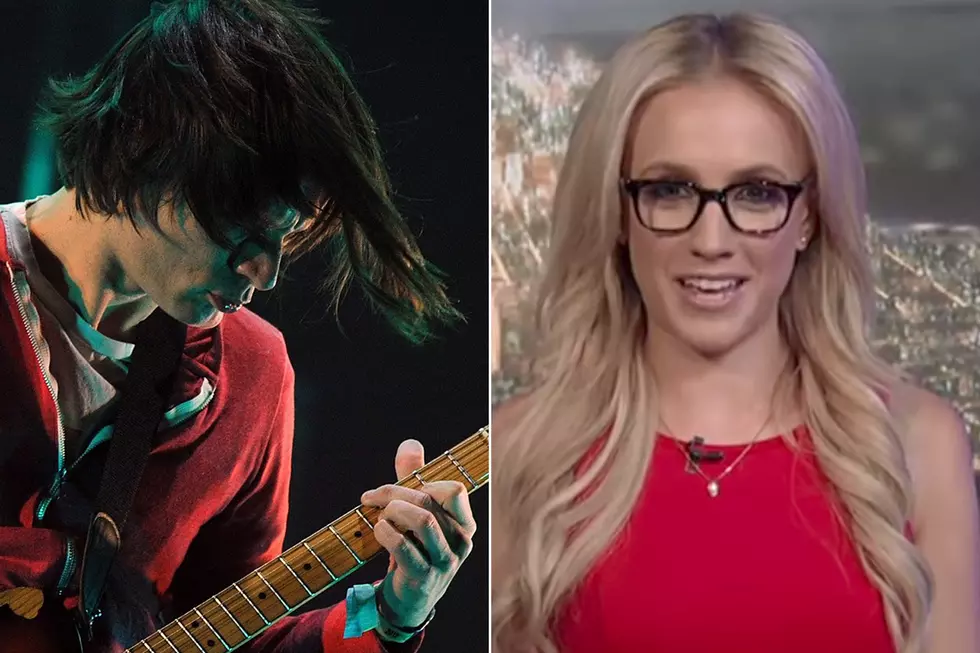 Radiohead's Jonny Greenwood Jokes About Fox Host's Disdain for Their Music
Kevin Winter, Getty Images / Fox News
Radiohead's music may not be filled with laughs, but that doesn't mean the band members don't have solid senses of humor. For proof, look no further than guitarist Jonny Greenwood's current Twitter bio.
As Consequence of Sound points out, Greenwood recently made a change to his account description at the service, following a widely publicized discussion on Fox News' The Greg Gutfield Show in which panelist Kat Timpf derided Radiohead's music as "elaborate moaning and whining" and described their fans as "strange, malnourished, and sad."
The conversation, ostensibly to discuss the odds of various current Rock and Roll Hall of Fame nominees earning induction, found Timpf arguing that the Hall decides who gets in based on "fame and not talent" — and going off on her Radiohead tangent while saying she'd spent years pretending to like the band in order to attract the men she claims make up such a large part of their fanbase.
"I think that Radiohead's definitely going to get in, and should get in. I don't even like them, but the kind of guys that I like have to be three things: strange, malnourished, and sad. And those guys always like Radiohead! So I've been having to pretend to like Radiohead for years to get these men even though the music is just elaborate moaning and whining over ring tone sounds," said Timpf. "And you know what, if that's not fame and power that will get me to do that for someone else then I don't know what is."
It's the kind of putdown that leaves an artist with no real reason to respond, but Greenwood made it clear that Timpf's words had gotten back to him — and that he'd taken it all in stride — by editing his Twitter bio to read, "my life in the gush of boasts..........'strange, malnourished and sad' (fox news - *spits three times*)."
A number of Radiohead fans, meanwhile, haven't found as much humor in Timpf's remarks. Using her own Twitter feed to share at least one example of the rancor she's received since the segment aired, she's reminded followers that the whole thing was a fairly mild, somewhat self-deprecating joke — and lamented what the reaction means for the state of the news cycle and public discourse in 2017.
Radiohead Albums Ranked in Order of Awesomeness