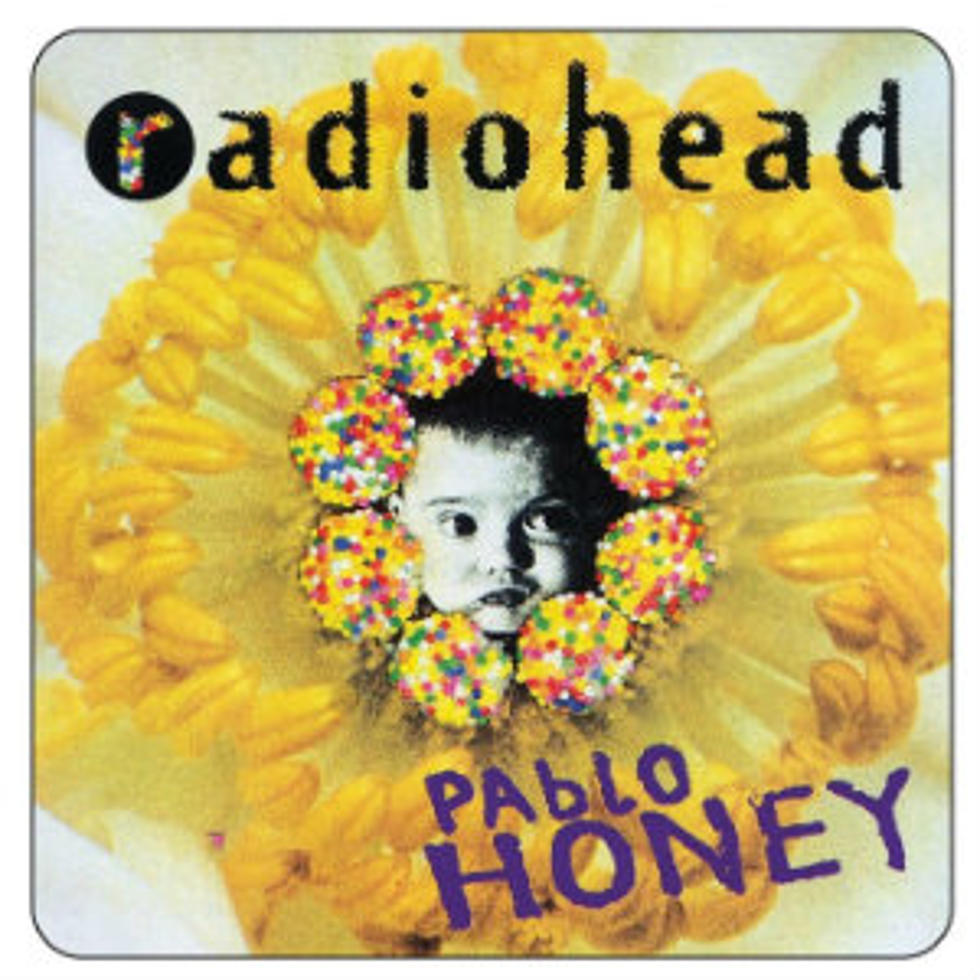 23 Years Ago: Radiohead Debut With the Uneven But Prescient Blueprint 'Pablo Honey'
Parlophone
You already know what we're going to say. For a debut album by a rock band that went on to challenge the very the idea of rock bands, Radiohead's Pablo Honey is unremarkable. It picks up where just about every other breakthrough album of the early '90s did, swiping riffs from J. Mascis, fuzzy lethargy from Kevin Shields, affectedness from Morrissey and Robert Smith, and arena ambitions from Bono. Kinda like Belly, Buffalo Tom, the Lemonheads, and scores of other bands that once ruled the alternative charts — bands we're nostalgic about but don't think much about anymore. Like much of the alt-rock chaff, Pablo Honey had one massive hit song, a few good ones, a bunch of okay ones, and decidedly little to give an indication that Radiohead were on their way to become one of the most innovative and influential acts of the next three decades.
This is canon Radiohead history — the inauspicious first chapter in the history of a band that pushed themselves far outside its blueprint.
But of course, without Pablo Honey (which turns 23 on Feb. 22) we don't have any of the rest of it. In fact, if the album didn't prefigure the astonishing heights the band would reach, it did provide the foundation. Radiohead's career is largely about alternately building on and dismantling the ideas they first put down in Pablo Honey. Thom Yorke's voice on Pablo is throaty, like Robert Smith's, almost a croon — but it does occasionally reach to that searing falsetto that would later become the centerpiece of his vocal approach. "Stop Whispering" showed the band could dial back the noise, and that sophisticated pop songs were hiding under Jonny Greenwood and Ed O'Brien's guitars. On 1995's The Bends, the band took it further as their songwriting blossomed in the direction of killer melodies strung over deft arrangements of noise and light. The guitar figures of "You" are a rudimentary signal toward the orchestral moments on OK Computer, like "Paranoid Android." If the album didn't foretell the creative juggernaut the band would become, it did contain its DNA.
Seven years after Pablo, Kid A (and then Amnesiac) were full-on assaults on the idea of the standard guitar-bass-drums rock band configuration — a refutation of Pablo Honey and everything it stood for. You could spend a day listing probable college-rock influences on Pablo Honey (Pixies, Sonic Youth, Joy Division, the Smiths). Kid A sounded like nothing in the mainstream, pulling sounds from (then-)obscure acts like Modeselektor and Autechre. It was pop-negative, a full-on rebuke.
But even a generous critic must admit that only the seeds of these ideas are present in Pablo Honey. The album itself feels rushed, not quite fleshed out. Even the band admitted they weren't happy with how it turned out. Yorke told Melody Maker as early as September, 1993, just seven months after the record came out: "I like [Pablo Honey], but we were very naive. We didn't really know how to use the studio songs on their own merits." In other words, a band that would later painstakingly refine and perfect their songs in the studio had realized too late that that was what they were meant to do. Among middling songs like "Lurgee" (and worse, resolutely generic ones like "How Do You?") are songs like "Anyone Can Play Guitar" and "Blow Out" that display the band's talents but don't fully elucidate them. (Critics, for what it's worth, could sense there was more here than met the eye; NME wrote, presciently: "[Pablo Honey] is one of those flawed but satisfying debuts that suggests Radiohead's talents will really blossom later on.")
"Anyone Can Play Guitar" in particular hinted at what the band might have achieved if they could've spent more energy in the studio. While most of the lyrics on the record teetered between vague opacity and blunt angst, "Anyone Can Play Guitar" is the existential nightmare of aspiring to be a rock star, those utterly powerful and utterly powerless celestial beings. "I want to be in a band when I get to heaven / Anyone can play guitar and they won't be a nothing anymore," Yorke sings. He would later take those concerns and blow them up to a macro scale on 1997's OK Computer, facing down technology instead of celebrity. The chorus melody is itself an impressive achievement — it's a meandering phrase that reaches its apex fleetingly, almost haphazardly, as if by happenstance. In this framework of very standard rock, "Anyone Can Play Guitar" sticks out as totally original. What the band would have done with it given more time... well, just listen to The Bends — the album the platinum-selling Pablo Honey allowed them to make.
Oh yeah, and then there's "Creep" – a song so astonishingly frank in its emotion that critics initially assumed it was a joke. It was so dark, BBC Radio One reportedly refused to play it, saying it was too dour for the airwaves. When Radiohead played the song on TV in the U.S. — first on Arsenio and then, weirdly, on MTV's Beach House — it was almost grotesque to watch the psychodrama play across Yorke's face, and the violent slashing of Greenwood's arm against his guitar. If most of Pablo Honey is underwhelming, "Creep" is the opposite — an unhinged swatch of pure self loathing marked by a huge crescendo (the one time Yorke really lets that falsetto fly) and that bracing, clattering segue into the chorus that threatens to blow the whole song apart. "Creep" was the mega-hit that made Pablo Honey a hit; without "Creep," it's possible we'd never have heard of Radiohead.
Ironically, "Creep" might be the track on Pablo Honey that gives the least indication of where Radiohead were going. It's a pop song through and through (it so resembled the Hollies' syrupy "The Air That I Breathe" that the band shares songwriting royalties with that song's writers). And it's a relatively simple one at that, defying all the sophistication the band would master going forward in the name of pure ugly emotion. ("I suppose it touches on a nerve with a lot of people — but it's not a nerve I'd want to tap again," Yorke said.) It is, of course, the biggest hit for a band that never really had any other hits. And finally. it's a song that undermines the narrative — showing, however briefly, that Radiohead's underwhelming album nestled a song of almost unbearable rawness and frailty. It was a height that, for all their other achievements, they'd never reach again.
Worst to First: Every Radiohead Album Ranked