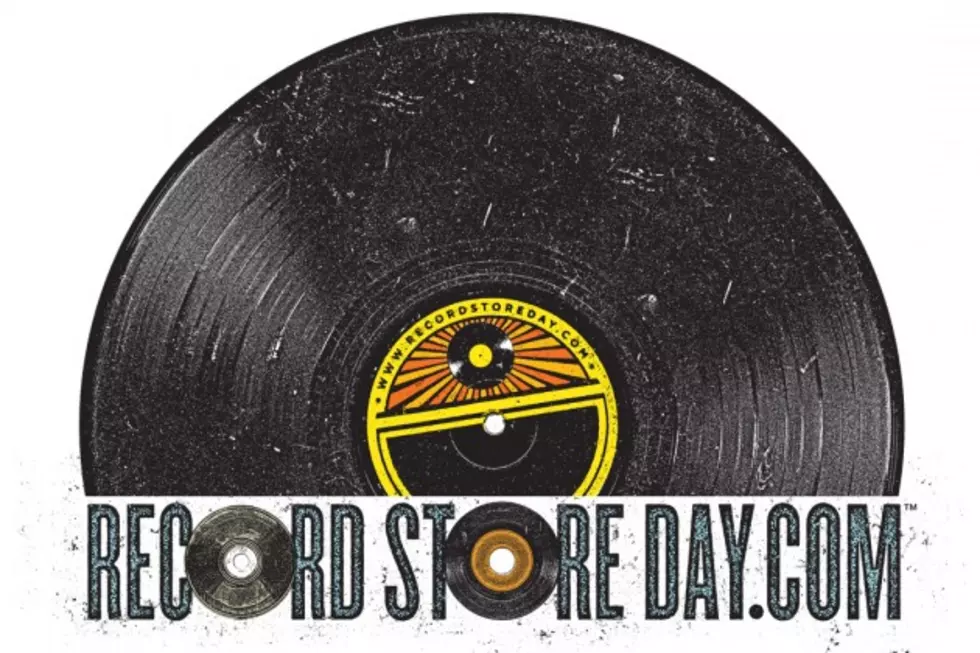 Record Store Day Black Friday 2014 – Official Release List
Record Store Day
This holiday season, instead of camping out days in advance just to score 10-percent off a discontinued big-screen TV, join your fellow music and vinyl fanatics for Record Store Day's Black Friday event. This year might be one of the biggest yet, chock full of exclusive releases from major artists like Neil Young, the Flaming Lips and Green Day and records from burgeoning acts like First Aid Kit, St. Vincent and Chvrches.
Needless to say, we're freakin' excited.
The official list was released earlier today (Oct. 21), but instead of giving you the entire rundown -- you can pick it up here -- we've pored through the items to highlight what we think you'll be most excited about.
There's a little something for everyone, and we can't wait for Nov. 28 to roll around. If you're not sure what stores are participating, fret not! Get the list of shops here.
What release(s) will you be picking up?
RSD Exclusive Releases
The Afghan Whigs -- 'Gentlemen at 21' (12-inch vinyl)
Against Me! -- 'The Daytrotter Sessions' (7-inch vinyl)
Beatles -- 'Long Tall Sally' (7-inch vinyl)
Bleachers -- 'Strange Desire (The Demos)' (12-inch colored vinyl)
David Bowie -- 'Sue (Or In a Season of Crime)' (10-inch vinyl)
The Bug vs. Earth -- 'BOA/Cold' (12-inch vinyl)
Chvrches -- 'Under the Tide' (12-inch colored vinyl)
Miles Davis -- 'Blue Xmas' (7-inch vinyl)
Miles Davis -- 'Miles Davis: The Prestige 10 Inch LPs Collection Vol. 1' (10-inch vinyl box set)
Miles Davis -- 'Engima' (10-inch vinyl)
Dead Milkmen -- 'Big Lizard In My Backyard' (12-inch colored vinyl)
Decemberists -- 'Make Me Better' b/w 'Fits and Starts' (7-inch vinyl)
The Doors / Peter LaFarge -- 'Honor the Treaties' (12-inch vinyl)
Fantomas -- 'Wunderkammer' (Vinyl box set)
First Aid Kit -- 'America' (10-inch vinyl)
Fishbone -- 'Truth and Soul' (12-inch colored vinyl)
The Flaming Lips -- 'Imagene Peise -- Atlas Eets Christmas' (12-inch vinyl)
Genesis -- 'From Genesis to Revelation' (12-inch vinyl)
Gov't Mule -- 'Stone Side of the Mule Vol. 1' (12-inch vinyl)
The Grateful Dead -- '11/18/72 Hofheinz Pavilion, Houston, TX' (12-inch vinyl)
Green Day -- 'Tune In, Tokyo' (12-inch vinyl)
Hozier -- 'In the Woods Somewhere' (10-inch vinyl)
Husker Du -- 'Warehouse: Songs and Stories' (12-inch vinyl)
Chrissie Hynde -- 'Stockholm Live at the 229 Club, London, England' (10-inch colored vinyl)
Joan Jett and the Blackhearts -- 'Joan Jett and the Blackhearts' (Book)
Jenny Lewis -- 'Pax-Am Sessions' (7-inch vinyl)
J. Mascis -- 'Fade Into You/Outside' (7-inch vinyl)
Mastodon -- 'The Motherload' (12-inch picture disc)
Mother Love Bone -- 'Hold Your Head Up' (7-inch vinyl)
New Order -- '1981-1982' (12-inch vinyl)
Conor Oberst -- 'Standing On the Outside Looking In' b/w 'Sugar Street' (7-inch vinyl)
Outkast -- 'Player's Ball' (10-inch vinyl)
Joey Ramone -- 'Christmas Spirit ... In My House' (10-inch vinyl)
The Ramones -- 'Morrissey Curates the Ramones' (12-inch vinyl)
Sneakers -- 'Sneakers' (10-inch vinyl)
St. Vincent -- 'Pieta' (10-inch vinyl)
They Might Be Giants -- 'Flood' (12-inch colored vinyl)
Various Artists -- 'For the People Part 1' (7-inch vinyl box set)
Various Artists -- 'Little Miss Sunshine' (12-inch colored vinyl)
Various Artists -- 'The Big Lebowski' (12-inch vinyl)
The Velvet Underground -- 'Last Christmas' (12-inch vinyl)
Neil Young -- 'Official Release Series Discs 5-8' (Vinyl box set)
Neil Young -- 'Zuma' / 'On the Beach' / 'Time Fades Away' (T-shirt)
RSD Limited Run / Regional Focus Releases
Death Grips -- 'Government Plates' (12-inch vinyl)
Ben Kweller -- 'It Ain't Christmas Yet' (7-inch colored vinyl)
Los Straitjackets -- 'Los Straitjackets Play Some of the Great Instrumental Hits' (10-inch vinyl)
Ra Ra Riot -- 'Two Hearts Beat as One' (7-inch vinyl)
Umphrey's McGee -- 'Seven Inches' (7-inch vinyl)
'RSD First' Release
Dave Matthew Band -- 'Recently' (10-inch vinyl)
Echosmith -- 'Cool Kids' (12-inch picture disc)
Faith No More -- 'Motherf---er' (7-inch vinyl)
Jimi Hendrix -- 'Hear My Music' (12-inch vinyl)
Imagine Dragons -- 'Night Visions' (12-inch picture disc)
The Kinks -- 'Muswell Hillbillies' (2 x 12-inch vinyl)
Leftover Salmon -- 'High Country' (CD)
Elvis Presley -- 'Showroom Internationale' (12-inch vinyl)
Various Artists -- 'American Hustle' (2 x 12-inch colored vinyl)