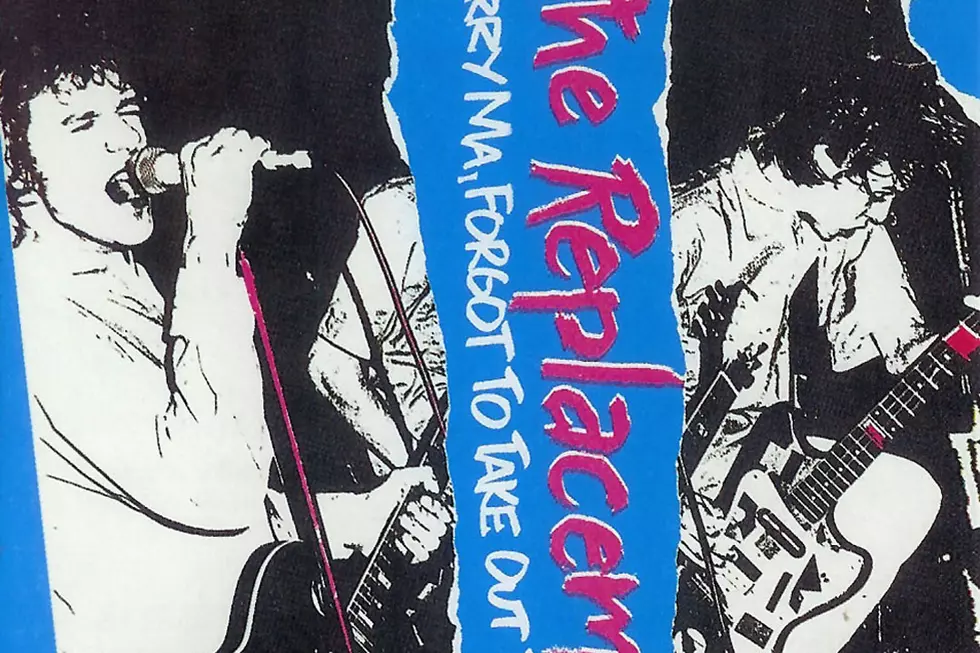 35 Years Ago: The Replacements Arrive With 'Sorry Ma, Forgot to Take Out the Trash'
Twin/Tone Records
The Replacements were one of the most beloved and influential bands to come out of the American underground of the '80s. But when they released their debut, Sorry Ma, Forgot to Take Out the Trash, in August 1981, they were one of dozens of punk-influenced groups on indie labels across the country that comprised the nascent American underground scene.
A little more than a year earlier, frontman Paul Westerberg had dropped off a four-song cassette at Oar Folkjokeopus, a record store in their hometown of Minneapolis whose manager, Peter Jesperson, was also a DJ at Jay's Longhorn Bar. Westerberg was hoping the tape was good enough to land them a slot at the Longhorn — Jesperson also helped book bands into the club — but he was unaware that Jesperson also ran Twin/Tone Records, a local label.
It took a few weeks for Jesperson to get around to the tape, but upon hearing the first song, "Raised in the City," he flipped over what he considered to be a cross between Chuck Berry and the Sex Pistols. The next day, as recounted in Bob Mehr's 2016 book Trouble Boys: The True Story of the Replacements, Jesperson called up Westerberg and asked, "So, were you thinking of doing an album or just a single."
Westerberg was stunned. "You mean, you think this s—'s worth recording?" he said. "I was just trying to get a gig opening for someone."
That mixture of irreverence, self-deprecation and brilliance became the hallmark of the Replacements, and it's all over Sorry Ma. It's there from the opening rush of "Takin' a Ride" and rarely lets up over the course of 18 songs, which go by in about 37 minutes. It even extends to Westerberg's song-by-song liner notes, where he describes Bob Stinson's guitar solo on "Customer" as being "hotter than a urinary infection," while "Kick Your Door Down" was "written 20 mins. after we recorded it" and "Otto" was "proof that Chris Mars is one of the best drummers we could find at the time."
The album expands on the Ramones' dead-end-kids-with-nothing-to-do approach by upping the musical quotient. Where the Ramones were steadfast in their devotion to basic chord progressions and rhythms, the Replacements' songs took unpredictable directions, like the instrumental bridge of "I Bought a Headache" or the melodies in "Don't Ask Why." Westerberg also upped the ante with a sharp, wiseass sense of humor on "Careless," "Shiftless When Idle" and "I Hate Music" (reason: "It's got too many notes"). Then there was "Johnny's Gonna Die," a song about the New York Dolls' drug-addled guitarist Johnny Thunders and the closest the album came to a ballad (Westerberg's country-influenced acoustic recording, "If Only You Were Lonely," was the b-side to "I'm In Trouble").
It was a bit hard to hear amid the noise, but it helped that they had musical chops. Unlike virtually anybody else in punk, lead guitarist Bob Stinson loved progressive rock, especially the guitar work of Steve Howe of Yes. His brother, Tommy was an exceptionally fluid and melodic bassist, despite being only 14 at the time of Sorry Ma's release. But it still came across as punk — even approaching hardcore on "Rattlesnake" and "Something to Du," a playful jab at their biggest rivals in the Minneapolis scene, Husker Du.
Although Sorry Ma, Forgot to Take Out the Trash didn't chart, it did get noticed beyond the Twin Cities, particularly in New York. In the Village Voice, Robert Christgau called them a "non-quite-hardcore Twin Cities quartet who sound like [Johnny Thunders and] the Heartbreakers might have if they'd started young and never seen Union Square: noisy, disgruntled, lovable." And Lester Bangs mentioned that he had been listening to it in the last column he ever wrote, which was published three days before his death in April 1982. It would be a few years before they would cement their reputation, but for now, they were on their way.
25 Bands Who Should Be in the Rock and Roll Hall of Fame