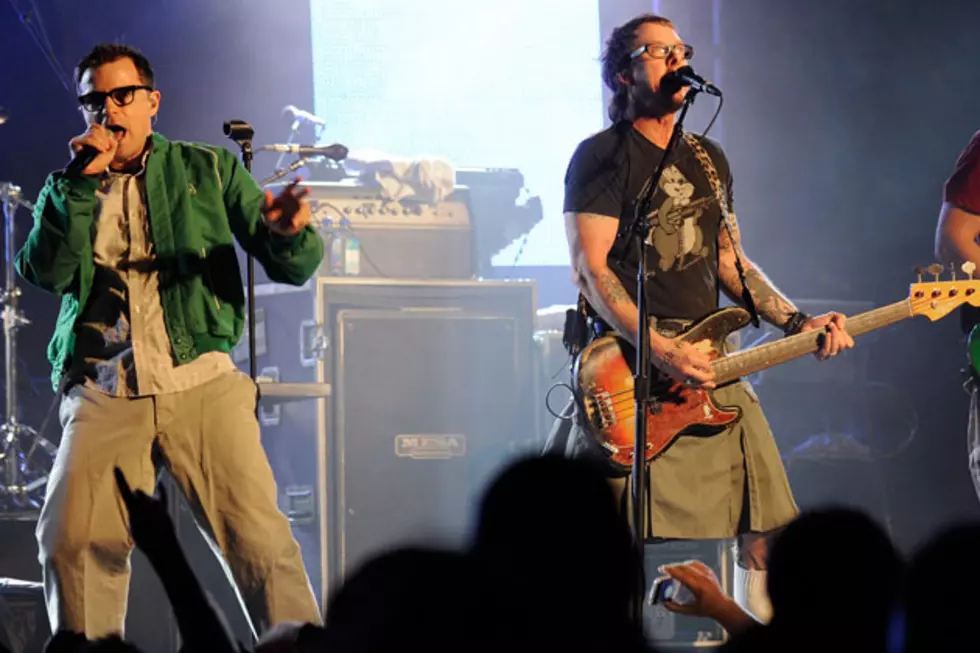 Weezer and Others Help Riot Fest Celebrate 10 Years With Full-Album Sets
Ethan Miller, Getty Images
Riot Fest is celebrating its 10 anniversary this year, and it's marking the occasion in style. Ten bands will perform their greatest albums in its entirety at one of the festivals' three locations.
The lineups for Riot Fest's three big festivals -- which take place in Chicago, Denver and Toronto in September -- were announced yesterday. And now we get news that some of the biggest bands on the bill will perform their landmark works.
The idea developed after the Violent Femmes performed their self-titled debut album all the way through at last year's festival. Riot Fest's Michael Petryshyn said, "It dawned on me that if we ever did an album play thing at Riot, we should make it something that the fans would remember years from now."
So they came up with '10 Years. 10 Essential Albums.' Nine of the 10 bands have been announced so far.
Jane's Addiction will play 'Nothing's Shocking,' the Offspring will perform 'Smash,' Samhain will do 'Initium,' Descendents will perform 'Milo Goes to College,' Naked Raygun play 'Throb Throb' and the Get Up Kids will perform 'Something to Write Home About' in Chicago.
Weezer will perform 'The Blue Album,' Slayer will play 'Reign in Blood' and NOFX will run though 'Punk in Drublic' in both Chicago and Denver. (Too bad, Toronto, looks like you lose.)
There's no word on when Riot Fest will unveil the 10th act and album. "We have one more band playing an album that we're immensely excited about … but it wouldn't be Riot if we didn't tease a little beforehand," said Petryshyn. "No matter what though, this is really about thanking our fans. The work put into the lineups this year and things like the essential albums plays is for them."
Any ideas on who could be the last band and album? Maybe Wu-Tang Clan? Or Patti Smith? The Cure? Either way, we're sure it's going to be huge and epic.
You can find more info, including tickets, at Riot Fest's official site.