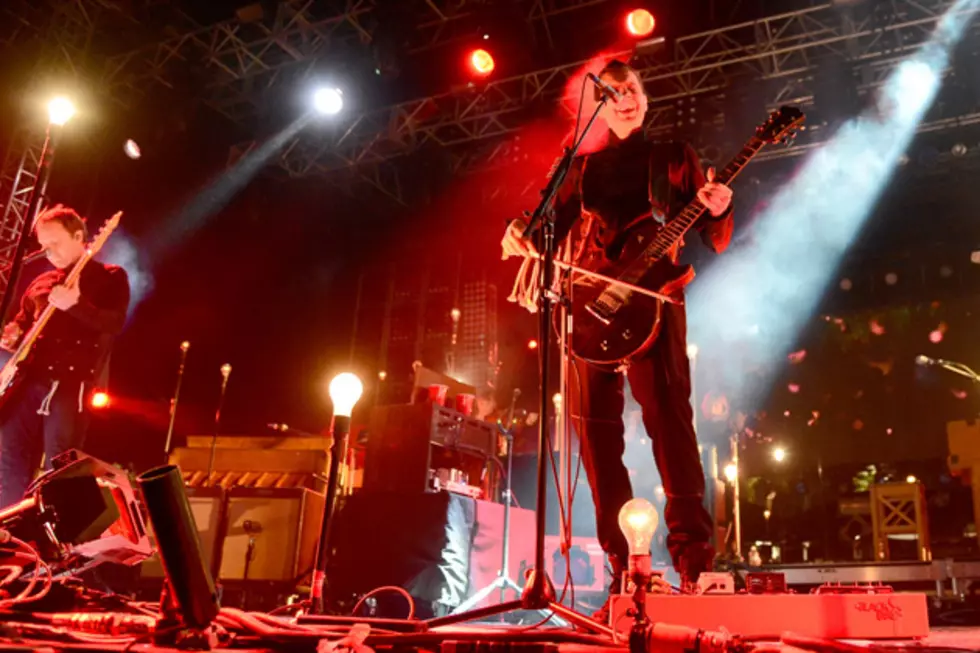 Sigur Ros Showcase Heavy New Material in Asheville, N.C. — Live Review
Frazer Harrison, Getty Images
With its cold, sprawling interior and 7,000-plus arena-styled seating, Asheville's U.S. Cellular Center is an ideal showcase for a WWE brawl or a pre-season NBA game.
But it's an awkward place to soak in Sigur Ros' transportive post-rock. Hipsters and freaks of all varieties strode into the venue Saturday night (Sept. 28) -- some pushing their way to the front of the general admission floor, others straining their necks sideways (or brandishing their binoculars) from the sidelines -- as Julianna Barwick's droning vocal loops wafted to the rafters in an ethereal mist. "Yikes," the audience seemed to express in a collective sigh, faces downcast toward their iPhones. "This is gonna be a long night."
But Sigur Ros weren't interested in coddling the crowd with easy atmospherics. Armed with a batch of propulsive, emotionally stunning new songs from this year's excellent return-to-form, 'Kveikur,' the Icelandic icons transformed the cavernous arena into buzzing cathedral.
The band's focus was spellbinding. Backed by string and brass trios, the band played 14 tracks in just under two hours -- no unnecessary encore, no mindless stage chatter, no filler of any variety. The set was admirably 'Kveikur'-heavy, featuring six tracks from that LP, and the band sounded most energized on the new material -- including an explosive, metallic 'Brennisteinn' and the slow-building 'Yfirborð,' which opened the show. These songs were particularly grandiose, showcasing the full scope of the live band: 'Stormur' was propelled by crashing layers of percussion, while the ecstatic march of 'Rafstraumur' featured extra brass fanfare.
It's tough to gauge the crowd at a Sigur Ros show. Inevitably, some people are there to speak in gibberish tongues to the "hits" (like the always transcendent 'Hoppipolla'), while others come to bask in their own weirdness (like the particularly distracting girl whose interpretative dance during 'Varúð' resembled a mixture of sign-language and stroke). But whatever people came for, they seemed to receive.
During the endless, turbulent crescendos of 'Popplagið,' fans gazed at the stage in endless reverence. And as the band took their bubbly curtain call, a screen displayed a simple message: "Takk" ("Thank you"). Linguistics aside, we were all speaking the same language.