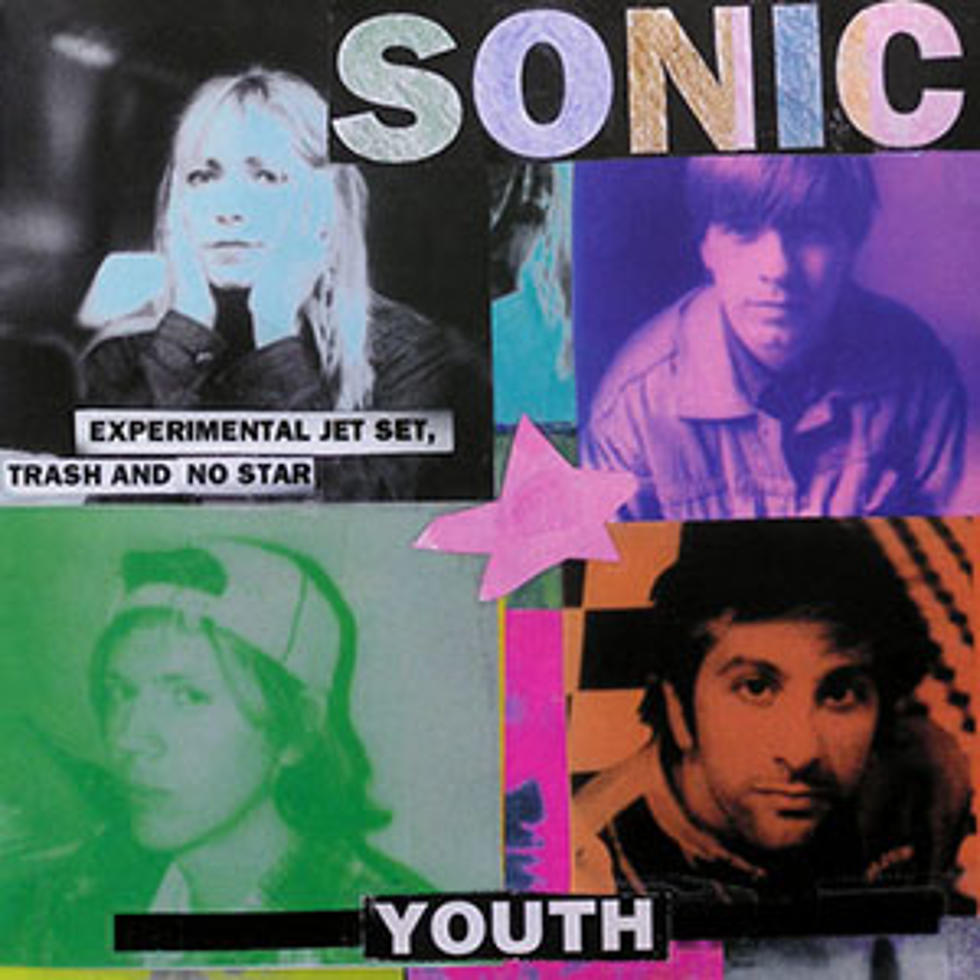 21 Years Ago: Sonic Youth Wipe Off the Grunge With 'Experimental Jet Set, Trash and No Star'
DGC Records
In the year 1994, grunge had transcended its "alternative" status to occupy a comfortable spot within the mainstream. But for many of those artists who'd been in the trenches for a while at that point, the grunge age was on its way out.
Sonic Youth certainly moved on that year with the release of their eighth studio album, Experimental Jet Set, Trash and No Star, which was unleashed onto the world 21 years ago this month (there are a few different resources that claim May 3, May 10 or May 11 were the actual release dates -- our memory fails us once again).
For the first few years of the 1990s, a certain rawness existed as a common thread between many bands. Heavy riffs mixed together with catchy choruses ruled the day, and Sonic Youth certainly dabbled in this approach with 1992's Dirty. They recorded this album after running the European festival circuit with the likes of Mudhoney, Dinosaur Jr. and Nirvana.
Dirty had singles that fit in pretty well with the sonic landscape of the time. While "100%," "Youth Against Facism," "Sugar Kane" and "Drunken Butterfly" all featured that noisy dissonance that everyone associates with Sonic Youth, this dissonance sometimes took a back seat to accessible hooks -- or at least Sonic Youth's version of accessible hooks.
But it was apparent from the beginning of No Star that the band was headed somewhere new, or at the very least, somewhere new-ish. The album opens with an acoustic ballad from Thurston Moore that sounds more like a B-side to a '70s AM Gold-era single, and I mean that in the best way possible. I happen to be a fan of AM Gold-era soft rock:
Then there's the album's lone single, "Bull in the Heather." It features swirling guitars and one of the danciest drum beats of the year. Bassist and singer Kim Gordon breathes the vocals with the sort of smoky feminine voice you imagine sending some private eye to his doom in some old, gritty noir drama. The music video includes Bikini Kill founder Kathleen Hanna pouting and dancing around:
No Star hearkened back to the pre-grunge, New York City art band that they'd been before. Of course, no one got out of the '90s grunge scene unscathed, and the heavy, punk rock guitars and movement-inducing drums and bass still came through here and there. "Starfield Road" becomes a great example of this, if you can get through the first minute of guitar screeching. Ardent Sonic Youth fans are typically undeterred by, or often enthralled with, these sorts of auditory assaults:
And other songs, like "Androgynous Mind," seem to come from out of left field. "Androgynous Mind" showed how Sonic Youth were evolving into the next phase of their existence, bringing along elements from their past incarnations, but combining those elements into something altogether new.
No Star didn't seem to greatly impress the critics then. While the album was generally well-received, the general consensus seemed to rank it below previous albums, especially Dirty and Daydream Nation. Despite this, No Star holds up surprisingly well, maybe even a little better than the relatively dated-sounding Dirty.
And, unlike Dirty, No Star has almost no missteps, with the possible exception of the first half of the kind of goofy "Tokyo Eye." And even that gets pretty good:
Experimental Jet Set, Trash and No Star is a solid album on its own, displaying Sonic Youth at their strongest -- working together as a stripped-down unit. But it also served as the bridge between sounds and proved them to be one of the most artistically formidable bands of the 1990s.