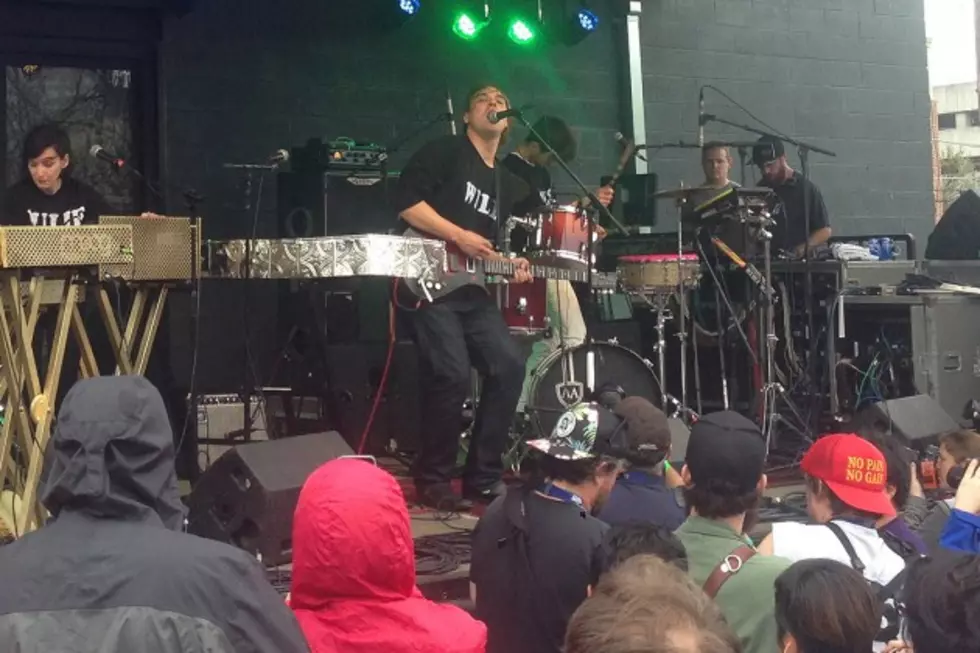 Will Butler, Twin Shadow, Metz + Screaming Females Battle the Rain at SXSW (And Win)
Chris Martins, Diffuser
The Spin day party at Stubb's (March 20) kicked off with a free taco buffet and ended in rain, but neither of those things stopped the steady stream of excellent music coming from dueling stages in the big backyard of the Austin BBQ joint. Check out our favorite sets from the SXSW celebration below:
Screaming Females
If you came late to the Screaming Females' set at Spin's showcase, Marissa Paternoster's leggings could fill you in on what you'd missed. The black fabric was torn around the knees and her shins were covered in dust (which had clearly stayed there due to sweat). She's one of the most delightfully furious frontwomen in rock, and as she led her boys, the New Jerseyan flew around the stage with her guitar like a punk-rock pixie, hopping along the very edge of the platform as she soloed, planting a foot on a photographer's forearm for balance as she soloed and dropping to her knees for yet more soloing. "You make me feel so enlightened," she sang with an erudite English tone during live staple "Pretty Okay." Only moments before, she spat out a huge wad of saliva between lines — clearly it was getting in the way. The intensity of this tiny whirlwind of a woman also had a perfect foil in the contrasting cool of her giant bassist, a towering bear of a man with a scruffy beard and a big grin that grew wider every time Paternoster freaked out.
Will Butler
The younger, crazier of Arcade Fire's two Butler brothers was the onstage madman we'd hoped for. "We are Will Butler," he said between raucous '50s-owing rock and rollers. To his left: a guy named Miles on bass; to his right: Sara, Carrie, and Julie on backup vocals and various keyed things. The fact that they weren't all named Will Butler was readily apparent thanks to the custom crew-neck sweatshirts affixed with big bubble-letter representations of each member's name. They played a bunch of cuts from the jittery singer's new solo album, Policy — bouncy New Wave number "Anna," the punkier "Take My Side," and the skeptical "Son of God" — and did so with plenty of aplomb. In top form, Butler climbed onto the highest surface he could find (a large monitor), sung at the building tops in the distance, then jumped off while his players looked on, a little concerned. He was fine, but our ears are still ringing from his all-the-way turnt up guitar.
Twin Shadow
George Lewis Jr. made for a dapper frontman, towering over the audience with a wide-brimmed Panama hat balanced out by actual bell bottoms down below. Hipster Hendrix though he may have looked, the Twin Shadow mastermind sang with a style that split the difference between Morrissey and Babyface, plus had a casual confidence of, well, a guy wearing very wide-brimmed headgear in the middle of a nasty rainstorm. As the weather worsened for those in the field, he taunted the bare-headed among us: "See, y'all f---ed up. You didn't bring a hat. I did. Your bad. I would stand in the middle of that s--- and there wouldn't be a drop on me." Okay, guy. Lucky for him, the music — fleshed out by a full band — was worth sticking around for, even if the lyrics of "Castles in the Snow" were a little too on the nose: "Everything grows cold," indeed.
Metz
Along with Viet Cong, Canadian punks Metz were tasked with kicking off the day's festivities. No problem. Chugging beer at noon-thirty, the trio churned out ripper after ripper, with Chris Slorach's raw-sounding bass rattling the speakers so hard that a stack began working its way down the hill toward the crowd (fear not, there was a fence). Singer Alex Edkins — dressed in a decidedly normcore combo of button-up collared shirt and bookish glasses — shouted his head off while drummer Hayden Menzies hit his cymbals with hammer-to-anvil force. In between songs, they strained to catch their collective breath: "We would try to do two songs in a row," said Edkins, gasping. "But it's Friday." Gasp. "Been here since Sunday." Gasp. "Can't do it." No sweat, dude.