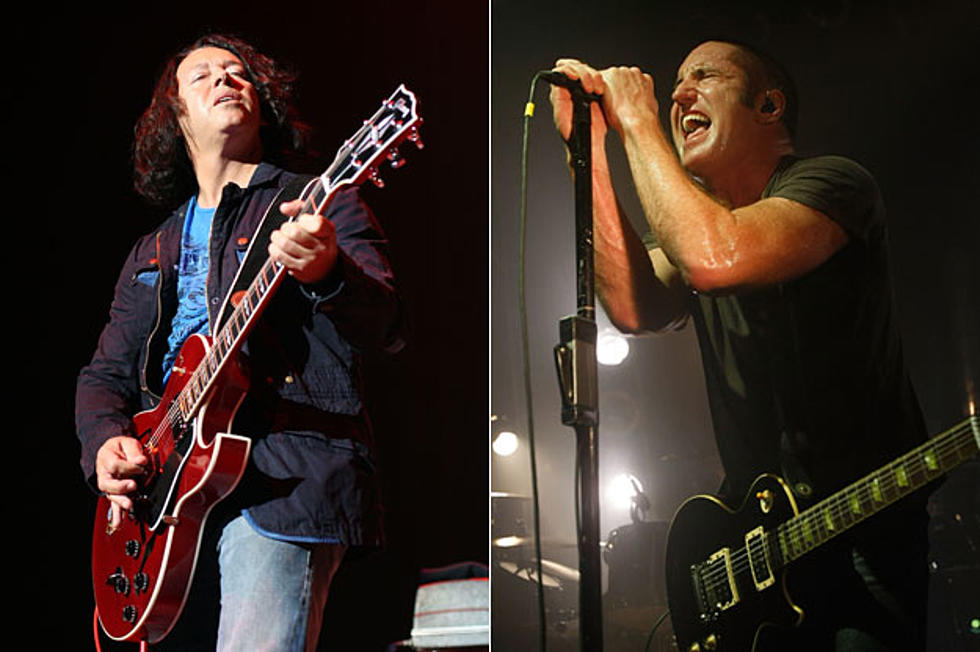 Tears for Fears vs. Nine Inch Nails – Song Parallels
Before they topped the charts by sowing the seeds of love, the guys in Tears for Fears used synths and stomping beats to exorcise emotional demons -- and before he became an Oscar-winning composer, so did Trent Reznor of Nine Inch Nails. As it turns out, that isn't all they have in common.
We're talking about the parallels between Tears for Fears' 'Shout,' which hit No. 1 on the Billboard Hot 100 in 1985 after being released as the second single from the duo's breakthrough sophomore LP, 'Songs from the Big Chair,' and Nine Inch Nails' 'Closer,' which nearly brushed the bottom of the Top 40 in 1994 despite its memorably profane chorus. While it might seem surprising to compare the two tracks, they have more in common than their surface dissimilarities suggest.
For one thing, there's the fact that both songs depend on a rigid, machine-made martial beat -- and both songs' arrangements are fleshed out by layers of cascading synths. But they also share similar chord progressions, and in parts, they could almost be played side-by-side -- particularly the instrumental breakdown, where the jagged, blaring synth riff from 'Shout' is eerily echoed by 'Closer.'
Lyrically speaking, of course, 'Shout' and 'Closer' are far apart; the former is a singalong political protest anthem, while the latter is about a hate-filled lust/shame spiral. But who knows? Now that Tears for Fears are on the nostalgia tour circuit and Reznor is picking up Academy Awards in a suit and tie, maybe they'll find their way to an actual collaboration one of these days.
Listen to Tears for Fears, 'Shout'
Listen to Nine Inch Nails, 'Closer'