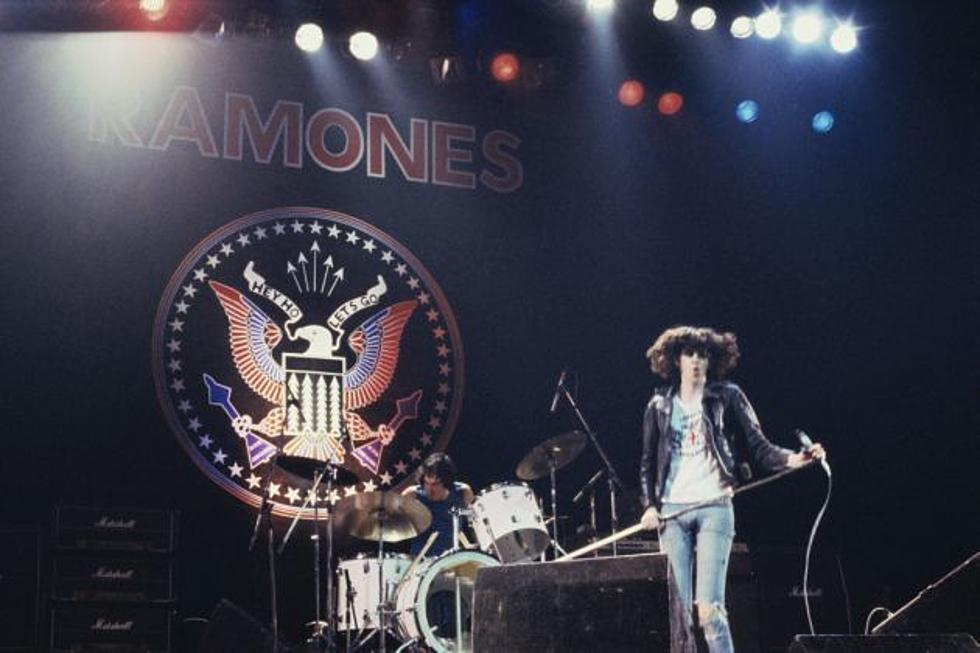 The Story of the Ramones' Last Show
Keystone, Getty Images
The Ramones might have been the hardest-working band in rock and roll history. They formed in 1974, started playing shows, and pretty much never stopped until they called it quits in 1996. Over their two-plus decades of playing power-chord-fueled pop-rock, the Ramones performed more than 2,000 live shows, and on Aug. 6, 1996, they gave their last show ever, in Los Angeles.
The Ramones' influence on music and popular culture is nigh incalculable. They made rock and roll look easy and their appeal spanned cultural groups across the world. So it's no small wonder that their final gig was a star-studded spectacle.
Despite the Ramones' vast punk rock legacy, by the time the '90s were in full swing, their record sales were dwindling. When 1995 rolled around, rumors of the band's impending breakup were everywhere. Before they released their last album, singer Joey Ramone told Billboard, "I can tell you that it's coming to an end. All good things come to an end one day. I got very mixed feelings about the whole thing, because on one hand, there's nothing better than the Ramones. But on the other hand, there's a lot of resistance, a lot of crap, a lot of frustration and a lot of politics."
When the Ramones released what would be their final album, the title seemed to say it all: ¡Adiós Amigos! They soon announced that their continued existence as a band would depend on how well this album sold. Unfortunately, it did not do well.
Money, however, wasn't the only reason behind the Ramones' dissolution. Joey and the gang had been touring nonstop for over 20 years, and their rigorous traveling schedule had taken its toll on them. While it seemed possible that big album sales might have held the band together a little longer, they seemed like they were probably a little relieved to be retiring.
And somehow, despite angsty guitar rock's domination of radio and MTV, the Ramones found themselves largely disregarded during that time. To be honest, they likely only had themselves to blame, as the quality of their music took a turn for the worse shortly after leaving their longtime label, Sire Records, following 1989's Brain Drain.
But one of the greatest punk rock bands in the world wasn't going away without a big deal. They booked their last show at the Palace in Los Angeles and invited a veritable who's-who of '90s rock stars to join the stage with them.
The show still lives on in videos and an official live album, although the disc, We're Outta Here!, is currently out of print. Thanks to YouTube, however, we can still watch and listen to it:
Back stage, Lemmy took a moment to inform viewers of the importance of the Ramones:
They closed out the show by playing a cover of the Dave Clark Five's "Any Way You Want It," joined on stage with Vedder.
Along with being the band's final show, this would be the next-to-last public appearance of all of the members together. They would join forces one more time, in 1999, to sign autographs.
Soon after that, Joey passed away after a long battle with cancer. Bassist Dee Dee Ramone died in 2002 of a drug overdose, and later, cancer took guitarist Johnny Ramone. The last original member, drummer Tommy Ramone, died in 2014, also from cancer.
We now live in a world without the Ramones. Luckily for us, they left behind a wealth of music -- and their influence will no doubt continue to be heard in rock and roll for the foreseeable future.
50 Alternative Albums You Need to Own on Vinyl