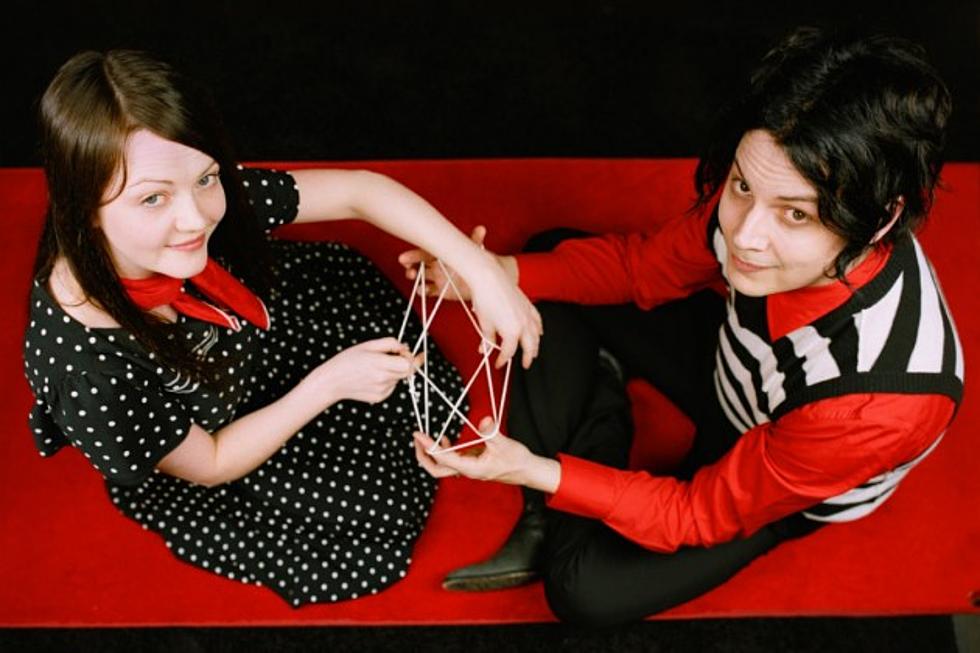 When the White Stripes Released Their First and Last Albums Exactly Eight Years Apart
Press Here Publicity
On June 15, 1999, the White Stripes released their self-titled indie debut. Eight years later, they released their sixth and final album, Icky Thump, first in Germany, with the rest of the world getting it in the next few days.
What occurred with Jack and Meg White during that period – aside from skyrocketing to fame, redefining their own relationship and consistently subverting expectations – was nothing short of magical. It's apparent when juxtaposing their bookend albums that the White Stripes evolved from lo-fi garage-rock minimalism into one of the most evocative, genre-crushing outfits of the last 30 years – and they did it by remaining inherently true to who they were from the start.
It all began in the early '90s when high school senior Jack Gillis would read poetry during open mic nights at the Memphis Smoke – a restaurant in the suburbs of Detroit where aspiring chef Megan White worked. The pair quickly became inseparable and married in 1996 with Gillis bucking tradition and assuming White's last name. By that time, Jack White – who developed a deep-seeded love of Delta blues and traditional country music – had started drumming with a cowpunk outfit called Goober & the Peas and playing guitar in other local bands.
But the breakthrough came in 1997 when, on a whim, Meg – who had no prior drumming experience – picked up the sticks and accompanied Jack during private jam sessions. What she lacked in formal proficiency (or, often, the ability to maintain a consistent beat) she made up for with a sort of primal, childlike ferocity and an imperfection that perfectly complemented Jack's precise guitar mastery. He later told Rolling Stone, "When she started to play drums with me, just on a lark, it felt liberating and refreshing. There was something in it that opened me up." Author Chuck Klosterman once described Meg White's drumming as the sound of "a herd of Clydesdales falling out of the sky, one after another."
The duo dubbed themselves the White Stripes (thanks to Meg's love of peppermint candy); adopted a strict color scheme of red, black and white; and began playfully passing themselves off as brother and sister. They were quickly swept up in the city's burgeoning underground garage rock scene and released a handful of singles on vinyl before releasing their self-titled full-length on the Washington-based Sympathy for the Record Industry.
While punk and DIY indie rock primarily informed many of their peers, the White Stripes drew obvious influence from far more disparate genres – and time periods. They dedicated their album to Mississippi Delta blues legend, Son House – a huge inspiration to Jack – and the allusions to the blues are obvious. Aside from the underlying aesthetic that runs throughout the album's 17 tracks (the longest clocking in at 3:21), there are also not-so-subtle references – like the cover of Robert Johnson's "Stop Breaking Down" and when White breaks into Son House's version of the traditional gospel classic, "John the Revelator," on "Cannon."
The lo-fi production only added to the album's intentionally grimy feel and it was obvious that the pair had tapped into something almost mythical. Brimming with slide guitar and searing solos, The White Stripes is a majestic and heartfelt concoction of punk, blues and backwoods country that feels both timeless and immediate. Jack White told Guitar Player in 2003, "I still feel we've never topped our first album. It's the most raw, the most powerful, and the most Detroit-sounding record we've made."
Of course, by then, the pair had divorced and the White Stripes had become a full-on cultural phenomenon after releasing 2000's De Stijl (a diverse album the duo self-recorded on eight-track analog tape in Jack's living room), 2001's White Blood Cells (their mainstream breakthrough) and 2003's Elephant (their career-defining major label debut for V2). While the blues influence remained at the forefront of their sound, the Stripes also delved into other territory with that string of releases. White Blood Cells and singles like "Fell in Love With a Girl" fit neatly within the garage revival genre proliferated by the Strokes and the Hives and Elephant (a response to their newfound fame) ironically turned the White Stripes into '70s-style arena rockers on the strength of the anthemic "Seven Nation Army."
But it was the Stripes' next (and final) two albums that would most accurately reflect their radical evolution. Get Behind Me Satan, released in 2005, is potentially the darkest and most unabashedly weird album in the band's catalog. Aside from the red herring album opener and lead single, "Blue Orchid," the experimental album is loaded with marimbas, off-time percussion and nearly complete void of the blues and garage sound the band were known for. Instead of focusing on guitar riffs, Jack approached the album from a rhythmic mindset and wrote much of it on piano. The album won a Grammy for Best Alternative Album (each of the Stripes' final three albums did), but the pair returned to their beginnings – albeit from an unexpected angle – for their 2007 swan song, Icky Thump.
Watch the Video for "Icky Thump"
After Get Behind Me Satan, Meg White moved to Los Angeles while Jack (a new father) relocated to Nashville – that fact along with the ostentatious, Loretta Lynn-look of the promo materials led many fans to believe the Stripes would be going country.
But Icky Thump is actually influenced far more by traditional Celtic and British folk – likely thanks in part to Jack White's wife at the time, British model Karen Elson. In fact, the album title is reportedly drawn from the Lancashire colloquial exclamation, "ecky thump," which Elson (a Lancashire native) would throw around. And although the costumes Jack and Meg don on the album cover look like they came straight from the Grand Ole Opry, they're actually "pearlies" – a style of clothes popularized in working-class London in the late 19th century.
It took three weeks to record Icky Thump – the longest of any Stripes album – and producer Joe Chiccarelli said that's because Jack finally had the means and ability to experiment on 16-track analog as opposed to eight-track, and White made the most of the additional layers. There are bagpipes, trumpets and other avant garde elements, but the album also rocks harder and more thunderously than the Stripes had since their earliest days. Sometimes straight-ahead ("Bone Broke") and sometimes stacked against quieter, more pensive verses ("300 M.P.H. Torrential Outpour Blues"), the metallic moments hearken back to the band's debut. But their ability to seamlessly meld the past with the present is most perfectly encapsulated by their cover of the Patti Page classic, "Conquest." Re-imagined as a flamenco punk anthem, it's like an Ennio Morricone soundtrack pulled screaming into the 21st century.
Watch the Video for "Conquest"
The Stripes reportedly began work on a seventh album, but it never moved past the nascent stages. Jack White became increasingly immersed in his two other bands – the Raconteurs and Dead Weather – and began to move into his growing role as the head of Third Man Records, but Meg White (who had always been exceedingly shy) told him that she was ready to ride off into the sunset in 2009. That year, she married Jackson Smith (son of Patti Smith) at a small ceremony in Jack's backyard in Nashville (although the pair divorced in 2013). The Stripes remained around mostly in name only for two more years before announcing their dissolution in 2011 — Jack White said it was "mostly to preserve what is beautiful and special about the band."
So this is truly a special week for White Stripes fans, marking both the White Stripes' arrival and departure. They outlasted many of their garage revival contemporaries because that's not who they ever really were – they were a blues duo with roots reaching back all the way to the '30s. Don't forget how rare two-piece co-ed bands were in 1999 and how commonplace they are now. The fact that the White Stripes just seem like a contemporary rock act is a testament to how much they changed everything.
Watch the Video for "You Don't Know What Love Is (You Just Do As You're Told)"
Jack White Albums Ranked in Order of Awesomeness