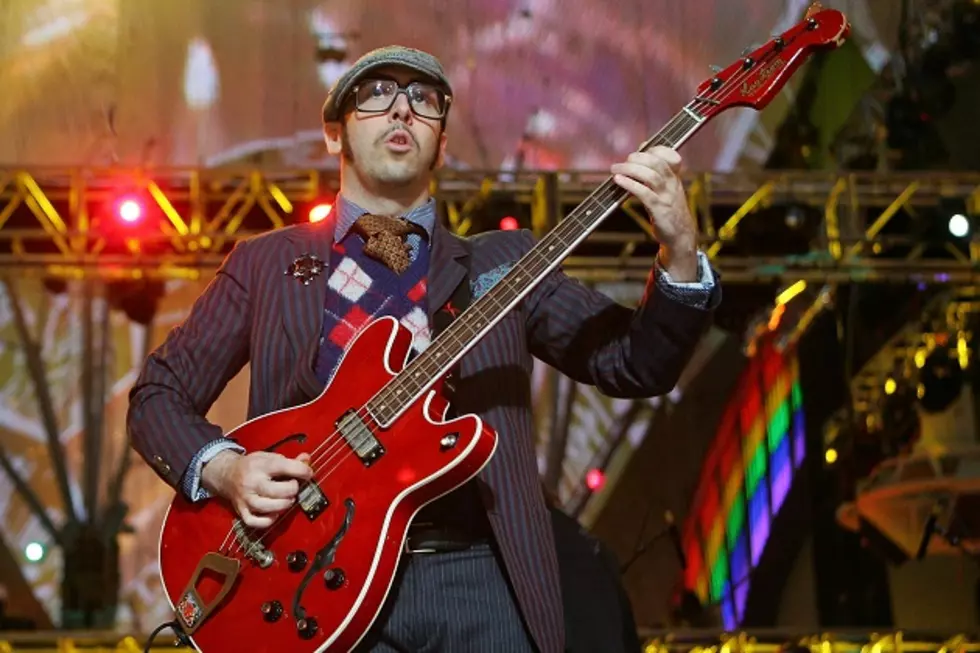 OK Go's Tim Nordwind on Band's Intricate Videos and Dancey New Direction
Ethan Miller, Getty Images
OK Go bassist Tim Nordwind is a creative guy with a unique sense of style. His band -- perhaps best known for their intricate music videos -- first started hitting the airwaves in 2002 with their breakthrough song, 'Get Over It.' But it was the hit viral video for 'Here It Goes Again' from 2005's 'Oh No' that brought them into the mainstream.
Since then, they've released a bunch more impressive videos for the likes of 'This Too Shall Pass,' 'Do What You Want' and 'White Knuckles.' Although their next album, 'Hungry Ghosts,' isn't due out till Oct. 14, OK Go released a four-track EP called 'Upside Out' in June to hold fans over. Meanwhile, Nordwind took some time out to answer a few of our questions.
Did you borrow your glasses from your grandma?
I did not. Though both my grandmothers had good style.
What's the one album we'd be surprised to find in your collection?
Maybe 'Front by Front' by Front 242 or 'The Land of Rape and Honey' by Ministry -- some earlier industrial stuff.
How much does your history as an art student come into play when you're putting together those elaborate, artsy music videos?
Damian [Kulash, vocals] studied art semiotics in school, I studied theater, Andy [Ross, guitar] majored in electrical engineering and Dan [Konopka, drums] studied production.  We're all pretty interested in conceptual art and technology. There is so much awe, wonderment and joy out there in the world to play with. We like to chase our most interesting ideas and find things that are exciting for us to make.
How many takes do you need to get your flawless dance moves right in your music videos?
I think the most takes we ever shot was somewhere around 120 times for our 'White Knuckles' video. We did a one-take choreographed dance routine with dogs, but the reason for so many takes was due mostly to human error.
Your new album already sounds a bit more electronic than what we're used to from OK Go. Where did you guys get the inspiration for that?
At the core, 'Hungry Ghosts' is still very much a rock band, but the songs are much more processed, manipulated and surreal this time. It feels a lot more modern and sonically in the same family as some electronic dance music. It's a party record, though that suggests it's happy all the time -- which isn't necessarily true. We celebrate the spectrum of emotions in a very immediate way. There's a lot of feeling in these songs.
OK Go are currently raising funds for their next studio album, 'Hungry Ghosts.' Get all the details on the campaign here.
Watch OK Go's Official Music Video for 'The Writing's On the Wall'