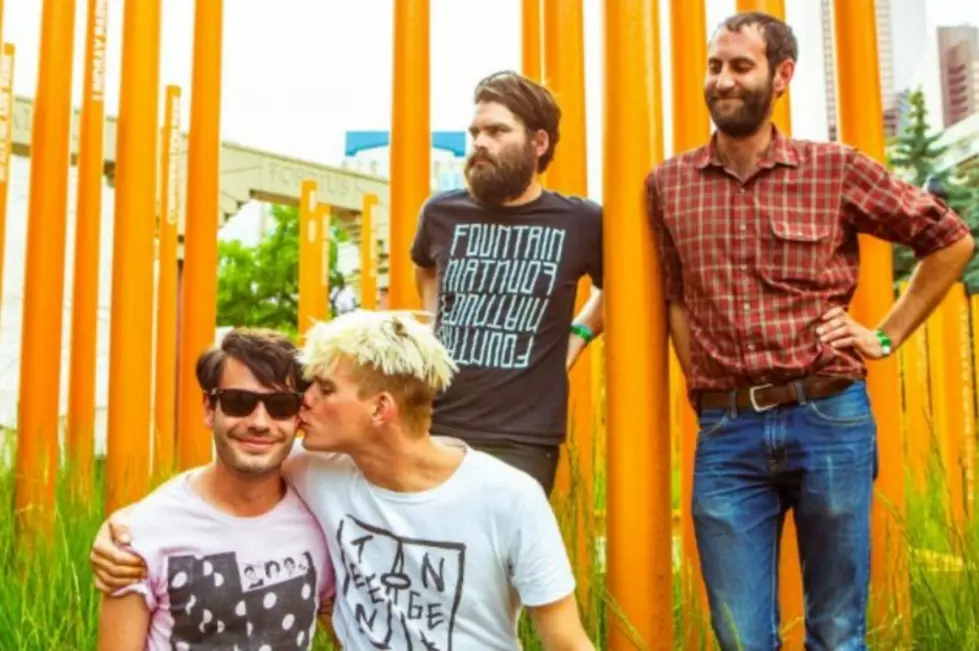 Viet Cong Announce New Tour Dates
Philip Cosores
Viet Cong -- who dropped their great self-titled debut at the beginning of the year -- have announced an extensive list of new tour dates.
The run of dates kicks of later this month when the Canadian post-punk outfit will play Festival D'Ete de Quebec on July 17. From there, they have a handful of headlining and festival appearances planned in Illinois, Ohio, New York, Michigan and Oregon before heading overseas for the European leg of their tour in mid-August. The band is scheduled to return to the states on Sept. 11 when they'll play Hudson, N.Y. Check out the complete itinerary at the bottom of the page.
Viet Cong have also been revealed as the curators for this year's Sonic City Festival in Kortrijk, Belgium. They will hand-select the 2015 lineup, which already includes Chelsea Wolfe, Metz, Lightning Bolt, Suuns and Jerusalem in My Heart, Protomartyr and Shabazz Palaces. The festival takes place on Nov. 21.
Viet Cong's critically acclaimed debut was recently included in the long list for the 2015 Polaris Music Prize. They're up against the likes of the New Pornographers, Death From Above 1979, Alvvays and more. The current list will be narrowed down to 10 artists who will ultimately be considered for the award. That abbreviated list will be announced on July 16, and the winner will be revealed on Sept. 21.
Viet Cong Tour
July 17: Festival D'Ete De Quebec - Quebec, QC
July 19: Pitchfork Music Festival - Chicago, IL
July 21: The Woodward Theatre - Cincinnati, OH *
July 22: The Basement - Columbus, OH *
July 23: Studio @ Waiting Room - Buffalo, NY *
July 24: WayHome Music & Arts Festival - Oro-Medonte, ON
July 26: Mo Pop - Detroit, MI
July 31: Osheaga Festival - Montreal QC
Aug. 1: Pickathon - Happy Valley, OR
Aug. 12: John Dee - Oslo, NO
Aug. 13: Way Out West Festival 2015 - Gotenborg, SE
Aug. 14: Haldern Pop - Haldern, DE
Aug. 15: MS Artville Manifest - Hamburg, DE
Aug. 16: La Route Du Rock - St. Malo, FR
Aug. 19: Scala - London, UK
Aug. 20: Krakow Live - Krakow, PL
Aug. 21: Green Man Festival - Brecon Beacons, Wales
Aug. 22: Pukkelpop Festival - Hasselt, BE
Aug. 23: Lowlands Festival - Biddinghuizen, NL
Aug. 25: Exit 07 - Luxemburg, LU
Aug. 27: NoD - Prague, CZ
Aug. 28: A38 - Budapest, HU
Aug. 29: Mocvara Club - Zagreb, CR
Aug. 30: Gala Hala - Ljublijana, SL
Aug. 31: Chelsea - Vienna, AT
Sept. 2: Six D.O.G.S - Athens, GR
Sept. 4: La Batie - Geneva, CH
Sept. 6: Electric Picnic - Dublin, IRL
Sept. 11: Basilica Soundscape - Hudson, NY
Sept. 12: Supercrawl - Hamilton, ON
Sept. 14: Le Cercle - Quebec, QC **
Sept. 15: Capital Bar - Fredericton, NB **
Sept. 16: Gus' Pub - Halifax, NS **
Sept. 17: SPACE Gallery - Portland, ME **
Sept. 18: Theatre Fairmount - Montreal, QC **
Sept. 20: Mansion - Kingston, ON **
Sept. 23: Cactus Club - Milwaukee, IL **
Sept. 24: 7th St Entry - Minneapolis, MN **
Sept. 27: The Aquarium - Fargo, ND
Oct. 14: Cobalt - Vancouver, BC
Oct. 15: Cobalt - Vancouver, BC
Oct. 16: Neumos - Seattle, WA
Oct. 18: Treasure Island Festival - San Francisco, CA
Oct. 20: Doug Fir Lounge - Portland, OR
Nov. 6: Fun Fun Fun Fest - Austin, TX
Nov. 19: Vera - Gronignen, NE
Nov. 20: Le Guess Who - Utrecht, NE
Nov. 21: Sonic City Festival - Kortrijk, Belgium
Nov. 23: Le Cargo - Caen, FR
Nov. 24: 106 - Rouen, FR
Nov. 25: Ramsgate Music Hall - Ramsgate, UK
Nov. 27: All Tomorrow's Parties - Pontins, Wales
* with Metz + Crosss
** with Greys