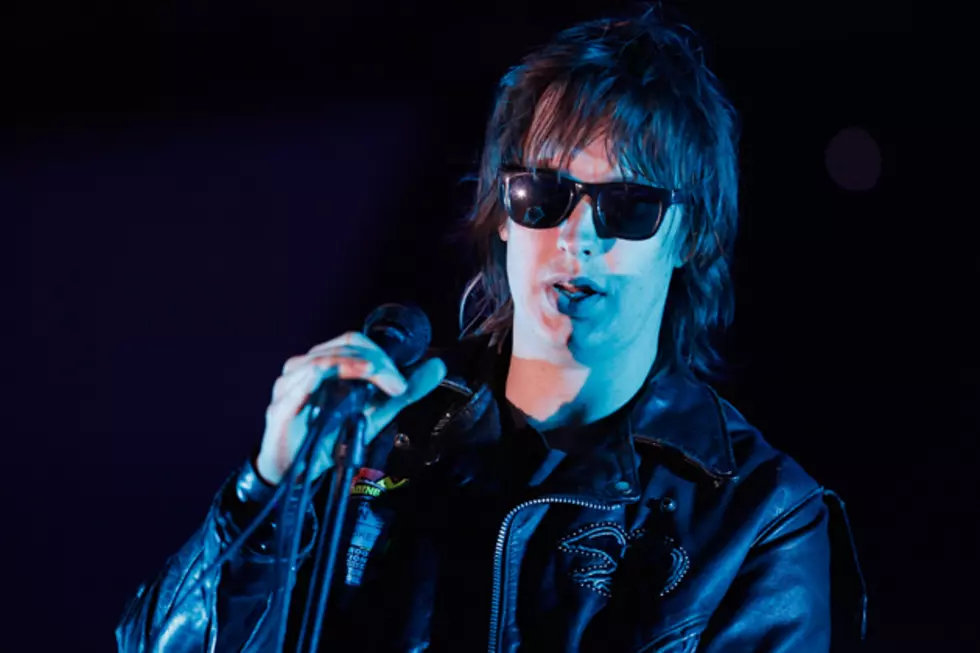 10 Things You Might Not Know About the Strokes
Simone Joyner, Getty Images
The Strokes practically owned the early 2000s with their Velvet Underground-esque retro-rock stylings and badass New York City image. It opened the floodgates for artists like Kings of Leon, Sam Roberts and Jet to get their groove on, and even if Julian Casablancas and his his leather-clad brethren have faded from view somewhat in recent years, they're one of the biggest rock 'n' roll stories of the last 15 years. And as with any good story, there's more than meets the eye. Here are 10 Things You Might Not Know About the Strokes -- particularly if you're new to this NYC crew.
Christopher Polk, Getty Images

Christopher Polk, Getty Images

Albert Hammond, Jr. bleeds rock 'n' roll blood

Fans in love with Albert Hammond, Jr.'s good looks, black curls and sick guitar licks can thank his father -- Albert Hammond, Sr., naturally -- for giving him those rocker genes. Among his many career highlights, the elder Hammond co-wrote the 1974 Hollies hit 'The Air That I Breathe.' Yeah, that song.

Evan Agostini, Getty Images

Evan Agostini, Getty Images

Fab Moretti has fab taste in women

Drummers are usually the strongest, quietest and most mysterious members of bands. (They often spontaneously combust, too!) So of course, they sometimes get the best talent, as they say. Fab Moretti of the Strokes has dated all of these lovelies: Kristen Wiig, Drew Barrymore and Binki Shapiro. Practice those drums, kiddies.

John Pratt, Hulton Archive

John Pratt, Hulton Archive

Their foundation was laid in 1880

Julian, Fab and guitarist Nick Valensi met in an exclusive New York City private school called the Dwight School, founded in 1880. All you have to do is go to the school's website and look at its red-dragon seal to realize that your alma matter is hole-in-the-wall by comparison.

That 'Is This It' cover: Science!

First released in Australia, 'Is This It' arrived in most countries with a cover shot featuring a woman's black-leather-gloved hand on her naked arse. Of course, that was bound to rile historically conservative U.S. censors, so the band opted for the blue and orange design to the left. It looks like what happens when you vomit Spaghetti O's on ice, but it's actually a photo of particles colliding in the Big European Bubble Chamber. Rock 'n' roll ain't rocket science, but sometimes, it's molecular physics.

Chip Somodevilla, Getty Images

Chip Somodevilla, Getty Images

They weren't always paragons of honesty

According to Rolling Stone, Hammond used to book shows by claiming to be the Stroke's manager and using the name Paul Spencer, which he'd taken from an old fake ID. Devious!

Casablancas cleans up well

Per a story in New York magazine, after the album 'Room on Fire' came out, Julian Casablancas quit drinking. That's a tough thing to do when you're a workaday slob, but when you're in a rock 'n' roll band, it's got to be even harder.

Tim Boyle, Hulton Archive

Tim Boyle, Hulton Archive

They pair nicely with X-tina

It got lost in the shuffle of after the success of 'Last Nite,' but 'Hard to Explain' is one of the better tunes on the Strokes' debut album. And this great mashup with Christina Aguilera's 'Genie in Bottle' is simply amazing.

Kevin Winter, Getty Images

Kevin Winter, Getty Images

Kimya Dawson's NOT family

Acclaimed singer-songwriter and Moldy Peach Kimya Dawson is not Fab's cousin, despite what many an online bio reads. Dawson started the rumor herself when the Peaches toured with the Strokes, and people would ask her how they got the high-profile gig. "I mean I've had people, on the Strokes message board too, post pictures of me and Fab and be like, 'Look at the family resemblance,' and I'm like, 'We're not related' and they're like, 'Yes THEY are!'" Dawson told Monsterfresh.com in 2008.

Julian's the brains, not the face

Julian Casablancas may look like a vapid pretty-boy frontman, but he's actually the musical mastermind of the Strokes. Up until this year's  'Comedown Machine,' when he finally "loosened up," as Billboard put it, and let the others kick in ideas, Casablancas wrote nearly all of the band's music and lyrics. Of course, the reception 'Comedown' received suggests he should think about retaking the reins.

There's a natural mystic blowing through their sound...

There's not a lot of reggae in the Strokes' sound -- or any reggae, for that matter -- but in a 2010 interview with American Songwriter, Casablancas cited a certain Jamaican legend as his primary influence. "Probably Bob Marley is my one guy who has a body of work," he said. "That's probably number one by far on the list." Far less surprising was his pick for favorite band: the Velvet Underground.