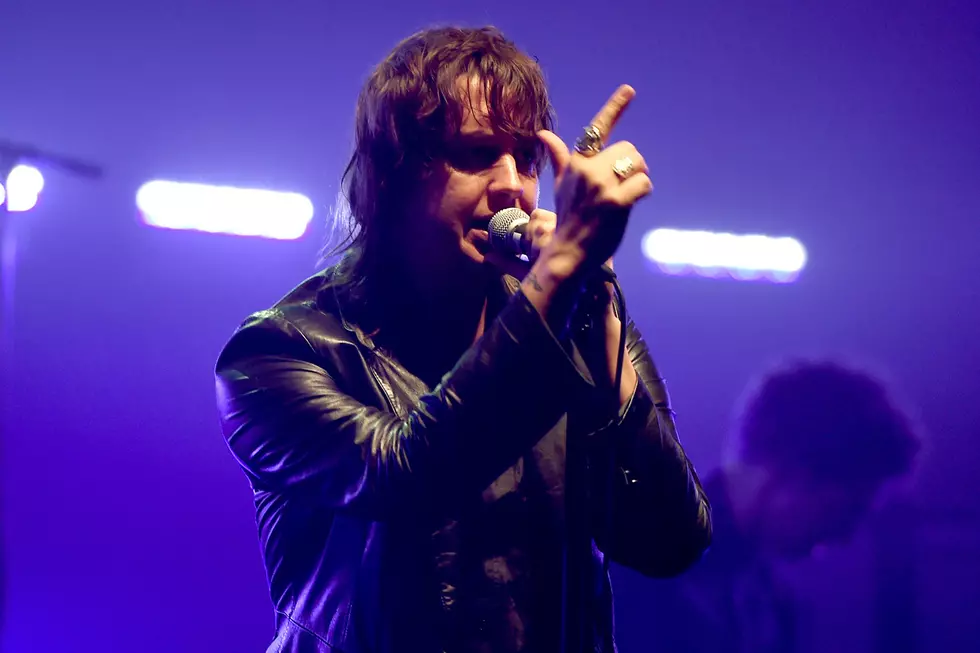 Julian Casablancas Addresses the State of Rock, Shares Strokes Update
Getty Images
Many suggest that rock music is in a state of uncertainty. But that's no reason to worry, according to one of its most lauded post-millennium purveyors.
In a recent interview with Noisey, Strokes frontman Julian Casablancas dished on the shifting landscape of pop music, critics of his new band the Voids, the whereabouts of the Strokes and the recently published Meet Me in the Bathroom book documenting the '00s New York City music scene.
Casablancas is currently on tour with the Voidz, whom he formed in 2013, around the time of the release of the Strokes's fifth album, Comedown Machine. Speaking as to whether Strokes fans should naturally take to the Voidz, Casablancas said "Not necessarily." He then qualified his answer, clarifying, "If you're interested in the evolution of music, then I'd say yes, definitely. If you want to listen to mainstream indie rock, maybe not."
He went on to express disappointment in certain fans who expect reiterations of earlier efforts, venting, "I don't understand some of those people from the old school who grew up loving the Strokes and are now criticizing this new exploration."
This inflexible attitude, however, doesn't give Casablancas cause for alarm over the music's stamina in general. Even as one of the forerunners of the early-'00s indie rock surge, he takes inspiration, he says, from the increased interest of synthesizers and programmed beats. Morever, the Voidz leader expressed skepticism at the genre's existential malaise. "I don't think, 'Oh, rock is dead,'" he said. "There's some hip-hop music that's inspiring. There's a lot of old music to rediscovered, like jazz from the '40s, underground stuff, legendary popular music that we don't listen to for some reason. The new artists of tomorrow will discover all that."
The singer added, "I don't limit myself to genres. I just believe that as long as music moves forward, who cares if rock is no longer what it was?"
To the question of capturing the scene that incubated the previous decade's indie rock successes like the Strokes, Casablancas said, "I was never down with the idea of writing a book about that. I don't think I can identify with that feeling. I feel like it's weird to talk about."
The book on which he's speaking, Meet Me in the Bathroom: Rebirth and Rock and Roll in New York City 2001-2011 by author Lizzy Goodman, whom Casablancas knows personally, is a definitive oral history on the '00s NYC indie rock scene and has been generally well-received.
As to whether we can expect anything in the near future from the Strokes, one of the book's main subjects, Casablancas said, "I'm really focused on the Voidz right now. Some new stuff will come out soon. With the Strokes, I don't know – there's no news right now."
The 50 Most Influential Alternative Musicians of the 21st Century