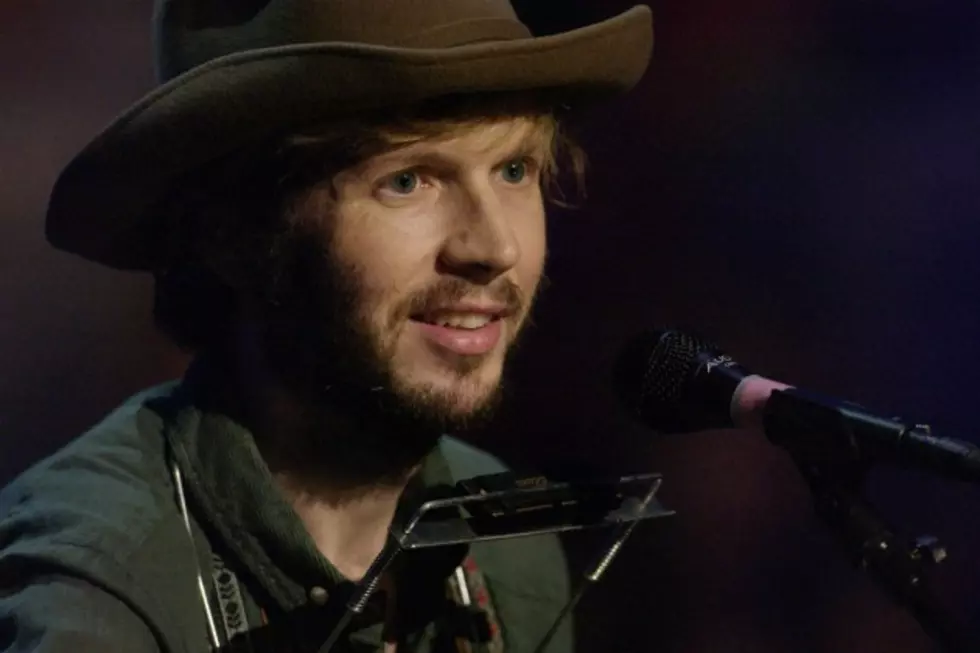 10 Years Ago: A Decade of 'Guero,' Beck's Best-Charting Album
Amanda Edwards, Getty Images
By the beginning of 2005, it had been three years since Beck released a new album but, for the vast majority of the music-listening masses, it might as well have been nine.
The mangy "Loser" character everyone met in 1994 – the same one who, two years later, assumed the throne as the funkiest living white boy on the planet with the party-starting Odelay – had yet to make an appearance in the 21st century. But Beck Hansen – the genre-jumping troubadour who emerged from New York City's anti-folk underground and L.A.'s noise-rock scenes – was very much present. While the deconstructed hip-hop and sample-heavy anthems of the double-platinum Odelay turned him into the unlikeliest ambassador for post-grunge alternative in the '90s, Beck promptly eschewed everything that turned him into a household name (in any household with a working radio, at least).
But fans who had been with him from the beginning and those who had done their due diligence after learning of him later knew that the only thing you could ever expect from Beck was the unexpected. When he shot into the media stratosphere with Mellow Gold, he made a concerted effort to distance himself from the novelty appeal of "Loser" by quickly releasing two indie albums: the stripped-down, folky One Foot in the Grave and the experimental, noisy Stereopathic Soulmanure – neither of which made much of a dent on the collective pop culture consciousness.
So it shouldn't have been all that shocking when he followed Odelay in 1998 with the Grammy-winning Mutations (a far more pensive and organic assemblage of eclectic singer-songwriter fare than anything on Odelay), 1999's Midnite Vultures (filled with futuristic funk that veered towards irony) and 2002's Sea Change (a sweeping, cinematic and confessional masterpiece that brought about Bob Dylan comparisons). Although all three were certified gold and rank among the most fully-realized albums he's released, none had anywhere near the rampant, widespread appeal of Odelay. Of course, Beck never really had much interest in widespread appeal – not if he had to choose between accessibility and artistry. He doesn't just release new albums; he adopts a particular public persona for each album cycle that serves as an added visual component to the music. Whether the outfits inspire the aesthetic or the aesthetic inspires the outfits is probably something only Beck (and/or his stylist) knows.
But five years into the new millennium and after the longest break of his career, Beck had finally warmed to the idea of playing the character he knew everyone wanted to hear: Beck from 1996. While, back in the '90s, he was a wide-eyed child of the MTV generation who slapped together disparate beats and grooves to set the stage for his light-hearted rabble rousing, he had long since matured both as a songwriter and a person. Now a 34-year-old husband and noted cultural force, he had an entirely new vision for the sonic "kitchen sink" approach he mastered in the mid-'90s. He brought back Odelay producers the Dust Brothers, never stuck to one idea too long and remained deliberate with his focus. But the fact that Guero became Beck's best-charting album ever (reaching No. 2 on the Billboard 200) also had a little bit to do with the Beastie Boys and perhaps the best synthetic drum beat ever created by man:
Lifting the instantly recognizable rhythm track from the Beasties' 1992 hit, "So What'cha Want," Beck made it clear from the first second of the album opener and lead single, "E-Pro," that the old Beck was back -- only with enough confidence and clarity to pair his own musical identity alongside that of legitimate hip-hop legends (who, not unlike Beck, made serious legacies for themselves by never taking themselves all that seriously). "E-Pro" was an immediate success and became only his second single to reach No. 1 on the Billboard Modern Rock chart (the other was "Loser").
But those who picked up Guero on the potential promise of a return to Odelay form were greeted with an album that's somehow far darker but also far more relaxed. The main difference between Guero and, say, the critically revered Sea Change, however, is the variety: If Beck albums are like boxes of cereal, most are like family-sized boxes of Froot Loops while Odelay and Guero are those variety packs bundled with Cocoa Krispies, Apple Jacks and Honey Smacks. Each song is different from the next ("Farewell Ride" is a dusty western, "Missing" is foreboding bossa nova and "Earthquake Weather" is straight '70s R&B), but each is glazed with the same sugar coating (which, in this case, is the constant presence of trace electronic elements).
The second single, "Girl" and its chorus of "Hey, my sun-eyed girl," also provides a hint towards what made Guero such a success: its timing. If there's any overarching narrative concept or structure to the album, it's built into the title, which is Mexican slang for "white guy." Throughout the album (and the video for "Girl"), Beck (either overtly or subtly) references the Latin culture of the East L.A. neighborhoods he grew up in. The effect is two-fold: It lends a kind of playful, self-deprecation Beck hadn't used in years ("Que Onda Guero" features both the faint sound of traffic and scattered Spanglish (like the line, "Let's go to Cap N' Cork — they have the new Yanni cassette!"); and the Brazilian and Latin flavor throughout gives Guero a breezy, sunny tone which (along with the album's late spring release) made it a quintessential summer album in 2005. It still feels fresh and perfectly appropriate on a late August afternoon.
A lot of that also comes from Beck's casual tone – one that's both whimsical (Christina Ricci plays a Japanese woman who repeats, "Please enjoy" throughout "Hell Yes") and open to outside influence (Jack White provides the head-bobbing bassline in the meandering "Go it Alone"). But while the sound is often light, the lyrical imagery can be dark and downright morbid with allusions to the devil, the dead and any evil in between. On "Scarecrow," one of the more upbeat numbers on the album, Beck says his "soul's just a silhouette in the ashes of a cigarette."
Therein lies the true greatness of Guero: It beckons to you with all the familiarity of Beck of the past but, upon deeper listens, it unravels with far more complexity. Instead of spouting a lot of gibberish in an effort to get you on your feet, Beck demonstrates his songwriting prowess through restraint and deliberation, all in an effort to get you to think. If he makes tiny robots dance in the process (see below), it's all gravy.