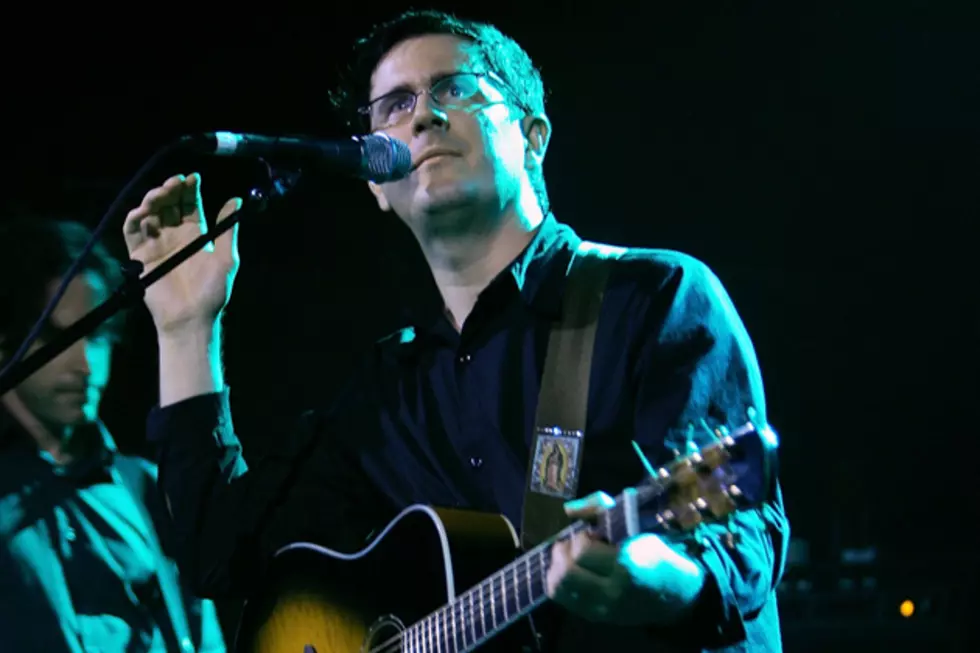 10 Best Mountain Goats Lyrics
Scott Gries, Getty Images
Mountain Goats primary player John Darnielle has won over many with his unique brand of folk songs. Often lo-fi, usually no longer than four-and-a-half minutes, they feature honest, evocative, highly descriptive lyrics and play out like mini narratives. He's created a memorable cast of characters -- among them the recurring 'Alpha' couple and Cyrus and Jeff, friends with death-metal dreams -- and after signing with 4AD and trading boombox recordings for a full band, Darnielle started looking inward, using characters from his own life on 2004's 'We Shall All Be Healed.'
For nearly two decades, Darnielle has released music almost every year, and some years, he's given fans multiple offerings. To pick out 10 highlights from a musician who's penned songs so greatly loved is daunting, to say the least, but here, we took a look back on Darnielle's finest moments and created this list of the 10 Best Mountain Goats Lyrics.
10

'The Best Ever Death Metal Band in Denton'

"When you punish a person for dreaming his dream / Don't expect him to thank or forgive you"

Appearing on the recently reissued 'All Hail West Texas,' 'The Best Ever Death Metal Band in Denton' is a live favorite. For those attracted to Darnielle for his deft songwriting and emotional frankness, there must be something cathartic about getting together with like-minded folks and chanting "Hail Satan" at the song's end. Despite what seems like an odd fit for the Mountain Goats' discography (simply taking a look at Darnielle's Twitter will tell you this guy actually has quite the penchant for death metal), there is something universal lurking in the tale of Cyrus, Jeff and their death metal band, which is still between names like Satan's Fingers and the Hospital Bombers. That something universal is revealed in the lines quoted above, as the two friends are torn apart after drawing pentagrams on their drum heads. They subsequently plot their revenge against those who crushed their death-metal dreams.

9

"What did I come down here for? / You"

The Mountain Goats' 'Tallahassee' starts out pleasant enough with its opening title track. The spare song is just as quiet as the scenery Darnielle evokes. Before the album's central couple's love devolves into something equated to the border of Greece and Albania (i.e. not good), 'Tallahassee' closes with this hopeful and lovely sentiment. It's perhaps one of the Mountain Goats' simplest but nevertheless greatest lines.

8

"Tried to fight the creeping sense of dread with temporal things / Most of the time I guess I felt all right"

'The Mess Inside' follows the waning romance of a couple that is traveling far and wide, trying to keep the fires burning. It's as clear and coherent as any of Darnielle's songs, and it lacks frill and floweriness, as he doesn't need it. The song speaks to the painful nostalgia of remembering something that was once great and simultaneously grasping to keep it going. Here, the couple attempts the latter by going out dancing every night in the Bahamas. No matter where they venture, the joy is fleeting, and Darnielle admits as much in the chorus:  "But you cannot run / And you cannot hide / From the wreck we've made of our house / From the mess inside."

7

"And I'm an eighteen wheeler headed down the interstate / And my brakes are going to give and I won't know until it's too late / Tires screaming when I lose control / Try not to hurt too many people when I roll"

'Matthew 25:21,' one of the tracks on 2009's 'The Life of the World to Come' named for a bible verse, is the only Mountain Goats song to break the five-minute mark. It also features some of Darnielle's most affecting lyrics, as the singer tells the tale of returning to say goodbye to someone dying of cancer. Throughout, he tells the story as it really is, employing straightforward language, like when the speaker arrives at the bedside and realizes, "As it turns out, I'm not ready." Amid the starkness, Darnielle uses powerful metaphors to convey the common struggle to grapple with death and its aftermath.

6

"Some things you do just to see / How bad they'll make you feel"

On the Goats' latest release, 'Transcendental Youth,' Darnielle explores the perspectives of various societal outcasts. In 'Cry for Judas,' he focuses on the people who "don't slow down at all," with no one there to catch them from the inevitable fall. Darnielle's signature candidness drives the opening line (quoted above), which surely resonates with many listeners and signifies that most of us are outcasts in one form or another.

5

"I write down good reasons to freeze to death / In my spiral ring notebook / But in the long tresses of your hair / I am a babbling brook."

Darnielle uses 'Broom People' to set the scene for what's to come on 2005's 'The Sunset Tree' — from the domestic violence found in 'Dance Music' to efforts to overcome that history in 'Up the Wolves.' The track offers both a physical and emotional landscape for the album by vividly describing the backdrop along with those involved, like the clueless friends and teachers. Despite the dire circumstances, the speaker finds comfort in one person, and the imagery Darnielle chooses to convey that feeling is beautiful.

4

"I drove home in the California dusk / I could feel the alcohol inside of me hum / Pictured the look on my stepfather's face / Ready for the bad things to come"

Immediately following 'Broom People' on 'The Sunset Tree,' 'This Year' is a favorite among Mountain Goats fans due to its emotional and anthemic nature. Still exploring painful memories from his youth, Darnielle sings of a 17-year-old doing everything he can to simply survive the reality of his home life. His coping mechanisms include drunken video game playing and holding the hand of a girl named Cathy, but the singer acknowledges that these are temporary fixes. He knows full well what's waiting for him at home.

3

"The most remarkable thing about you standing in the doorway is that it's you / And that you're standing in the doorway."

One of many 'Going to' tunes, 'Going to Georgia' is a Mountain Goats staple, even if it's just for this "doorway" line. Darnielle delivers it in spoken-word form and intersperses his singing on the rest of the track. The line is quoted again and again by diehard fans, and you can see why. The sentiment is incredibly powerful in its simplicity. But the interesting thing about this line is that it's often taken completely out of its context. The speaker entering this loving scene is wielding a 1967 Colt .45. Luckily, the girl standing in the doorway eventually disarms him.

2

"This song is for the people / Who tell their families that they're sorry / For things they can't / And won't feel sorry for"

The notion of seeking forgiveness for things you can't be forgiven for is something Darnielle has explored more than once, but in 'Cotton,' he does so with his most eloquent turn of phrase yet. For a guy who rehashes memories with a sharp eye and often mournful tone, this track finds Darnielle encouraging listeners to let go. The song is a call for reconciliation and peace that speaks to themes heard on the album on which it's found, 2004's 'We Shall All Be Healed.'

1

"I am drowning, there is no sign of land / You are coming down with me, hand in unlovable hand / And I hope you die / I hope we both die"

As we pointed out with No. 9 on our list of the 10 Best Mountain Goats Lyrics, the opening track of 'Tallahassee' would have you believe the album is going to unfold as a sweet love story. Of course, it doesn't take long for Darnielle to put that notion to rest, and once 'No Children' rolls around, the title track is a distant memory. Just short of three minutes, the song has Darnielle shouting for the dissolution of the 'Tallahassee' couple's marriage. He's perhaps the only songwriter out there who can make "I hope we both die" fly as a substantial lyric, and he does so by twisting it into a divorce anthem for the masses.