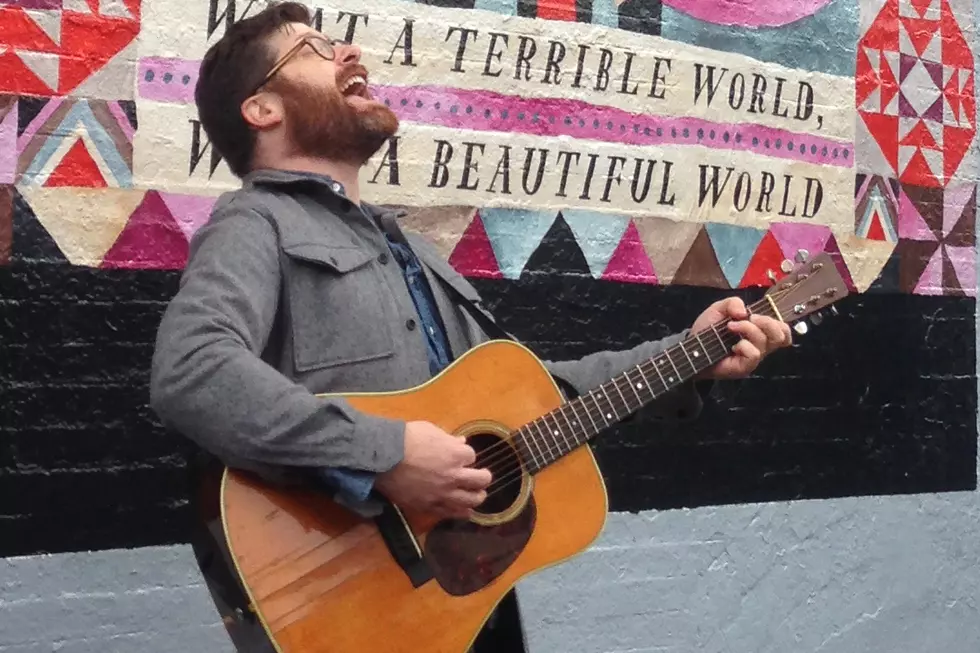 The Decemberists' Colin Meloy Busks Jackson C. Frank's 'Blues Run the Game'
Chuck Armstrong, Diffuser
As we climbed the steps of the Bedford Avenue subway stop in Williamsburg, we knew we were in for something special: Friday morning (Oct. 23), the Decemberists' frontman, Colin Meloy, tweeted that he was going to busk some new songs on the corner of 7th Street and Bedford. As you might imagine, it didn't take much convincing to get us on the fastest train to Brooklyn.
As we huffed and puffed with each step, music echoed in the stairwell, but it wasn't a Decemberists song -- and we knew it wasn't a new tune, either, because there was something very, very familiar about what we were hearing.
All of a sudden, it clicked: Meloy was putting his delicate and beautiful spin on the distinguished 1965 tune, 'Blues Run the Game,' written by the tragic folklorist, Jackson C. Frank. You can see the performance in the video above.
'Blues Run the Game' first appeared on Frank's self-titled studio LP -- the only record he'd release during his life. If you haven't heard his original take on the track, you've likely heard various renditions from the likes of Simon and Garfunkel (his eponymous album was produced by Paul Simon), Nick Drake, Mark Lanegan and the Counting Crows. You can listen to Frank's recording below:
Meloy's Brooklyn performance of 'Blues Run the Game' was not his first; in fact, he performed the song at 2013's 'Another Day, Another Time' concert in support of the Coen Brothers' folk-inspired movie, 'Inside Llewyn Davis':
If you missed out on the unique opportunity to see Meloy busking in Brooklyn, don't worry! We captured the experience -- which included two new songs (one of which you can see below) and the announcement of an upcoming Decemberists LP -- and you can relive the entire set right here.
Colin Meloy Busks New Decemberists Song, 'Make Me Better'