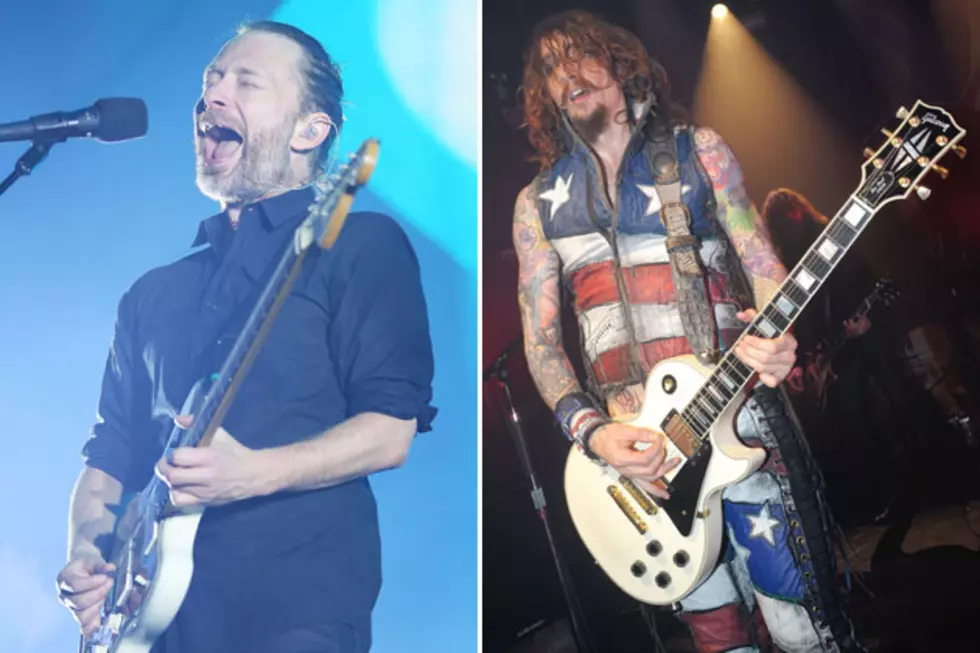 Under Cover: The Darkness Give Radiohead a Lesson in 'Street Spirit'
Mark Metcalfe / Ilya S. Savenok, Getty Images
In 1995, Radiohead released what many fans still consider one of their greatest albums, 'The Bends.' One of the most engaging moments on the record is the moody closing song, 'Street Spirit (Fade Out),' which pointed to the next step in Radiohead's evolution. The cut became a Top 10 hit in the U.K. in early 1996.
'Street Spirit' develops in an almost otherworldly, dreamlike haze. Thom Yorke's haunting vocals swirl above the dream like musical bedding. You can feel the band moving toward the sound that would envelop their groundbreaking 'OK Computer' album in 1997. While the song never explodes, it builds with ethereal tension as it crawls forward, creating a beautiful creature along the way.
Seemingly the polar opposites of Radiohead, hard rockers the Darkness began performing 'Street Spirit' in concert in 2004. The mere concept of these masters of all things loud and flashy covering such a subtle, introspective song caused more than a few puzzled looks at the time.
But once fans actually heard the Darkness' cover, which was included on their 2012 album 'Hot Cakes,' countless minds were collectively blown. The Darkness take the original song's understated riff and turn it into a monster jam, complete with Iron Maiden-sized dramatic intent. Frontman Justin Hawkins's signature falsetto is front and center as the band tears up 'Street Spirit' and completely remakes and remodels the song in its distinct image.
But the real triumph of the Darkness' cover is their ability to take 'Street Spirit' to a level nobody thought possible. While retaining the original song's mood and spirit, they elevate it to brand new heights. Take sides if you must, but we like 'em both. The Radiohead original ranks as one of their finest songs, but the Darkness' overhaul summons a whole new batch of giddy feelings.