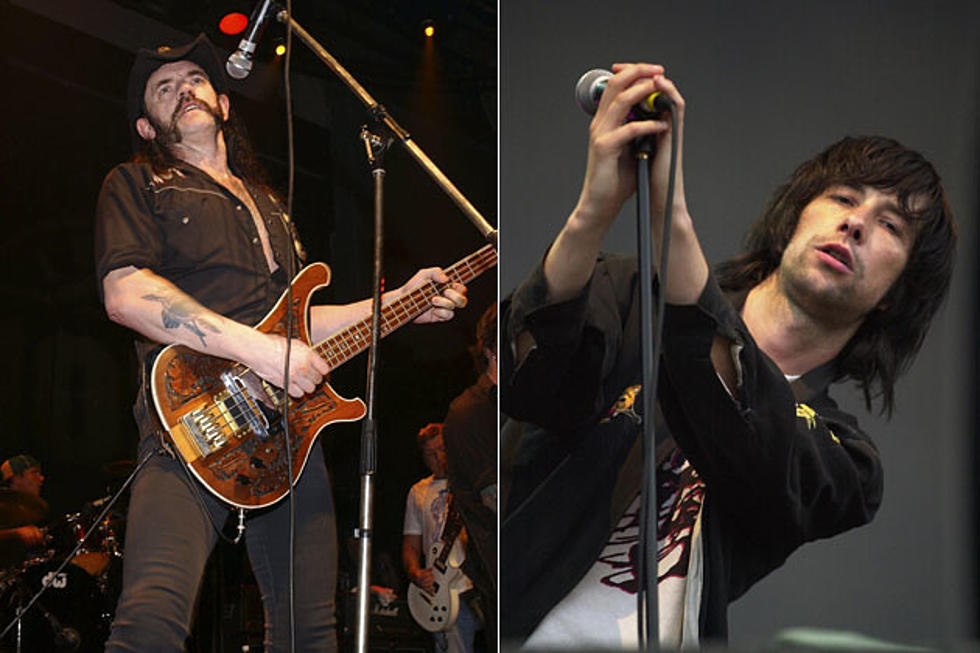 Under Cover: Primal Scream Meet Motorhead At The Junkyard Rave
Amanda Edwards/Getty Images
There are some songs you just don't dare cover, songs so associated with a particular artist that to try and cover them just seems ludicrous and pointless. No one told Primal Scream that, and even if they did, Bobby Gillespie and company aren't the kind to listen to reason anyway. Primal Scream have made a career out of doing exactly what they want, and that's just how they got away with doing a cover of the classic 'Motorhead' on their 1997 album, 'Vanishing Point.'
Primal Scream take the speed freak rocker, fold it up, put it in the blender, add their own ingredients and come up with a truly unique take on the seminal kick ass jam. Beginning with a distorted voice that sounds like it was played back through a fast food drive though speaker, Gillespie mumbles the opening line of the song. Suddenly, the jarring sound of an unhinged drum machine pops in, followed quickly by a good old fashioned garage rocking guitar sound.
Soon, all these disparate elements merge together into a sonic stew that is both confusing and intriguing. Is it a dance floor raver? A junkyard punk rocker? An industrial flavored pop song? Well, yeah it is all those things and more. By taking the song so far out of its original element, the Primals actually make it work in this entirely new format. Motorhead diehards probably found the version filed under sacrilegious, but hey, ruffle feathers while you can. Primal Scream have a knack for picking interesting and less than obvious songs to cover. For that alone, we salute them.
But wait ... there's more! Though the song was written by the one and only Lemmy Kilmister, and was, obviously, the namesake of the almighty Motorhead, it's origins date back to Lemmy's previous band, Hawkwind, when it first appeared as the B-Side to the 'Kings Of Speed' single in March '75. That original version has a sound all it's own. The speed and fury of the more commonly known version has yet to raise its head, instead, it sports a more solid, driving feel. Sax and violin adorn the track, adding a certain, shall we say, 'artsy' flair to the powerhouse song.
"I was on tour with Hawkwind in 1974, we were staying at the Riot House and Roy Wood and Wizzard were also in town," Lemmy recalled in an interview years later. "I got this urge to write a song in the middle of the night. I ran downstairs to the Wizzard room, got Roy's Ovation acoustic guitar, then hurried back to mine. I went on to the balcony and howled away for four hours. Cars were stopping and the drivers were listening then driving off, and there I was yelling away at the top of my voice."
The song was a good jumping off point for Lemmy, who was soon to be ousted from Hawkwind, taking the song -- and his powerful bass guitar -- with him. In mid-1975, Lemmy called on Pink Fairies guitarist  Larry Wallis and drummer Phil Taylor to join him in his new band. Motorhead quickly made their way into the Rockfield studios, with that song being one of the first recorded. Producer, and rock and roll legend, Dave Edmunds gave a go at tracking those early sessions, but soon bailed. The band recorded an entire album, but it would remain unreleased until1979 when it was finally unveiled as 'On Parole.' The second lineup of the band had another go at the song, and it was released as their second single in late 1977.
So which one's the best? Your choice! All of these versions have something unique to them but the one constant here is the proof that it's one hell of a song.