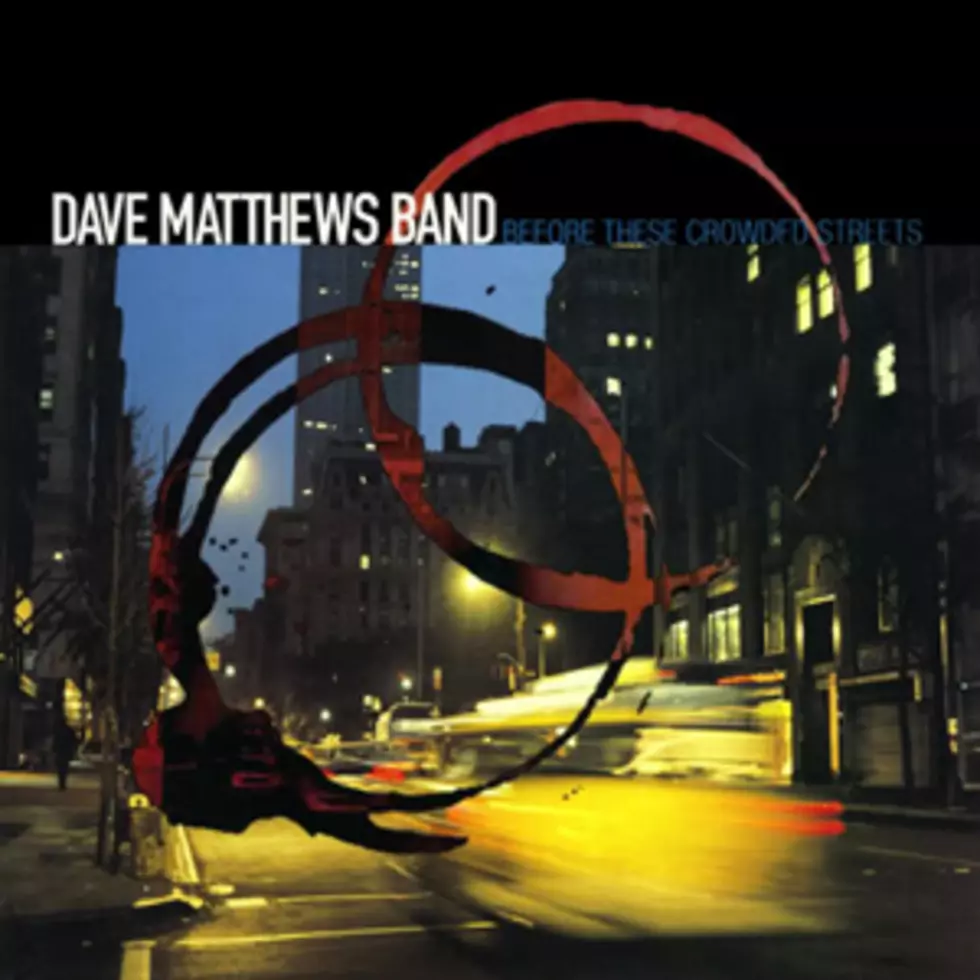 15 Years Ago: Dave Matthews Band's 'Before These Crowded Streets' Album Released
RCA Records
'Before These Crowded Streets,' the Dave Matthews Band's third album, was their first to reach No. 1. More importantly, it's their first record to reach some sort of balance between the band's live shows and its oft-neglected songwriting. Prior to 'Before These Crowded Streets,' which celebrates its 15th anniversary today, the group pretty much treated their albums like the Grateful Dead treated theirs: as stripped-down vessels designed for onstage exploration. Afterward, they became fully formed works that occasionally found new life in concert.
Working with producer Steve Lillywhite, who also helmed the group's two previous albums (1994's debut 'Under the Table and Dreaming' and 1996's 'Crash'), the band carefully sculpted the songs they had written for the record. And there's the difference. The tracks that ended up on 'Before These Crowded Streets,' and the handful cut for space before the LP's release, were deeper, more mournful, more contemplative and more political than anything they had written before.
Songs like 'The Last Stop,' the snarling 'Don't Drink the Water,' 'The Stone' and the violent 'Pig' weren't all hippie-dippy good times. Informed by social unrest, as well as growing discomfort with the pre-millennium tension that was building at the time, Matthews, who wrote most of the songs, and his bandmates infused many of the tracks with harsher tones and a clearer sense of purpose. They still left enough space in the middle of the songs that could serve as launching points onstage, but 'Before These Crowded Streets' is the first Dave Matthews Band record that works just as well, if not better, as an album.
The album kicked off a string of No. 1s. Every studio album released by the band since then has hit the top spot. Four singles were pulled from the record; 'Stay (Wasting Time)' climbed the highest, making it to No. 44. It and 'Don't Drink the Water' both reached the modern-rock Top 10. Following 'Before These Crowded Streets,' the Dave Matthews started working on their fourth album with Lillywhite. But the record was scrapped, and the group tried again with another producer, ending up in 2001 with the scattered 'Everyday.' Seek out 'The Lillywhite Sessions' bootleg. It's much better. And a fitting follow-up to their best album.
Watch Dave Matthews Band's Video for 'Don't Drink the Water'