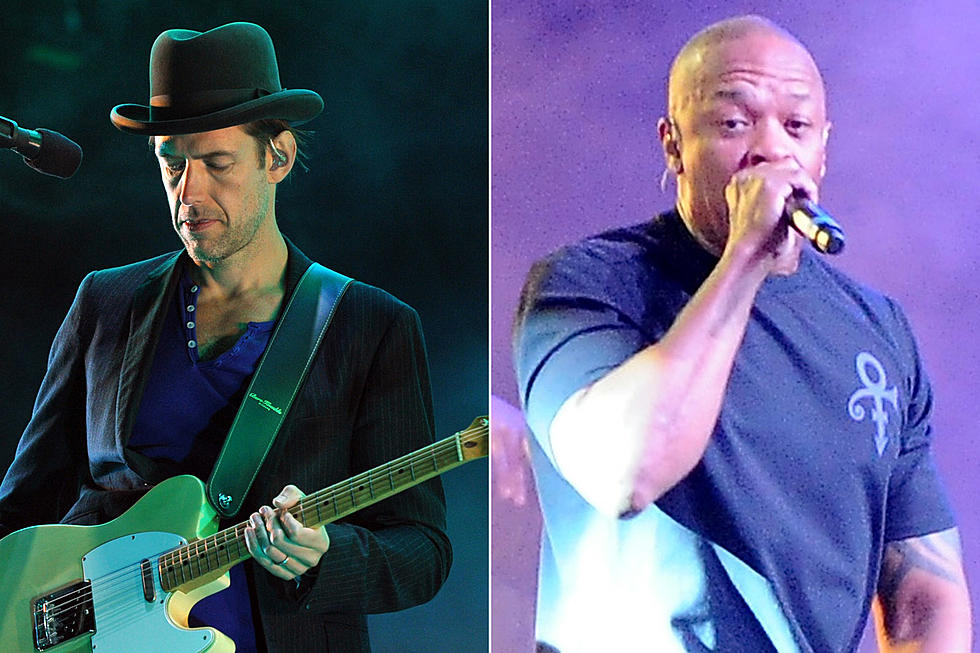 Ed O'Brien Thinks Dr. Dre Should Be in the Hall of Fame Before Radiohead
Kevin Winter / Dave Mangels, Getty Images
Radiohead are among the nominees for the Rock and Roll Hall of Fame's class of 2018, but guitarist Ed O'Brien is unfazed by the idea of being enshrined. In a new interview, he admitted that it's because of differences between American and British musical cultures.
"As a British band, it's one of those things that it's very lovely to be nominated, but we don't quite culturally understand it," he told Esquire, in the same interview where he revealed details for a solo album. "It's a very American thing. Us Brits are very bad at celebrating ourselves. ... It's in our DNA to be a little ambivalent with award ceremonies. We haven't had great experiences."
Still, O'Brien is able to see that it's intended as a compliment. "I would never want to disrespect anything because obviously some amazing artists have been nominated," he continued. "But if I'm honest I don't understand it. It's just kind of a British person going, 'Okay, thanks, what does this mean?' It's a little bit thin on black artists and hip-hop artists. I'm just speaking as a fan of American music, I would have thought that Dr. Dre should have been in there two years ago. His name should be first on the list way ahead of Radiohead."
The ambivalence echoes what O'Brien and his bandmates said back in June before the nominees were even announced. "It seems very show-biz and I'm not very show-biz," he shrugged. "We haven't even been asked. I don't want to be rude. But if you ask me what I'd rather be doing that night, I'd rather be sitting at home in front of the fire or going to a gig."
"Maybe it's a cultural thing that I really don't understand," Jonny Greenwood added. "It's quite a self-regarding profession anyway, and anything that heightens that just makes me feel even more uncomfortable."
Radiohead Albums Ranked