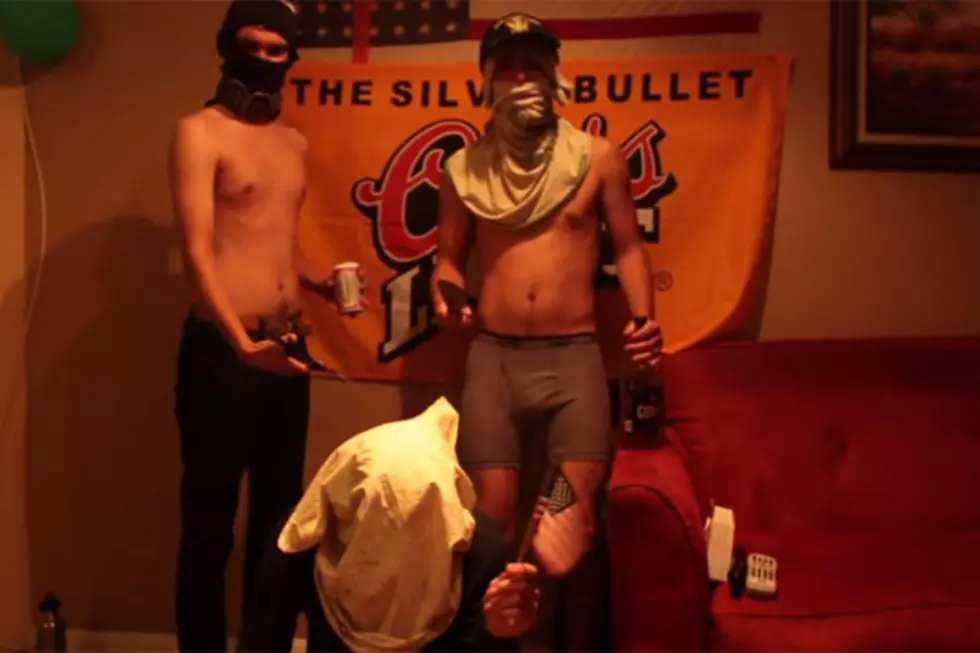 Fidlar Announce 2015 Spring Tour Dates + Share 'Tour' Video
YouTube
Los Angeles-based skate punk rockers Fidlar have announced a list of tour dates that will take the boys across the U.S. -- check out the full itinerary below. In addition, they have just posted a new video with a slew of guest stars, all talking about what it's like to be on the road with Fidlar.
"It was like swimming through a sea of teenagers," a member of the Hives exclaims. "It was like bathing in the fountain of youth." Black Francis of the Pixies adds, "Yeah, you know, it's a real pleasure." Watch the video for yourself below:
We can't help but think the proverbial leg is being pulled here, as all these comments -- except one, "Fidlar can suck my d---" -- seem to be referencing other experiences. But what the hey, a little pranksterism never hurt anyone, did it?
Fidlar (an acronym for F--- It, Dog, Life's a Risk) have deep connections to the punk world as brothers Elvis and Max Kuehn (guitar/vocals and drums, respectively) are the sons of TSOL keyboardist Greg Kuehn. The band has been at it since 2009, with their self-titled debut album released in 2013.
Fidlar Spring 2015 Tour 
May 1-2: Toronto -- Canadian Music Week
May 4: Chicago, Ill. -- Double Door
May 6: Cleveland, Ohio -- Grog Shop
May 7: Pittsburgh, Pa. -- Altar Bar
May 9: Atlanta, Ga. -- Shaky Knees Festival
May 11: St. Petersburg, Fla.-- State Theater*
May 12: Orlando, Fla -- The Social*
May 13: Birgmingham, Ala. -- WorkPlay Theater*
May 14: Nashville, Tenn. -- Mercy Lounge*
May 15: Little Rock, Ark. -- Stickyz
May 17: Oklahoma City, Okla. -- The Conservatory
May 19: St. Louis, Mo.-- Firebird*
May 21: Minneapolis, Minn.-- 7th St. Entry*
May 22: Minneapolis, Minn.-- 7th St. Entry*
May 23: Madison, Wis.-- High Noon Saloon*
May 26: New York, N.Y.-- Bowery Ballroom*
May 27: Brooklyn, N.Y.-- Music Hall of Williamsburg*
May 28: Washington, D.C.-- 9:30 Club*
May 29: Philadelphia, Pa.-- Union Transfer*
May 30: Boston, Mass.-- Paradise Rock Club*
*With Metz