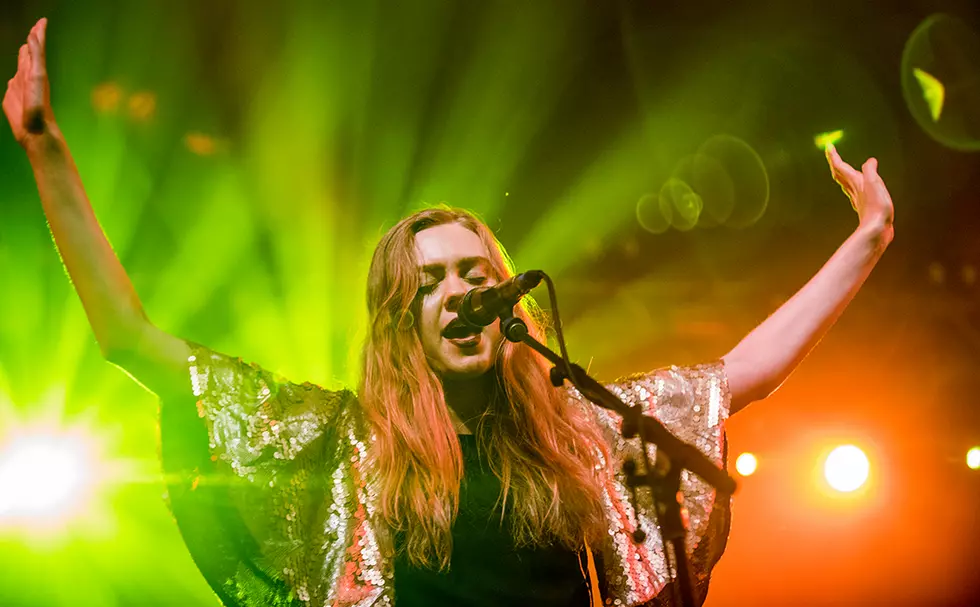 First Aid Kit Triumphantly Launch Tour in Austin
David Brendan Hall, Diffuser
For Swedish folk duo First Aid Kit, Austin, Texas is much more than just another tour stop.
"This is the first city we ever went to in America, five years ago for SXSW," said singer/keyboardist Johanna Söderberg Thursday night (July 16) at Stubb's (check out our photo gallery above). "You guys are lucky," added younger sister and guitarist Klara.
Most locals don't hold the film, music and tech conference, which draws about a quarter million extra people to the Lone Star State's capital city each March, in such high regard. But the sisters and their backing band – pedal steel guitar player Melvin Duffy and drummer Scott Simpson – were hell-bent on proving that at least one great thing came from their love of that monstrous event: They chose their career-birthing locale to kick off this brief U.S. tour, the final run of dates behind 2014's Stay Gold. The result was a show bursting with unbridled energy, a triumphant demonstration of the youthful ingenuity that's fueled their music from the beginning.
The first boisterous bout came with the appropriately ferociously titled "The Loin's Roar." During that country-toned stomper, any notion of sweet timidity – so evident during shows of several years ago – was erased by constant wild hair flips from both girls, a rollicking beat and plenty of pedal steel flair. That tune, followed by the happy bounce of "Master Pretender," the forceful gait of "Waitress Song" and the bass-drum-thump-driven shout-along of "Heaven Knows" positioned these gals as the dominate female power in contemporary folk revival – they achieved a galvanic crowd response equal to arena-fillers Mumford and Sons with half the musicians on stage.
Already, between just three albums, Johanna (24) and Klara (22) have mastered enough varying musical moods to devise a wonderfully dynamic live show. Dips into minimalism on their first song written together, 2008's "Our Own Pretty Ways," and 2010's "Ghost Town," were equally if not more arresting than the bigger boom of newer cuts. Like their folk forbears, their strength is in their heavenly harmonies, which here soared above soft fingerpicking and delicately caressed keys.
And to break out of their mostly serious subject matter, they came armed with a hat-trick of crowd-pleasing covers. Black Sabbath's "War Pigs" visibly shocked a few fans, but it didn't take long for its iconic riffs to rile peeps into a surge a of joyous dancing. A softly sung rendition of Simon & Garfunkel's "America" – long a staple of FAK's sets – served as a lovely encore ease-in while the following stab at R.E.M.'s "Walk Unafraid" was pretty, but not heartfelt enough to stop the first wave of onlookers from calling it a night.
Their loss, though – they missed Johanna's superb lead vocals on "King of the World," plus a near-flawless un-miked sing-along to round out the evening's final number, "Emmylou." The Söderberg sisters have a knack for conjuring a sense of magic, and their alliance with Austin made it that much easier at this gig. As the several hundred voices took up that tune's chorus – "I'll be your Emmylou and I'll be your June / And you'll be my Gram and my Johnny too / No, I'm not asking much of you / Just sing little darling, sing with me – a cool breeze blew through the relentlessly stuffy outdoor amphitheater. Perhaps a sign that, truly, this city is on their side.
First Aid Kit -- Setlist, July 16, 2015
"The Lion's Roar"
"Stay Gold"
"Master Pretender"
"Blue"
"Waitress Song"
"Our Own Pretty Ways"
"Shattered & Hollow"
"Ghost Town"
"My Silver Lining"
"Heaven Knows"
"War Pigs" (Black Sabbath cover)
"Wolf"
Encore
America (Simon & Garfunkel cover)
Walk Unafraid (R.E.M. cover)
King of the World
Emmylou