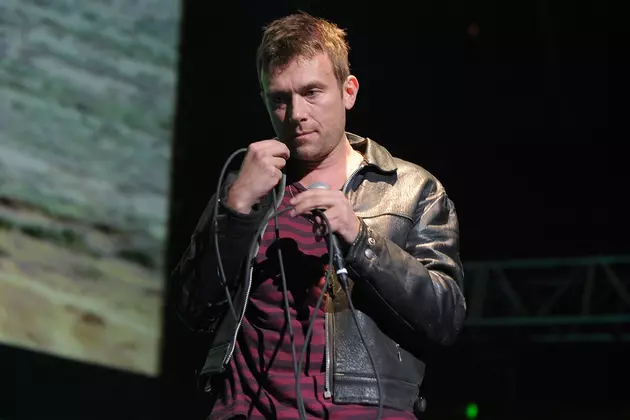 Gorillaz Unveil 'The Book of Russel'
Michael Loccisano, Getty Images
We learned earlier today (Oct. 7) that Gorillaz are a few weeks away from finishing up the recording of their new album. But they're giving us another story about one of their characters. Today, they put The Book of Russel on their social media accounts.
As they did with The Book of Noodle earlier this week, Gorillaz tell a tale involving their drummer, Russel Hobbs, across a series of tweets that alternate between narration and very basic animation, with very brief snippets of music. But instead of the bachelor pad and Japanese sounds of Noodle's story, they've gone for a parade atmosphere, complete with a marching band and fireworks.
The Book of Russel begins with him ballooning up in size as he and Noodle swam to Plastic Beach. They met with Murdoc Niccals at Plastic Beach, but unfortunately, "like a circumcision ceremony their reunion was cut short" due to a pirate attack and Russel and Noodle swam away. They made it to Japan, at which point circumstances forced them to separate, with Russel winding up in Pyongyang, North Korea.
Mistaking him for their version of Godzilla, he's captured and put on display, but is released after he loses weight. He makes his way back to England and meets up with Jeff Wootton, Gorillaz's touring guitarist, before re-connecting with Murdoc. "The band was getting back together," it ends.
You can read the whole thing below. How much of these -- and any possible future stories that involve 2D and Murdoc -- get incorporated into the concept for their next record remains to be seen.
The 100 Most Anticipated Albums of 2016