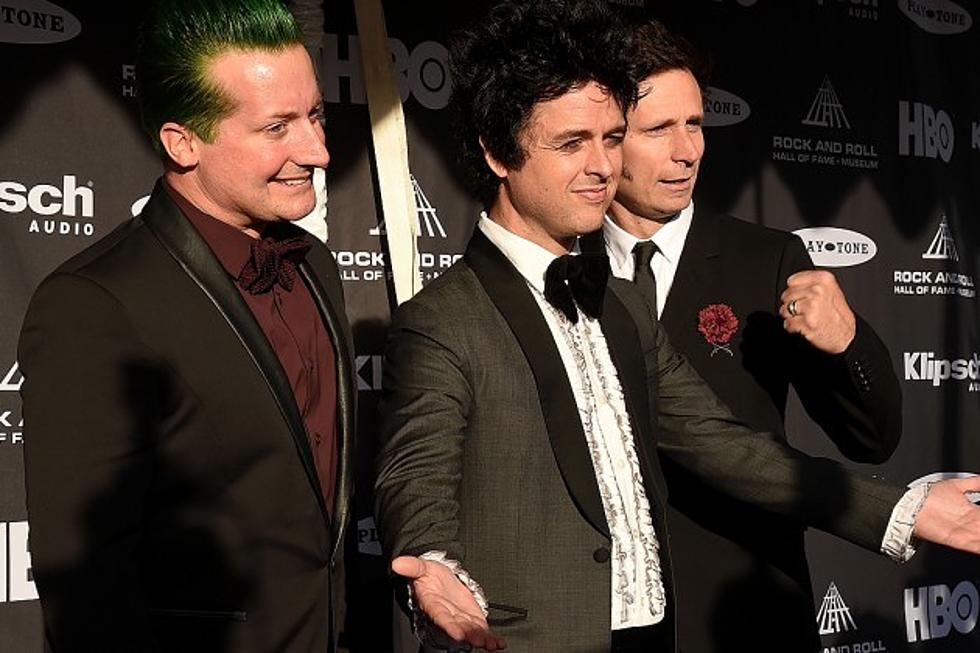 Green Day Join the Rock and Roll Hall of Fame's Class of 2015
Michael Loccisano, Getty Images
On Saturday night, April 18, punk rockers Green Day were inducted into the Rock and Roll Hall of Fame in their first year of eligibility. "Thank all of you f---ers for coming here," they said after giving a shout out to presenters Fall Out Boy. "We love you."
Drummer Tre Cool told the audience, "Music is the force that gets us up in the morning ... it's also the s--- that keeps us up at night," while bassist Mike Dirnt made sure to acknowledge an important, below-the-radar member of the band: their touring van.
"I would like to thank the Ford Motor Company for creating the Econoline Van, the best damn van that any smelly touring band can have."
Frontman Billie Joe Armstrong admitted that he was "kind of lost for words right now. The gratitude I feel right now is overwhelming." Though, he did manage to discuss Green Day's history -- from the moment Cool joined the band to calling Dirnt his "musical soulmate" -- and wrapped up his thoughts with a succinct and significant statement: "I love rock and roll and I'm going to love it for the rest of my life."
While some critics scoffed at the notion of Green Day entering the Hall of Fame the year they became eligible, it's hard to argue with the facts: They were a major part of the Bay Area punk scene in the 1990s, not to mention the six Grammys they've won and 85 million albums they've sold.
They celebrated their induction this weekend by playing a career-spanning, three-hour show at Cleveland's House of Blues on April 16, which featured the group performing under their original name, Sweet Children, and original drummer, John Kiffmeyer.
"For me, rock and roll is not an outdated term," Armstrong said about the band's induction. "To me, it means freedom… it's just the most liberating thing in the world… the fact that we're getting recognized for it in the company we have, it's just an incredible feeling."
40 Artists That Should Be in the Rock and Roll Hall of Fame