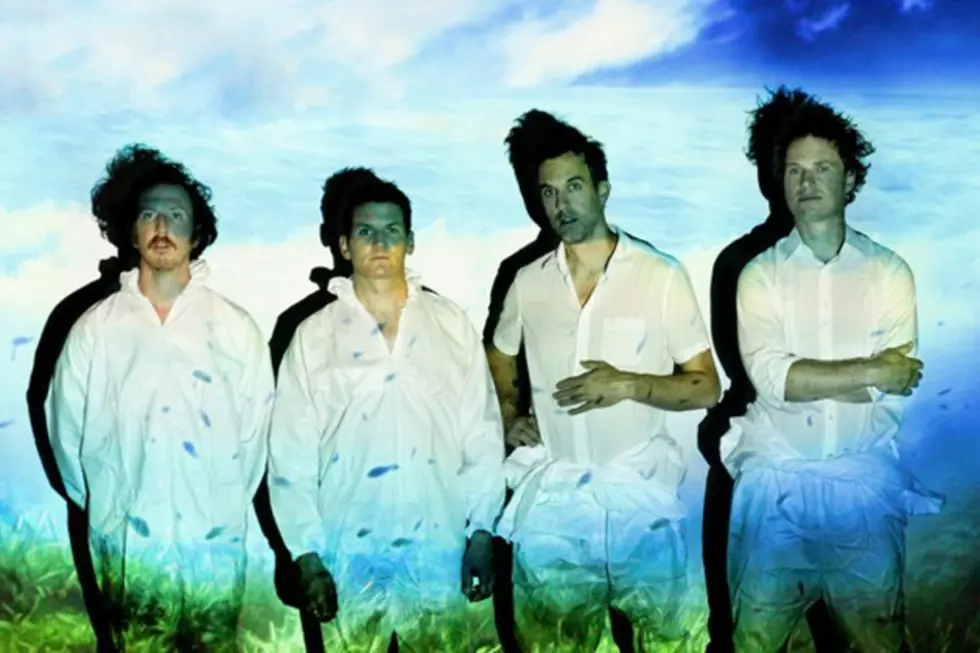 Guster Celebrate 'Evermotion' With Release Party In Brooklyn
Zoe-Ruth Erwin
Guster's seventh studio album, 'Evermotion,' hit record stores yesterday (Jan. 13), and to celebrate, the band holed up at the biggest record store in New York City, Brooklyn's Rough Trade. With an autograph session and two back-to-back concerts at the shop's 250-person venue, Guster kept very busy on their release day.
Kicking off the celebration with an "early show," Guster invited their fans to a free concert at Rough Trade -- six songs were promised, as was the possibility of playing ping-pong with the band. Not surprisingly, the venue was packed for the complimentary concert, and Guster managed to make the already-cozy hall feel even more intimate by setting up a small stage in the middle of the crowd:
On top of the informal setting, Guster performed two more songs than what was originally promised: 'Gangway,' 'Careful,' 'Endlessly,' 'Window,' 'Simple Machine,' 'Kid Dreams,' 'Doin' It By Myself' and 'This Could All Be Yours.' Following that set, the band members walked into the record store, sat down, and met and greeted each of their fans:
It wasn't long after that Guster made their way back into the venue for their "late show" (which nearly instantly sold out the minute it was announced in December). Taking the stage at 9:30PM sharp, frontman Ryan Miller set the mood for what was a relaxed and laid back gig: "Whatever happens tonight, it'll probably never happen that way again." Many of the tunes in the 20-song set had never been played live before, so it wasn't uncommon for the guys to quietly chat chat to make sure they were playing in the right key or counting off the right amount of beats.
And rather than walking off the stage -- what Miller said was the smallest stage they've played with the most instruments on it -- to wait for fans to shout, "Encore! Encore!", Guster wasted no time and kept the music rolling.
The night was an introduction to new songs as well as a singalong of fan favorites. The energetic friendship between the bandmates onstage only served to elevate the musicianship of each, making for an exciting and memorable release party.
Guster are on the road through the end of April -- if you're a fan of their unique brand of indie folk pop rock, then you'll want to make sure to catch them on their 'Evermotion' tour. Get their full itinerary here.
Guster -- Setlist, Jan. 13, 2015
'Long Night'
'Architects & Engineers'
'Ramona'
'Satellite'
'I Spy'
'Doin' It by Myself'
'Red Oyster Cult'
'Expectation'
'What You Call Love'
'Simple Machine'
'Come Downstairs and Say Hello'
'Do You Love Me'
'Kid Dreams'
'Manifest Destiny'
'Gangway'
'Lazy Love'
'This Could All Be Yours'
'Hercules'
'Endlessly'
'Happier'
The 100 Most Anticipated Albums of 2014