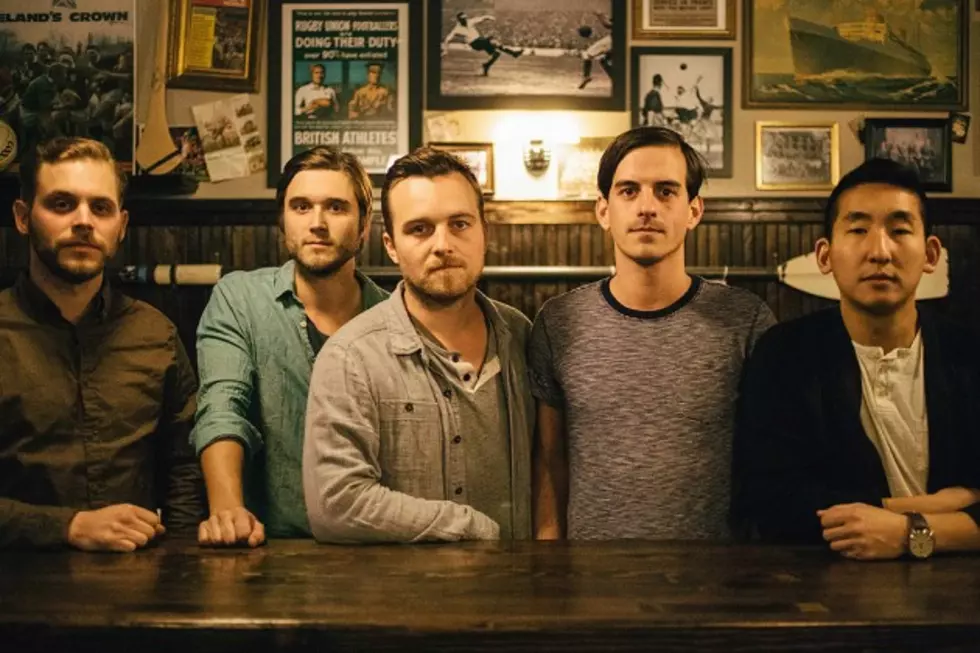 Tim Wilson on Ivan & Alyosha's Beginnings and Their New Album, 'It's All Just Pretend'
Veronica Coleman
Originally conceived as a duo, Seattle-based indie rockers Ivan & Alyosha have evolved into a powerful five-piece, and are celebrating the release of their sophomore album, It's All Just Pretend.
The album finds Ivan & Alyosha tackling several different sounds, all the while creating a memorable, cohesive listening experience, one that -- as the band puts it -- is "steeped in the verities of family, faith and existential doubt."
Ahead of the record's recent release, Diffuser had the chance to catch up with co-founder Tim Wilson. The frontman opened up about the new LP, how I & A approached it differently from their debut, All the Times We Had, and what it's like balancing fatherhood with a career in rock and roll. Check out our exclusive conversation below:
Congrats on It's All Just Pretend. How does it feel to have it wrapped up and out to the world?
It feels awesome. [Laughs] It's a great record and I can say that confidently because I wasn't the only person involved in it. I think we made a great record and we're all really proud of it. At this point, we're focused on merch, vinyl, CDs, promotional trips -- it's a lot of that other stuff that we're dealing with now. It can be fun, but it can be a little stressful.
Oh, I'm sure. And on top of that, you have to talk to guys like me! How involved are you in that behind-the-scenes stuff, like handling your merchandise?
Overly involved. [Laughs] I guess that's the way of indie music, right? We've got a great team, but we're all trying to do our part to make it all work. It's cool because right before a record comes out, everyone is trying to make everything happen and the band is working hard and rehearsing -- it's all fun.
How did you approach It's All Just Pretend differently than All the Times We Had?
We kind of write very strangely and submit songs to each other as a band in a weird way. We just write on our own and do acoustic demos or things like that, or we'll get together and somebody will play a couple of songs. Honestly, we just record the stuff that we're excited about and we don't worry about the songs we're not excited about. There were some songs from our back catalog that had never seen the light of day that we ended up using on this record ... we experienced some renewed hope and excitement in some of those songs. "Modern Man" was a song that we wrote a long time ago.
We didn't play any of these songs live before we recorded them. With All the Times We Had, we played those songs live a year and a half before we went in the studio. I feel like there was a bit more freedom in the studio to let the songs take shape this time around. Rather than working them out on the road, they worked themselves out in the studio. In a totally opposite way, now we're trying to figure out how to play these songs live. [Laughs] We've made a lot of progress!
Production-wise, we worked with some great producers. We worked with our old friend Chad Copelin and a guy named Joe Chiccarelli -- we're huge fans of the records he's done. The writing process was a little different for me; I did a couple of writing trips to kind of get the juices flowing. Post-kids, I haven't been able to write as much or have a specific time -- or the brain space -- to do so. Creatively, we approached this record ... I used to be the primary writer and Pete [Wilson] would write a bit as well, but on this record, my bandmate Ryan [Carbary], Pete and I contributed an equal amount of material, which is super cool. And I think our songs are stronger than ever because of that.
You mentioned having kids. From the time your debut full-length came out to now, you've had another child. As you're gearing up to hit the road, what's it like being a professional musician who now has a new kid to take care of?
Going back a little bit further, I also have a son who just turned five. He spent a good part of the first year of his life on the road. [Laughs] But, we don't do that anymore for a lot of reasons. It can be really hard ... I don't want to sound cliche, but it's like, this is what I do. Some people travel for work or they're lawyers and they work 12 hours a day and they have little ones at home, or those in the military are gone for months. We just try to make the best of it. Honestly, I'm just trying to keep it as chill as possible so I don't get freaked out about leaving. [Laughs] It's hard to be away for a month, so I just try to keep the perspective of, "We're going out and we're making some dough." For the most part, I get to spend every day with these guys, which is awesome.
Over the course of the band's career, it's grown from a duo into a five piece act. Have there been more struggles than you expected? Do you ever look back and miss the days of just you and Ryan being a duo?
To be totally honest, we never really had a specific plan of, "This is exactly what we want to do. This is exactly who we want in the band." We were never there to protect just the duo, you know? It's this natural evolution as guys came to be a part of I & A. It just kind of happened really naturally. I will say, the more people you have, the slower things move and the more thorough you need to be with schedules and opinions and priorities. More people, more explaining.
But it's a high risk with a high reward.
Oh yeah. With bands, it's always about the commitment level and we always want people who are all in. We're all equal bandmates and we have to rely on each other.
How did you and Ryan get together in the first place? What did the beginning of I & A look like?
It was a long time, maybe 10 years ago, that I met Ryan. I was just about to get married and I was playing in another band. I guess I've always written in a bit of a pop format -- that's always been my palette. I was writing these pop songs and I had just discovered Richard Swift, an amazing songwriter and multi-instrumentalist -- he plays bass for the Black Keys now. I had just discovered him and his writing and that turned me onto more indie music. Ryan had heard these songs that I was writing and recording; they were probably no good, but he liked how they sounded. I think he saw past some of the immature performance aspects and he just told me, "Hey, I like those songs. We should record them." I was like, "Alright!" That's kind of how it all started ... we really didn't know what we were doing, or at least I certainly didn't.
Now that the record is out, do you go back and listen to it, or are you just looking ahead?
Funny enough, when All the Times We Had came out, we were totally done with it. We were totally naive as to what was ahead, as well. [Laughs] I was working at the time and I'd do these interviews in-between. I was so over the whole thing. I remember in one interview I was asked if I was excited about that album and I was like, "Yeah, but I'm ready to make the next one." [Laughs] It was suggested by our label that I change my tune on that a little bit, but I can happily report that we recorded a great record with It's All Just Pretend and we're excited about it.
It's the first time, to me, that the caliber of songs is really there and the caliber of performance is there. I think there's a new level of maturity and the quality of production is a step forward from what we've done in the past. I'm really, quite honestly, just excited for people to hear this record. I'm really proud of it and I'm excited to get out and play the songs and talk about it. Everyday is a new opportunity to play this or that song right, to get it that much better, to talk passionately about the songs that you've created and you believe in.
Ivan & Alyosha's latest full-length effort, It's All Just Pretend, is out now via Dualtone Music Group. You can pick up your copy at this location, and grab the band's full tour itinerary here.
Watch Ivan & Alyosha's Teaser Video for 'It's All Just Pretend'