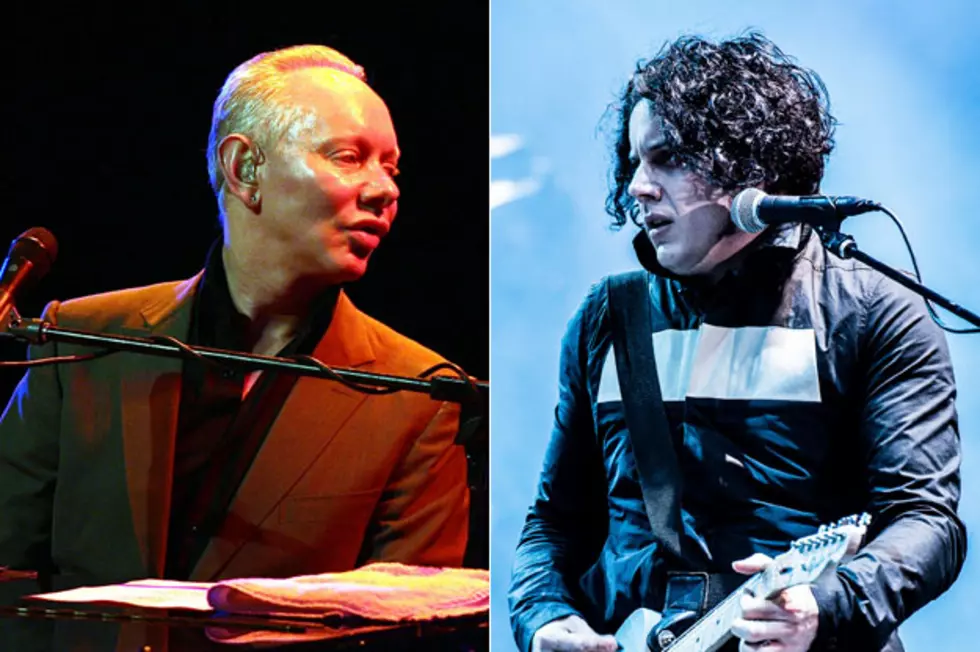 Joe Jackson vs. the Raconteurs – Song Parallels
Much has been made of Jack White's affection for classic, blues-based rock 'n' roll -- as well as his decision to go without a bass player in the White Stripes. But that doesn't mean he doesn't know a well-written bass line when he hears one -- or that he hasn't been inspired by artists from the other end of the pop spectrum.
Case in point: 'Steady, As She Goes,' the leadoff track from the Raconteurs' debut album, 'Broken Boy Soldiers.' Written by White and his fellow Raconteur Brendan Benson, 'Steady' kicks off with a stuttering bass riff that will be instantly familiar to fans of English punk/New Wave legend Joe Jackson -- or anyone who's ever heard Jackson's early hit 'Is She Really Going Out With Him?'
Recorded for Jackson's 1979 debut album 'Look Sharp,' 'Is She Really Going Out with Him?' was an immediate success, breaking the Top 40 on the U.S. charts and kicking off Jackson's run of gold and platinum records throughout the '80s. In the '90s and beyond, Jackson proved more willfully eclectic than anyone could have guessed, penning classically influenced records and writing symphonies while occasionally returning to the music that originally inspired him (his most recent release, 'The Duke,' is an unorthodox tribute to Duke Ellington).
Beyond their shared bass lines, 'Steady, As She Goes' and 'Is She Really Going Out with Him?' don't have much in common, and it could all be a big coincidence -- but it's still fun to imagine that an avowed garage rocker like White could be a closet fan of a piano-playing Englishman, and if you're going to borrow from someone, it might as well be a songwriter as talented as Joe Jackson. Have a listen to the clips below and let us know what you think.
Listen to Joe Jackson, 'Is She Really Going Out With Him?'
Listen to the Raconteurs, 'Steady, As She Goes'