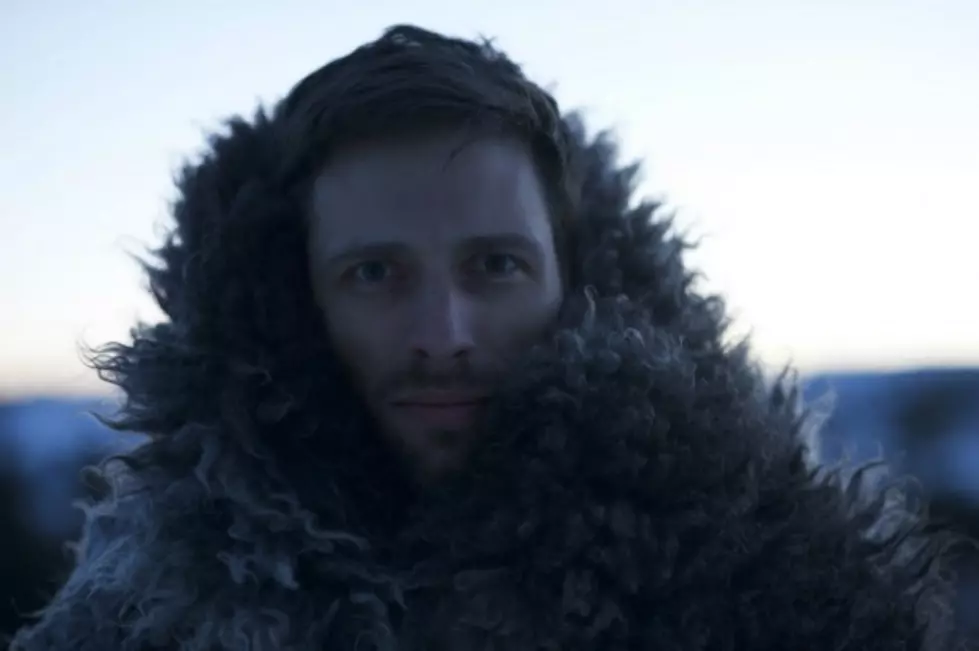 Lindstrom Shows the Range of Disco at Brooklyn's Good Room
Lin Stensrud
Norwegian producer and electronica artist Hans-Peter Lindstrom, who played a show Thursday night (April 23) at Good Room in Brooklyn, started working with the raw material of disco back when mentioning the genre still drew dirty looks in some circles. It's almost difficult to remember now in the wake of recent success by Daft Punk, Pharrell, Nile Rodgers and (Lindstrom's countryman) Todd Terje, all of whom have released determinedly retro and highly acclaimed disco albums. But, back in 2005, it still took a certain amount of guts to embrace the form the way Lindstrom did with "I Feel Space" – one of his best-known tracks.
"I Feel Space" is clever and self-aware: the title pays homage to the Giorgio Moroder and Donna Summer collaboration, "I Feel Love," from 1978, which is a foundational text for "eurodisco." But there is no powerful vocal on Lindstrom's track – only a series of synthesizer tones rising and falling unhurriedly over the steady thump. The success of the track gave Linstrom dominion over a strand of his genre labeled "space disco."
Genre names are often inadequate, but this one is ridiculously so: all disco is about space.  Its great advantage is that if you anchor everything to a tightly gridlocked beat, you paradoxically end up with more freedom for composition. Suddenly, you can stretch songs out past 10 minutes, building up and scaling down and throwing in whatever elements strike your fancy. Mark Moses described this phenomenon in an article on the Pet Shop Boys for The New Yorker in 1988. "Disco has always been the sound of leisure, the soundtrack of consumption," he declared. This is a common refrain and one that often serves as a backhanded compliment, if not an outright insult. But Moses continued, "That isn't just a matter of the way [disco]'s used, but carried over into the way the music itself works: any sound from whooshing strings to tinkling piano, from rock guitar to a breaking bottle, can be subsumed into the open-ended flow of a disco song."
While many musicians in Lindstrom's position would likely attempt to cash in on the disco resurgence, he continues to explore restlessly -- as if he's not quite certain the beat really gives him the leeway to incorporate whatever he pleases and he wants to find an exception to the rule. On May 5, he will release Ruddans, a single 39-minute track made in collaboration with Emil Nikolaisen and Todd Rundgren – another musician who knows a lot about creative restlessness (almost to the point of willful perversity). At the same time, Lindstrom has continued to improve his dancefloor-friendly fare. "Home Tonight," his latest single with Grace Hall, is a gleaming roller coaster – more vocal-house than disco, a mix of the rising synth arpeggios Lindstrom loves and a fierce, careening lead from Hall.
Not surprisingly, Lindstrom leans on the latter kind of tune during his club set at Good Room. "Lovesick," made with singer Christabelle and released on 2010's Real Life Is No Cool, percolates around a thunderous, descending riff. Live, Lindstrom stretches out the distance between hooks, splicing in other tunes before returning to that plunging drop with redoubled vigor. Earlier in the night, the Lindstrom-produced "Y.M.D." (which stands for "Young Michael Douglas") gushed through the speakers with high, perky vocals that hints in the direction of PC music with a bubbly melody. "Now I see that greed is good," sings vocalist Maya Vik, offering an amusing play on the famous line from Wall Street and an acknowledgement of disco's historic links with consumption.
Lindstrom knows that history well, and he drew on it during his set (especially as it pushed past 2AM), showing the continuity between soft rock, the funkier branches of American disco and the more mechanized European branch. He dropped Lorraine Johnson's "Feed The Flame" and Joe Simon's "Love Vibrations" along with a strange, exciting version of the old soul classic, "I Can't Turn You Loose." He used short, hammering keyboard riffs, hand percussion and heavily-slapped bass segued into shiny battering-rams of synthesizer.
These transitions could be vicious – not just a way to get from points A to B, but an event in their own right. Lindstrom often moves between songs by manipulating the strings, shifting and warping disco's sweeping accoutrements into brutal crescendos, pushing the beat to its sharpest edges and then easing off to plop the dancer gracefully into the middle of the next track. Siren effects – like the one that appears on "De Javu" from 2012's Six Cups Of Rebel – are a central motif. These came off as a more menacing version of the goofy synth tones that Lindstrom loves, which sometimes evoke Star Wars lasers or the sound effect of a cartoon character slipping on a banana peel.
One moment in particular illustrated the producer's unique vision: he extended and looped the intro to a 1978 hit, Exile's "Kiss You All Over," suggesting a link back to Lou Reed's "Walk On The Wild Side." Reed is associated with many things, but soft rock isn't usually one of them. Then Lindstrom takes a leap forward into Arcade Fire's "Rebellion (Lies)." It provided a moment of musical time-travel in between all the dancing, and made it easy to see why Lindstrom was ahead of the curve back in 2005.