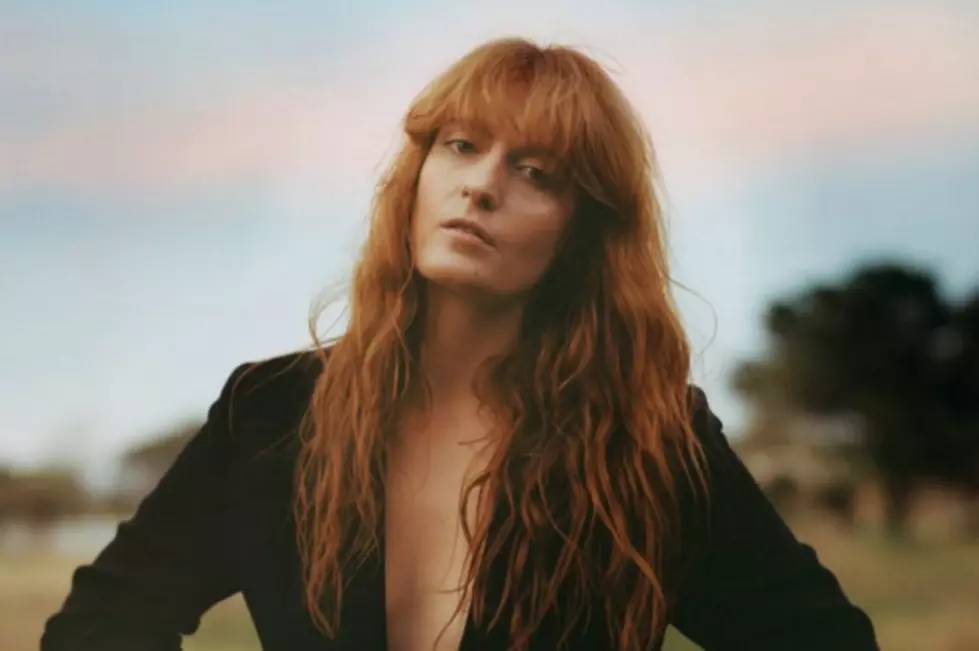 Mandatory Music: Florence and the Machine, Jack White, Dan Deacon + More
Tom Beard
Before we go any further, let's respect artistry and note that Beyonce didn't release a new song this week and was ineligible for inclusion in Mandatory Music.
Although it was a weird week to be Beck, it was a pretty standard week to be Kanye West (who actually did unveil a new song during an event for his new Adidas shoe line, the Yeezy Boost). And although it won't be shocking to see those two work together now that they're forever intertwined in Grammy lore, it hasn't happened yet. So let's instead take a listen to five (non-Beyonce) songs that just came out in the world most of us live in.
---
FLORENCE AND THE MACHINE
'What Kind of Man' from 'How Big How Blue How Beautiful'
Florence Welch bares a little more than just her soul in the NSFW video for "What Kind of Man," the lead single from Florence and the Machine's just-announced third full-length, How Big How Blue How Beautiful. It's a gritty, Sia-esque modern dance performance drawn from a pretty long narrative setup, but a surprisingly appropriate backdrop to what might be one of the hardest-hitting songs the fiery British singer has belted out yet.
---
JACK WHITE
'Blue Light, Red Light (Someone's There)' from 'That Black Bat Licorice' 7-inch
---
BIG DATA (FEAT. RIVERS CUOMO)
'Snowed In' from '2.0'
You might remember Big Data -- the Brooklyn electronica outfit of Alan Wilkis -- from the summer hit, "Dangerous," which reached the top of Billboard's Alternative Songs chart in 2013. Turns out the long-awaited full-length is apparently the star-studded project of the season: Twin Shadow, Kimbra and Weezer frontman Rivers Cuomo are among the guests who make appearance on 2.0 and we already know Cuomo's track (below) is catchy, glitchy pop perfection.
---
SCOTT WEILAND
'Way She Moves' from 'Blaster'
Don't let the beginning of "Way She Moves" fool you: While it initially sounds a lot like Scott Weiland is line-dancing as far away from Stone Temple Pilots as he can, the chorus crashes straight out of the Purple and Tiny Music...Songs From the Vatican Gift Shop era. But the song comes from Blaster -- Weiland's first solo album in seven years -- and might as well come from your warmest, pre-internet memories.
---
DAN DEACON
'Learning to Relax' from 'Gliss Riffer'
If you caught Baltimore electronica artist Dan Deacon opening for Arcade Fire last year, there's a good chance you've already heard "Learning to Relax," a song that's quickly become one of his live staples. But the studio version on his next album, Gliss Riffer, is custom built as an instant party-starter and a headphones rocker simultaneously. Watch the intense visualizer for it below (if you aren't prone to seizures).