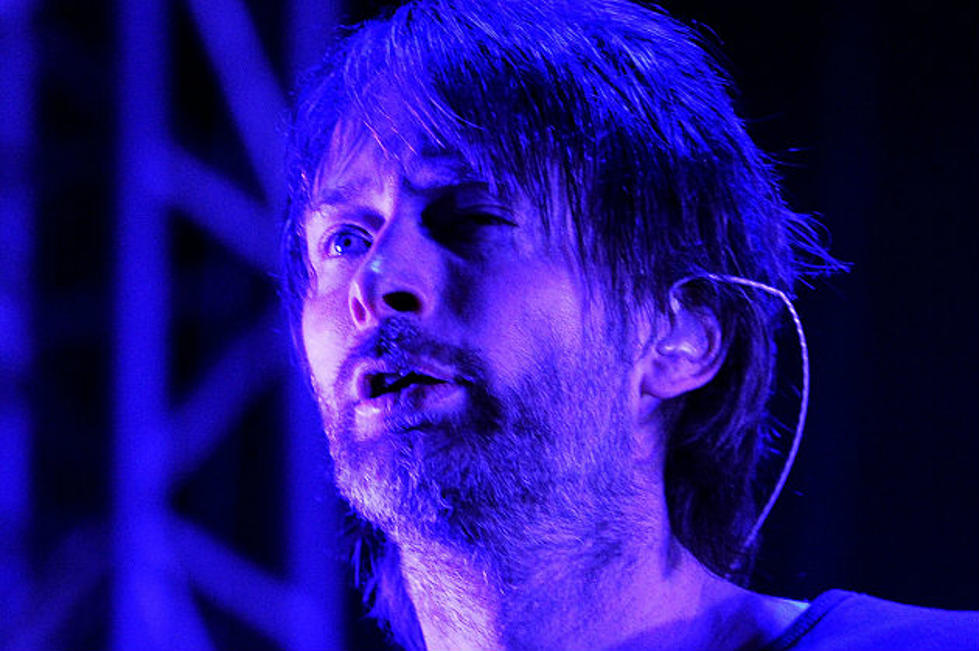 Mandatory Music: Thom Yorke, Lorde, Gerard Way + More
Michael Buckner, Getty Images
When you think about it, the world is already a completely different place than it was last week. Derek Jeter is now a retired baseball player instead of shortstop for the Yankees, there are now two Thom Yorke solo albums out there in the world instead of just the one and Ebola might actually prompt the apocalypse. (Of course, if you're a Yankees fan, you might think it's the first item that will cause the end of the world.)
Either way, in this week's installment of Mandatory Music, we suggest five new songs that should keep you company if you have to barricade yourself anywhere (hopefully with Wi-Fi).
---
Thom Yorke
'A Brain in a Bottle' from 'Tomorrow's Modern Boxes'
Man, Thom Yorke must be a master at throwing surprise parties. But, man, those parties must be some of the strangest events ever staged -- like if cyborgs held birthday parties for each other. The peculiar Radiohead frontman released his second solo album, 'Tomorrow's Modern Boxes,' late last week, and as Thom Yorke is wont to do, he did it in the least traditional way possible: with no advance warning and by making everyone download BitTorrent software to buy it. As glitchy and twitchy as Yorke himself, the album sounds essentially like what you'd expect as a follow-up to Yorke's 2006 album, 'The Eraser.' On 'A Brain in a Bottle,' his vocals are digitally stretched so thin they're unrecognizable, but it's a pretty good indicator of what you're getting into.
---
Hundred Visions
'You're Gonna Cut Me Loose' from 'Technicolour Blind'
If you listened to that Thom Yorke song, there's a good chance you're in dire need of hearing actual instruments and, luckily, those are things Hundred Visions out of Austin, Texas, wield with ferocity. In preparation of the release of their upcoming second album, 'Spite,' on Oct. 28, the band had already posted the lead single, 'Thanks For Nothing,' before they shared the raucous 'You're Gonna Cut Me Loose' earlier this week. Coated in glacial-thick distortion, layered with hot rod guitar and laced with hook-laden vocals, it's what your left brain would listen to all the time if it didn't share an apartment with your right brain.
---
Lorde
'Yellow Flicker Beat' from 'The Hunger Games: Mockingjay — Part 1'
There's a massive media frenzy anytime Lorde even posts lyrics scrawled on the back of her hand, so it's the definition of a must-hear song when she releases a new tune in its entirety. 'Yellow Flicker Beat' is her single from the soundtrack to the upcoming 'Hunger Games' sequel -- the soundtrack the New Zealand songstress curated herself. Whether or not the word 'Mockingjay' makes any sense to you, Lorde's latest shouldn't come as any disappointment to all the people (and livestock) who became addicted to 'Royals' and everything else off her debut, 'Pure Heroine.'
---
Gerard Way
'Juarez' from 'Hesitant Alien'
When you really go back and look at Gerard Way throughout his decade with My Chemical Romance, he reinvented himself -- both physically and conceptually -- with each album. He was an angst-ridden schoolboy for 2004's 'Sweet Cheers for Sweet Revenge,' a macabre drum major on 2006's 'Welcome to the Black Parade,' and a post-apocalyptic superhero for 2010's 'Danger Days: The True Lives of the Fabulous Killjoys.' So it shouldn't be all that shocking to see that when he went solo with his debut, 'Hesitant Alien,' he's assumed a characterization of a lot of the glam, post-punk and Britpop that were such huge influences on him. You can see it in action in the video for 'No Shows,' but, right now, we're in the mood for the driving 'Juarez.'
---
The Bulls
'Come Unwound'
The Bulls -- a brand new collaboration between Airborne Toxic Event multi-instrumentalist Anna Bulbrook and the Duke Spirit guitarist Marc Sallis -- have only unveiled one song so far and it's likely already made them a lot of listeners' favorite band. 'Come Unwound' is a an atmospheric and somehow upbeat shoegaze anthem that simultaneously evokes the indie rock duo Viva Voce, the Pixies' 'Where is My Mind?' and Phil Spector's wall of sound. Listen now if you want be in the best sad mood ever. Or the worst good mood.