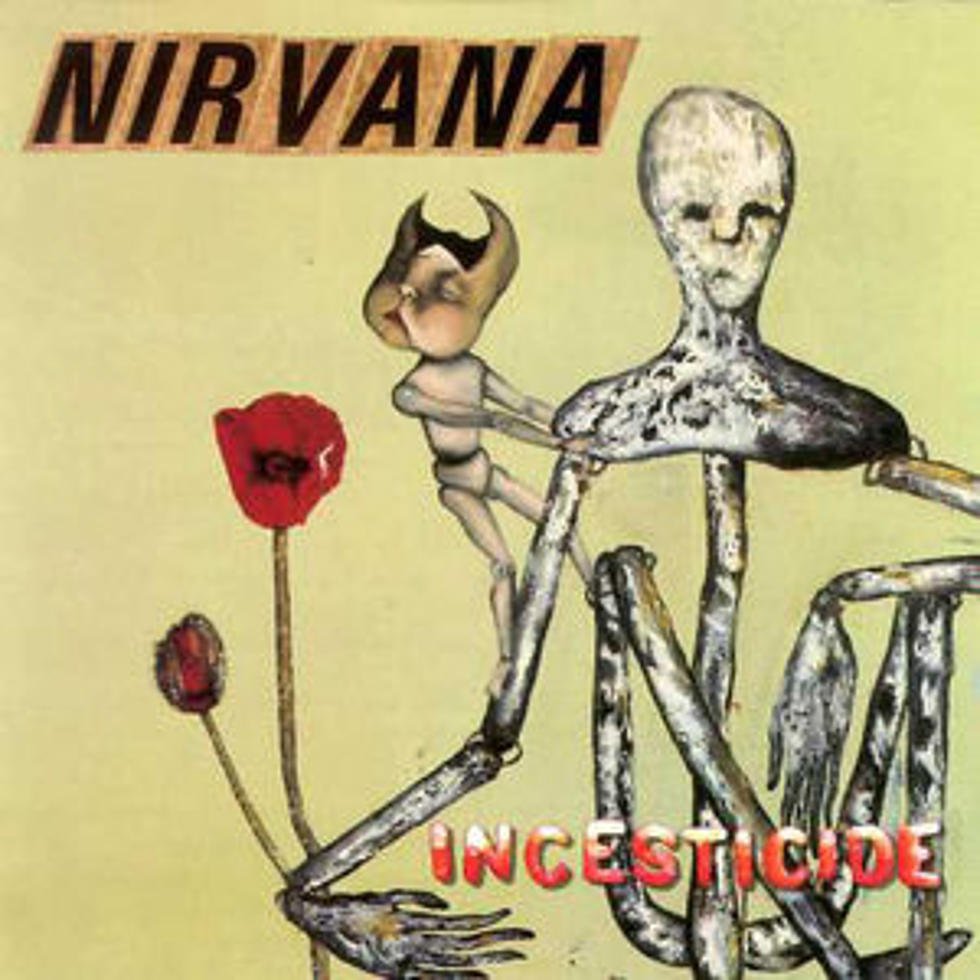 23 Years Ago: Nirvana Turn Piles of Demos and Outtakes into 'Incesticide'
DGC
"Nirvana was a great band before Nevermind topped the charts. Incesticide is a reminder of that and — maybe more important — proof of Nirvana's ability, on occasion, to fail." That's how Grant Alden summed up Nirvana's 1992 odds and sods collection in his Rolling Stone review. It's a pretty fair assessment.
When Nevermind dropped in September 1991, it was a true phenomenon. The band's label DGC knew what it had, and it squeezed every nickel it could out of its golden goose. Through November of the following year, the label released singles off of the album, and in April '92 they re-released Nirvana's 1989 Sub Pop debut Bleach.
Perhaps the most interesting official release during that time (for collectors, anyway), was Hormoaning – an EP available only in Japan and Australia while they toured those regions. With the limited release of Hormoaning, there was official Nirvana music out there in the universe that we didn't all have access to.
By the end of 1992, Nevermind was losing commercial steam but the recording sessions for In Utero hadn't even begun. A stopgap release was needed, and along with Hormoaning, assorted B-sides and some other pre-Nevermind bits and pieces, there was enough material to put together an album. Kurt Cobain – or "Kurdt (the blond one)" as he signed off on his liner notes – designed the cover and declared in the aforementioned liner notes that he didn't "feel the least bit guilty for commercially exploiting a completely exhausted Rock youth Culture because, at this point in rock history, Punk Rock (while still sacred to some) is, to me, dead and gone."
The album opens with "Dive," a track from what some fans refer to as Sheep – the lost follow-up to Bleach featuring Chad Channing on drums. Some of the material from those sessions was rerecorded with Dave Grohl for Nevermind, and one track ("Polly") made the final cut with Channing in place. "Dive" would have been right at home on Nevermind, too. Why it wasn't re-recorded for their major label debut remains a bit of a mystery.
"Sliver" reminds one why Cobain called his band "the '90s version of Cheap Trick or the Knack" in his liner notes. It's pure pop, fun with a big hook, attributes of Nirvana that we sometimes forget in our earnest adoration of the departed Cobain.
"Stain" appeared on another Nirvana oddity – the Sub Pop EP Blew – released after Bleach. "Been a Son" also appears on both Blew and Incesticide, but in different versions. Krist Novoselic's bass is high in the mix in "Stain," giving the track a heavier, more propulsive quality than arguably any other track in the band's catalog.
The next three tracks, "Turnaround," "Molly's Lips" and "Son of a Gun" really form the heart of Incesticide. Not only are these the three cuts culled from Hormoaning, but they all feature Grohl and they're from Nirvana's 1990 BBC Peel session. The fact that all three are covers adds to the fun, and let's be honest: at this point "Molly's Lips" belongs more to Nirvana than the Vaselines anyway.
"(New Wave) Polly" came from a BBC radio session, too, though not for John Peel. For listeners only familiar with Nevermind it's a startling listen; fast and aggressive. Given that the song's inspiration was a true story of rape and abduction, this run through is even more unsettling than the better known, slower version.
Perhaps its presence on Incesticide in this version was an effort to reclaim the track, which had come full circle from its inspiration and had been quoted in a similar crime. Cobain writes in his liner notes: "Last year, a girl was raped by two wastes of sperm and eggs while they sang the lyrics to our song 'Polly.' I have a hard time carrying on knowing there are plankton like that in our audience."
The next five tracks bear the greatest historical significance of any of the album's 15 songs. These are Nirvana's original demos, recorded in early '88. They depict a band that isn't quite there yet, but that demonstrates massive potential. Of the five, "Mexican Seafood" probably remains the best known, but with a few years distance "Aero Zeppelin" jumps out as a lost grunge-era gem. "All the kids will eat it up, if it's packaged properly," Cobain sings. Whatever the songs original intention, taken alongside his aforementioned declaration in the liner notes that he didn't feel the "least bit guilty for commercially exploiting a completely exhausted Rock youth Culture" the song comes off like Johnny Rotten's famous "ever get the feeling you've been cheated" taunt at the Sex Pistols' last show.
"Big Long Now" is a Bleach era outtake that sounds more like Alice in Chains than Nirvana – an assertion that would have been considered heresy at one time, but with some critical distance, simply points to the musical zeitgeist that overtook Seattle in the late '80s.
Album closer "Aneurysm" opens with a chord progression that is "Polly's" lost twin, though a fraternal one. This recording is from the same BBC session as "(New Wave) Polly" and "Been a Son," all up tempo, all similar in structure. Interestingly, the one song from that session that didn't make Incesticide was a run through of the dirge-like "Something in the Way."
Incesticide sold well over a million copies, which was an unheard of number for an outtakes compilation. That's partially attributable to the hunger for new (or in this case "new") Nirvana material by the end of '92. But it also says a lot about just how great the band was: Even their castoffs were better than most of their peers' best material.
Worst to First: Every Nirvana Album Ranked