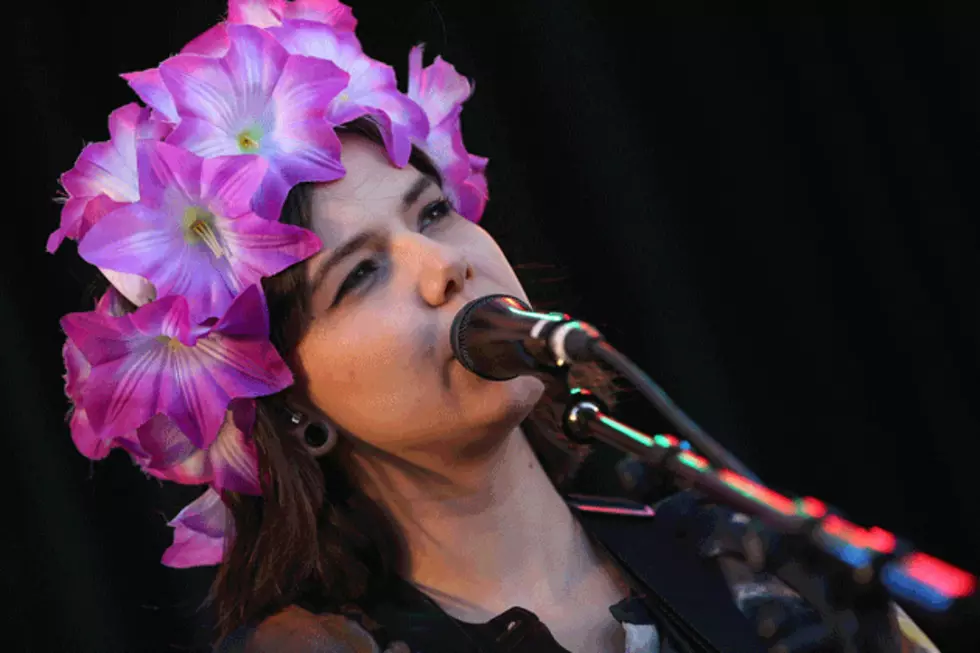 Of Monsters and Men Discusses New 'Hunger Games: Catching Fire' Song 'Silhouettes'
Sandra Mu, Getty Images
Returning with their first new material since 'My Head is an Animal,' their breakout 2011 debut, Icelandic six-piece Of Monsters and Men have attached themselves to one of this fall's hottest films. Their new song 'Silhouettes' is featured on the soundtrack for 'The Hunger Games: Catching Fire,' and when the eagerly anticipated movie hits theaters on Nov. 22, the band will join the likes of Coldplay, Patti Smith, the Lumineers, Santigold and Lorde in scoring the action.
As singer Nanna Bryndís Hilmarsdóttir tells Diffuser.fm, the group was asked to contribute to the soundtrack around the time of their Bonnaroo appearance, and that prompted them to begin writing in a Tennessee studio.
"We hadn't read the ['Hunger Games'] books, but we immediately started reading them and loved the story," Hilmarsdóttir says. "For the song, it wasn't like we went through the book to a specific chapter and said, 'Let's do this.' We wanted the song to fit the whole feel of the movie."
The band also relished the opportunity to write new material. They've spent much of the last year playing major festivals -- among them Coachella, Boston Calling, Glastonbury and T in the Park -- and such hectic schedules aren't always conducive to creating new music.
"We had been touring and touring with the same songs, so it's going to be nice to play this new song when we're on the road again," Hilmarsdóttir says.
'Silhouettes' isn't the only Of Monsters and Men's song headed for the multiplex. Their single 'Dirty Paws' is featured in the upcoming Ben Stiller movie 'The Secret Life of Walter Mitty,' which was partially filmed in their native country.
"There are so many Icelandic landscapes in the trailer, so we think it fits really well," Hilmarsdóttir says. "It's pretty crazy and exciting for us to hear our music over these epic films."
While Of Monsters and Men have begun planning their sophomore album, they've yet to start recording and are presently taking a much-deserved breather.
"We're using this time to relax as much as possible," Hilmarsdóttir says. "We're going to pack up and head back to the studio when we feel ready, but we're just taking a break right now, which feels really nice."