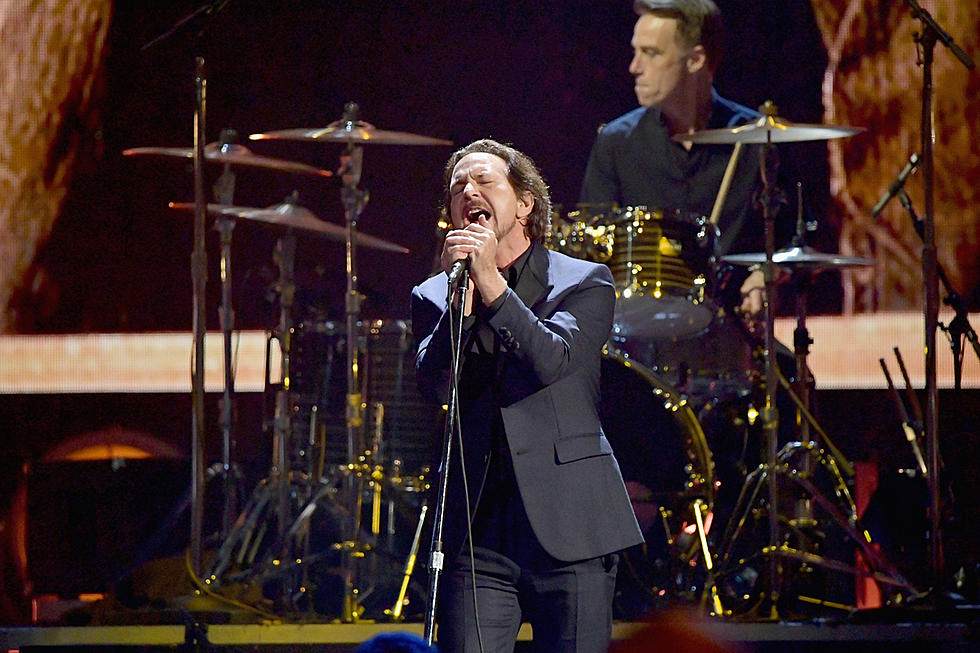 Pearl Jam Close Out 2017's Rock and Roll Hall of Fame Ceremony – Then Jam
Mike Coppola, Getty Images
Pearl Jam accepted their Rock and Roll Hall of Fame awards, then tore through a raucous performance to conclude things tonight at the Barclays Center in Brooklyn, N.Y.
First, Eddie Vedder led the group through their 1991 debut single "Alive," 1997's "Given to Fly" (which Vedder dedicated to actor Michael J. Fox, who turned to the song for inspiration during his fight with Parkinson's disease) and then finally 1995's "Better Man." Former drummer Dave Krusen sat in for "Alive."
There were no exact figures on how loud it got in Brooklyn, but Pearl Jam has previously shown that hearing loss among their fans is an important concern. Last year, they teamed up with MusiCares — the National Academy of Recording Arts and Sciences' nonprofit that provides emergency care to working musicians — to create a line of limited-edition earplugs. MusiCares set up booths where concertgoers could get sound protection for a small suggested donation.
Stay tuned for the broadcast of the 2017 Rock and Roll Hall of Fame induction ceremony, which will debut on HBO at 8PM ET on April 29.
Pearl Jam Albums Ranked in Order of Awesomeness